The Equalizer (2014): What Do You See When You Look At Me?
July 13, 2021

By Go Back

"Got a problem? Odds against you? Call The Equalizer 212-555-4200."

This mysterious yet compelling classified ad was the main hook in The Equalizer, a 1980s TV series starring Edward Woodward (The Wicker Man). Woodward played Robert McCall, a former government operative who turns to vigilante work to assuage his guilt over engaging in nefarious activities during the Cold War. With a host of respected and soon-to-be-famous guest stars and quirky theme music courtesy of The Police's Stewart Copeland, The Equalizer was one of the most intriguing TV series of the decade.

The show aired from 1985 to 1989 on CBS, earning Woodward four Emmy nominations and achieving respectable Nielsen ratings. Despite the first season being released on DVD in 2008, The Equalizer seemed destined to vanish into '80s obscurity until a film adaptation was announced in 2013.

Written by Richard Wenk and directed by Antoine Fuqua, the 2014 big-screen version of The Equalizer serves as a quasi-origin story with a twist. In the original, Woodward was debonair in a three-piece suit and crisp trench coat, but the new Robert McCall is portrayed by Denzel Washington in khaki pants and a button-down shirt. The TV series delved into McCall's past in the pilot episode, while Fuqua's film teases out his backstory, presenting the character as the low-key manager of a home hardware store, someone as amiable as he is enigmatic. It's only later we learn he is a former CIA operative who faked his own death to escape a life he could no longer bear.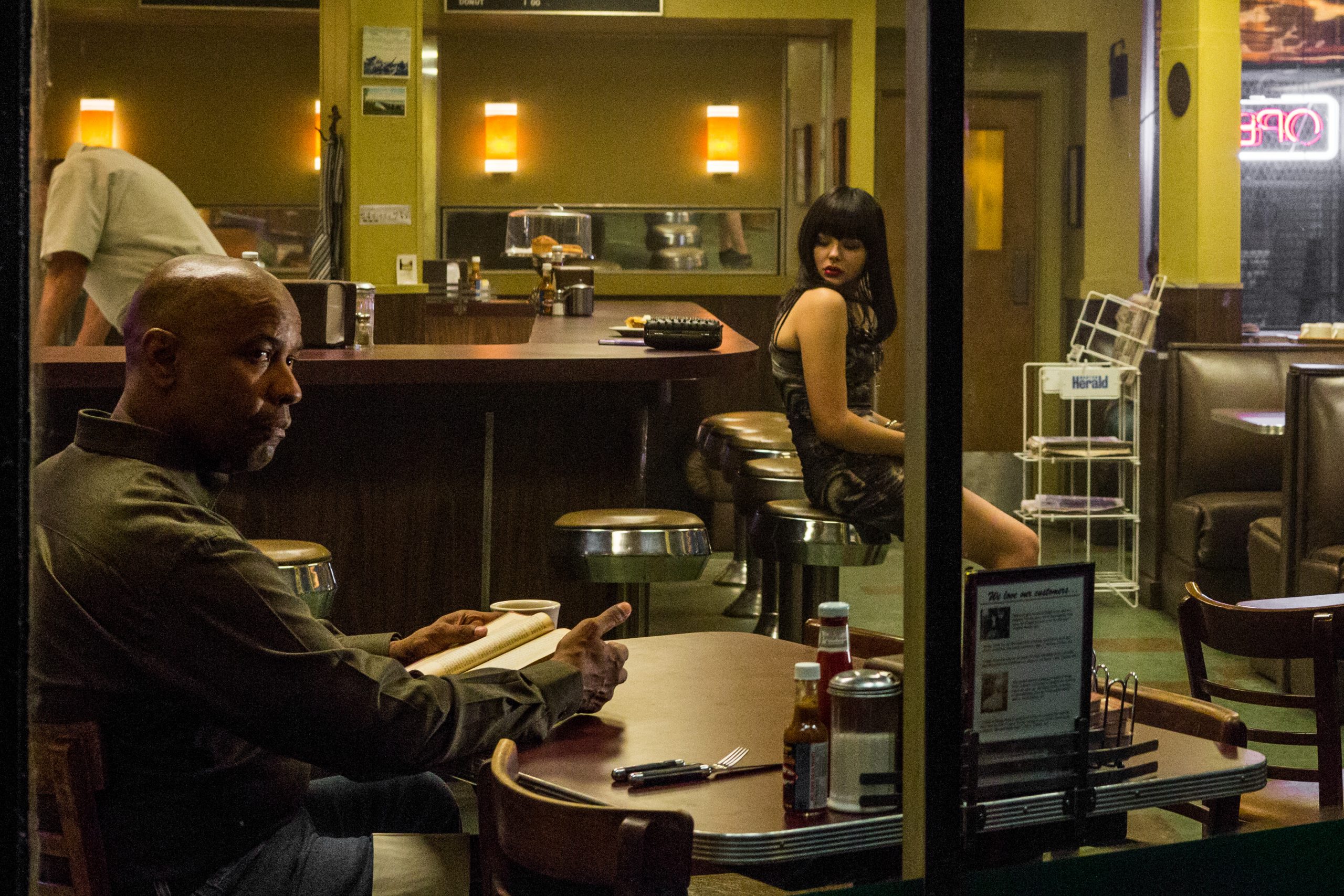 When we first meet Washington as McCall, he's a kindly widower who battles his insomnia by going to the same late-night diner every night and following a specific ritual: he brings a book, puts it at the edge of the table, moves the silverware to the right of the table (but places the spoon on his left), then unfolds a napkin from the inside of his jacket pocket, and takes out a tea bag for his nightly order of a cup of hot water. This attention to detail is not only the obsessive-compulsive behaviour of a lonely man but also a hint at what lies beneath the surface.
McCall establishes a fatherly relationship with a young prostitute named Teri (Chloe Grace Moretz) and when he discovers she's been savagely abused by her pimp, he decides to take matters into his own hands. At this point, The Equalizer shifts from a seemingly simple vigilante tale into something much more nuanced and thrilling.
Casting Washington as McCall was a shrewd move by Fuqua, who had previously coaxed a career-defining and Academy Award-winning performance from the actor in the 2001 film Training Day. As corrupt LAPD Detective Alonzo Harris, Washington was both ingratiating and terrifying, two qualities that also define his portrayal of Robert McCall in The Equalizer.
McCall's quirky habits at the diner are later revealed to be the signposts of a shrewd and merciless killer. When the film depicts McCall's knack for sizing up a room full of dangerous people, it looks a bit like FBI profiler Will Graham (Hugh Dancy) from Bryan Fuller's Hannibal TV series. When Graham goes into a semi-fugue state it's to recreate the progression of a crime scene by getting into the mind of a killer. In Robert McCall's case, he IS the killer.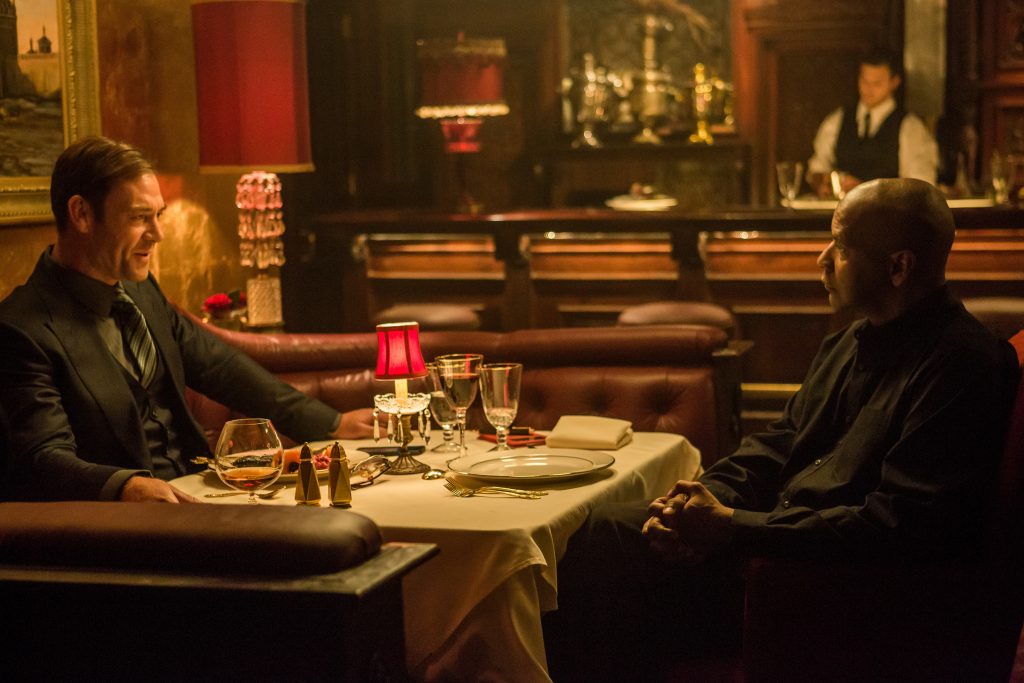 The Equalizer is shot and edited like a slick modern thriller, but the story and the performances elevate it into something remarkable. For the most part, Fuqua eschews the kind of avant-garde, highly stylized visuals that a director like Michael Mann or Brian De Palma might have utilized, but still manages to create a captivating experience.
The Bridge Diner that McCall haunts looks strikingly similar to Edward Hopper's iconic 1942 painting Nighthawks. A masterpiece of American Realism, Nighthawks has become parodied so often that younger generations may not realize that Hopper himself said of the work that "unconsciously, probably, I was painting the loneliness of a large city." So much of the impetus for McCall's vigilante behaviour is his solitude and loneliness amongst the corruption and degradation of the big city (in this case, Boston). While it's obvious he's a positive force in the lives of his co-workers, particularly Ralphie (Johnny Skourtis), whom he mentors towards a career change from clerk to a security guard, McCall himself is something of a cipher. He goes home alone and doesn't seem to have much in his life beyond his job.
In Christopher Nolan's Batman Begins, Bruce Wayne is depicted as a lost soul who is inspired to make something of his life when confronted with the idea that "the only thing necessary for the triumph of evil is for good men to do nothing." He puts on a mask to become Batman, the symbol his enemies will come to fear. In The Equalizer, the evil that seeks to triumph appears in the form of Russian mafia enforcer Nikolai Itchenko, a.k.a. Teddy Rebsen. Played with reptilian zeal by Marton Csokas, Teddy evokes dread whenever he appears on the screen, slaughtering his way through a campaign of vengeance.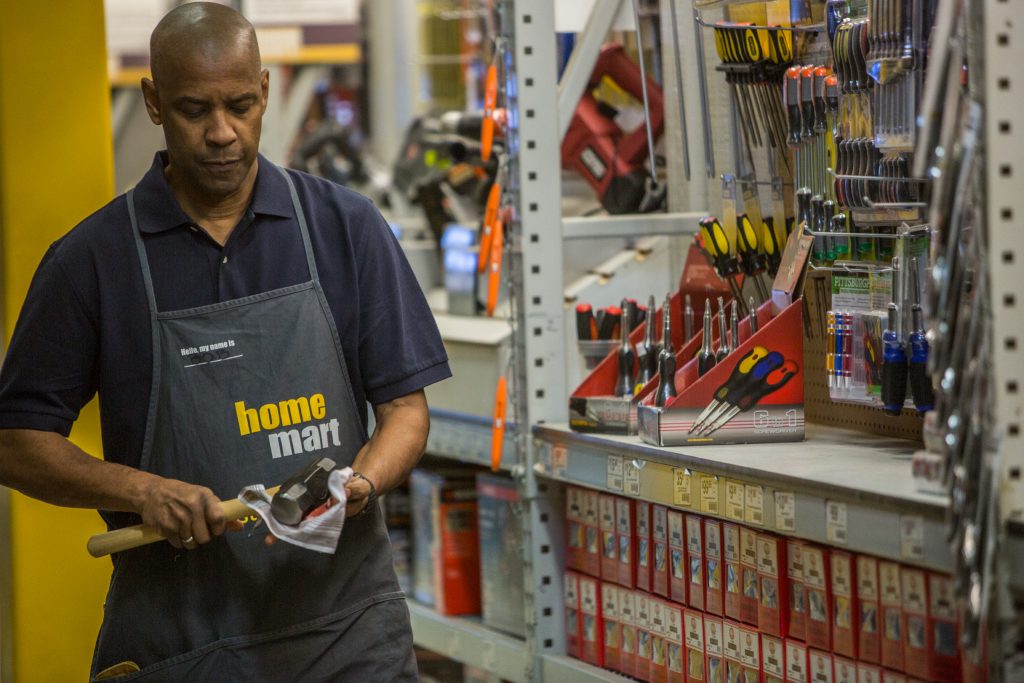 As The Equalizer, McCall doesn't have to wear a mask. Although he is capable of the same dead-eyed savagery as Rebsen, it is towards a different, and ostensibly noble, end. The most dazzling set piece in the film is the hardware store siege, during which McCall, who has displayed as little mercy for the villains as Rebsen has for the victims, uses every tool (literally) at his disposal to dispatch a team of assassins. As such, he is the quintessential good man who decides to do something so that evil will not triumph. Yet unlike Bruce Wayne or Batman, he has no misgivings about murdering those who would let evil flourish.
At the end of Batman Begins, Bruce's childhood sweetheart Rachel Dawes tells him that despite the mask it is his "real face" criminals now fear, observing that the man she loved, "the man who vanished, he never came back at all." There is a similar scene in The Equalizer when McCall's former CIA colleague Susan Plummer (Melissa Leo) tells him she knows a part of him died when his wife did, "but not the part she loved the most." She smiles encouragingly and adds, "Go be him."
In the end, Robert McCall begins to reintegrate the part of himself that his wife loved the most and it is that which allows him to accept that his role as an equalizer is a part of him that he can no longer deny. The final scene depicts him visiting the Bridge Diner and creating a classified ad for his services, only this time it's via Craigslist, not a newspaper. He's got a copy of Ralph Ellison's Invisible Man on the table and perhaps it is this quote from the book which resonates the most: "When I discover who I am, I'll be free."
---