No Exit: The Coen Brothers' Blood Simple
June 30, 2021

By Go Back

"This damned burg's getting me. I don't get away soon I'll be going blood-simple like the natives." – Dashiell Hammett, Red Harvest

When it premiered at the Toronto International Film Festival in 1984, Blood Simple felt equally fresh and familiar. The freshness was in the precociously confident style of its makers, two middle-class Jewish brothers from Minnesota named Joel and Ethan Coen. The familiarity drew from its source, the dark literary and cinematic terrain known as film noir.

Not that you needed to know much about noir to get stuck in its web. But it certainly helped understand just how diabolically accomplished this low budget first film was. And this would become a hallmark of a career that now spans nearly forty years, sixteen features and a heap of Oscar nods: spinning yarns that fused the traditional with the contemporary like a freshly dug funeral plot. But that too is a defining film noir ethos: no matter where or how you live today, the past will always catch up and mess with your present.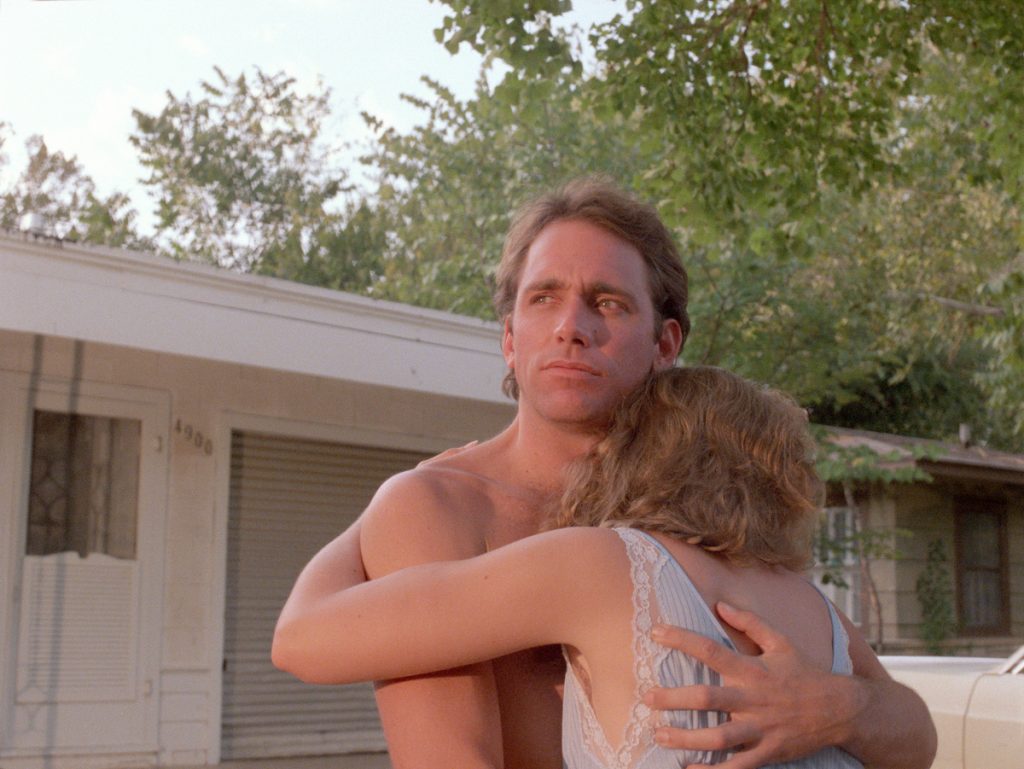 Film noir – a term first coined by French critics in the postwar late 40s – is the direct offspring of hard-boiled fiction, and as the above quotation indicates, the Coens have equal footing in both literary and cinematic terrain. Perhaps the most literature-inspired filmmakers since the team of Merchant-Ivory (Room With a View, Remains of the Day), Joel and Ethan Coen's literacy in both realms is only all that more remarkable considering that their movies feel like nobody else's. As I said, they feel somehow timeless but completely of their moment.
Blood Simple set the Coen template. Although the title was inspired by Maltese Falcon creator Dashiell Hammett, the film owes much more to the novels of James M. Cain, a Hammett contemporary best known for his novels The Postman Always Rings Twice and Mildred Pierce. Unlike Hammett, whose hard-boiled writings typically featured cops, robbers and private dicks, Cain focused on ordinary folks caught up in extraordinary (if usually self-generated) circumstances. Grim, fatalistic and haunted, Cain's world was governed by fate, bad choices and late-arriving reckoning. His people made choices that mocked the very idea of free will. They made webs for themselves with the generous assistance of fate. They convinced themselves they were doing what was necessary under the circumstances, even if the circumstances were what was actually calling the shots. In Cain's world, choice is the necessary illusion that drives the narratives. It's what you realize you never really had until it's too late.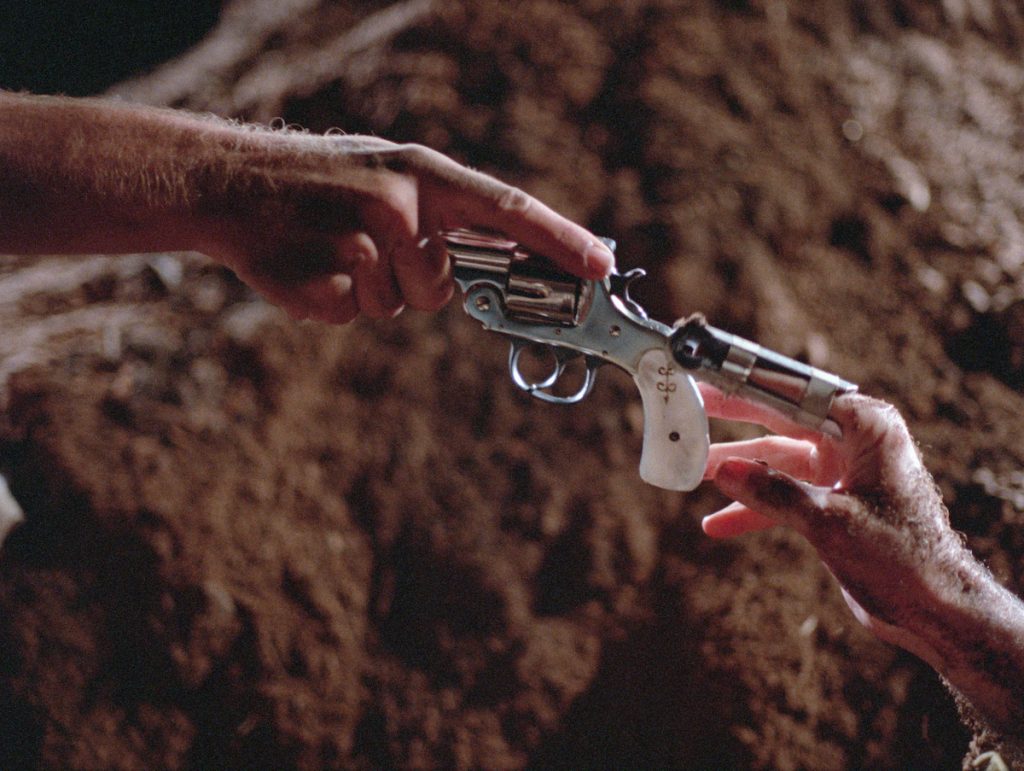 One distinguishing characteristic of Coen noir from hard-boiled Cain – not to mention most vintage noir – is a healthy, if heartless – sense of humour. From the opening narration spoken a character who is dead to the bravura central sequence that involves a shovel, some hard desert ground and a victim who just won't stay deceased, Blood Simple plays on our collective familiarity with noir conventions to establish the necessary distance required by irony. There isn't much to laugh at in any version of Postman, but there's as much dark comedy in Blood Simple as there are dark shadows.
It begins in bed, frequently ground zero for noir. Nothing if not a reactionary narrative form, film noir tends to depict sex as a sin that must be paid. Especially extra-marital or spur-of-the-moment sex. This is why you know things won't be going well for Abby (Frances McDorman) and Ray (John Getz): their coupling is done in shadows and moonlight, a secret we know can't be kept. The shadows and stabs of light reinforce the furtive nature of the act, a sin that can't go unpunished. It's a guilty act, and the conversation between the two is desperate and scared. Why? Because Abby is married to Ray's boss Julian (Dan Hedaya), and she knows just how angry and dangerous this cuckold can be. The worst laid plans are those made in bed, so Ray and Abby's decision to kill Julian is not only a desperate act but a cosmically provocative one: it's a dare the fates themselves are only too happy to oblige.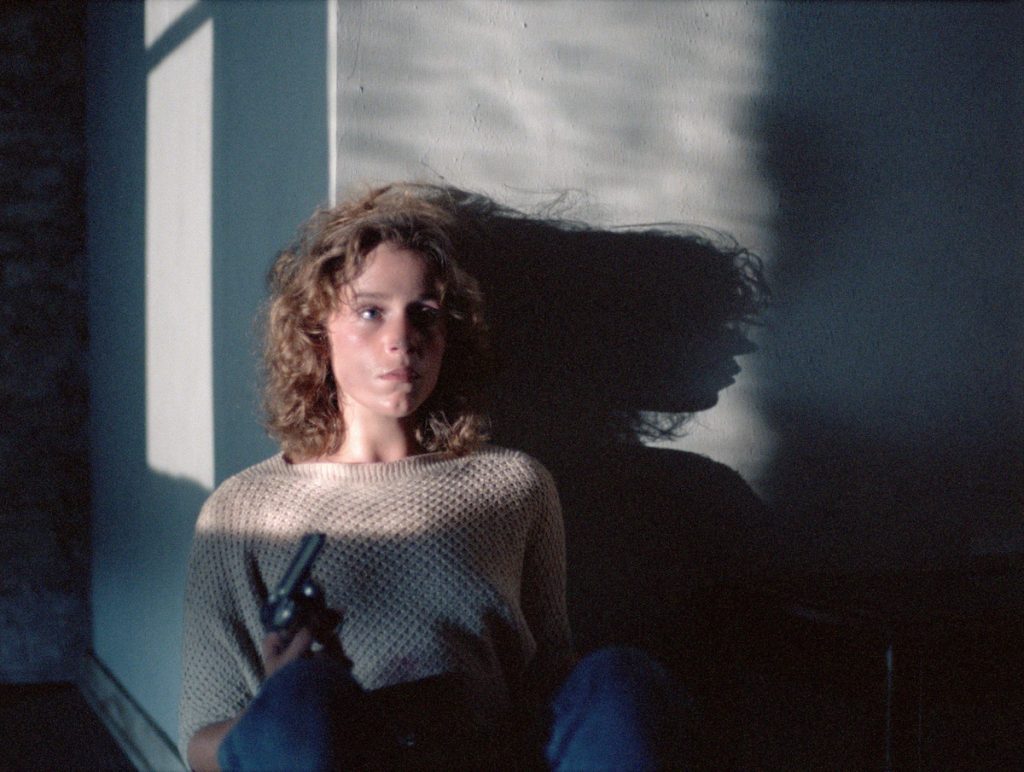 No bad deed goes unpunished in film noir, no matter how justified or intimate, and the entirety of Blood Simple depicts the fallout from the couple's not-so-original sin. Suspicious, the pathetic Julian hires a greasy private dick (the incomparable M. Emmet Walsh) to track Abby and Ray, and the path he follows is paved by their bad decisions. Once committed to the act of murder, nothing that Ray or Abby do can release them from fate. If by some chance we've overlooked this inevitability, the film's most memorable sequence hammers it home bluntly: thinking he's killed Julian, Ray travels deep into the desert night to bury the body, which turns out not to be as dead as Ray had thought. For almost half an hour Ray plays an especially sinister version of whack-a-mole with his lover's husband, each act he commits only making the situation more outrageously (and, if you're in the right mood, hilariously) worse. Just whose grave is being dug here, anyway?
There is no off-ramp here, that original sin of Ray and Abby's having sealed the deal: they're messed with forces far more determined and diabolical than they could ever know. A film noir with a tongue in its cheek and a foot in that desert grave, Blood Simple is a cautionary tale for those who tempt fate.
---