Staff Picks – Wanda (1970) and One Sings, The Other Doesn't (1977)
September 10, 2020

By Go Back

Tune in Saturday, September 12 at 9pm ET for Alicia Fletcher's Staff Picks double bill of One Sings, The Other Doesn't and Wanda on Hollywood Suite 70s Movies.

I love a good double bill. It's perhaps a selfish move to refuse a single staff pick, and instead insist on two very complimentary films that almost seem to be in dialogue with each other, despite a language difference and working within diametrically opposed genres. But it's films like Barbara Loden's independently-produced realist wonder Wanda (1970) and Agnès Varda's wondrous musical One Sings, The Other Doesn't (1977) that justify my career commitment to film programming and curation. They are somewhat new works to me, as they probably are to most people. Criminally under-appreciated until relatively recently, and, in the case of Wanda, unavailable for decades, both films now appear in masterful restorations on Hollywood Suite. They are revelations, and I've watched them many times subsequent to my first viewings. Masterpieces in their own right, but also emblematic of how film history demands re-writing and relocation – as both of these works and their renegade, groundbreaking directors rarely appear in older film history textbooks. This is starting to change as we "discover" or more aptly re-discover women filmmakers and add their works into the "canon." Both films prove that women were always behind the camera, breaking rules – it's just taken nearly a half century to process.

My formal education in film – which feels like a long time ago, but isn't really in the long run – made fleeting nods to somewhat familiar names of women from the silent era up to Hollywood's Golden Age. Names like Alice Guy Blaché (1873-1968), the director of some 1000 films dating back to 1896 and cinema's inception – she was the first to discuss social issues in film and the first to utilize narrative and story structure to bring filmmaking into its maturity. In the U.S. Lois Weber (1878-1939), a massively successful producer would follow suit, making films about family planning, miscarriage, addiction, and spousal abuse. Names like Dorothy Arzner and Ida Lupino appeared in the marginalia of film history textbooks, but on the whole, even just a little more than a decade ago, the effects of writing women out of film history were long term. Even extra research on my part would reveal textual evidence of names and exemplary films, but tracking them down to view proved difficult – many of these illusive films were from the 1970s, when second wave feminists armed themselves with a camera to tell the stories of marginalized voices. At the heart of this movement was Varda.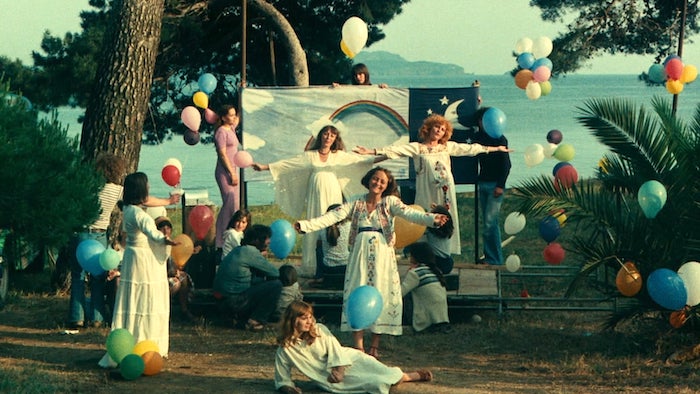 Varda, who we recently lost in 2019 at the age ninety-one, left behind a filmography of twenty-five features spanning from 1954 to the year of her death, as well as dozens of shorts, The "Godmother of the French New Wave," Jean-Luc Godard may get all the glory, but it was Varda whose experimental style helped develop the revolutionary, iconoclastic film movement. She laid the groundwork with her debut Le Pointe Courté (1954) and siphoned the French New Wave with her own subcategory (Left Bank Films) with Cleo From 5 to 7 (1961). By 1977, when she released One Sings, The Other Doesn't, Varda had won accolades and critical acclaim in Europe and abroad for her realist, socially dynamic approach to film that mixed fiction with the documentary, the staged with the natural, the whimsical with the political. One Sings is a musical at heart, but one unlike anything that had ever been produced. Like Guy-Blaché and Weber before her, Varda looked to relevant and pressing social issues that affected her and women around her – in this case, the right to abortion and matters of family planning.
I'm not sure what I would have made of this when young – a visually resplendent cornucopia of blues, greens, and golds punctuated with folksy, French hippie-infused musical numbers about a woman's right to control her own body. Even writing that description today makes the film seem impossible, and yet it's all tied together so beautifully. The songs, as written by Varda, are catchy. The performances from Valérie Mairesse as Suzanne and Thérèse Liotard as her friend Pauline are magical. There's something about Varda hijacking the sanctified and sanitary genre of the musical a la MGM and subverting it, forcing it to deal with hard realities as a call for political action that is both tongue-in-cheek and highly subversive (her husband Jacques Demy would do the same, but to less political statement with his candy-coated musicals).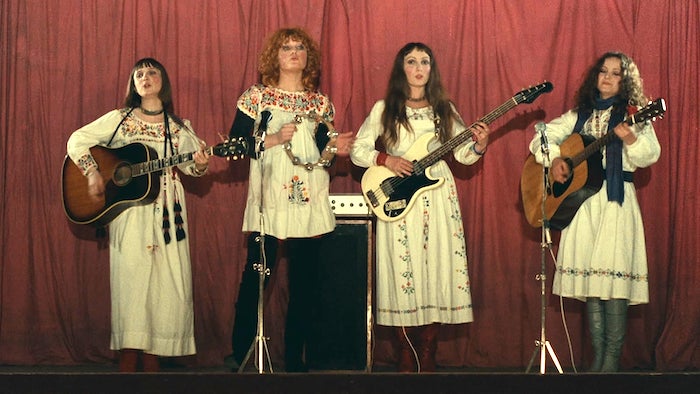 As Suzanne, a politically radical student who helps her friend Pauline obtain an abortion for a third child that her family cannot financially support, Valérie Mairesse with her halo of strawberry-blonde curls transforms from youthful political engagement to full blown activist and performance artist. Pauline, reeling from tragedy subsequent to the abortion – illegal at the time in France – attempts to find her own voice, first as a mother, then as the founder of a family planning clinic. The film takes place over 14 years, in the Parisian suburb of Bobigny, along the Côte d'Azur, in Amsterdam, and most astonishingly in Iran (these Iranian sequences are exquisitely photographed and capture somewhat of different Iran than known today – Varda was the consummate traveler and captured the Middle East with expertise). Through postcards, the two friends remain in contact, grow and watch their children grow.
Never maudlin, it reveals the struggles and debates of the women's movement in France – do you focus on uplifting the extraordinary (the Suzannes of the world – the aspiring and radicalized would-be artists) or the unseen, as Pauline once was (impoverished and a single mother)? For Varda, she somehow merges both through each of her titular characters – the one who sings (Suzanne), and the one who doesn't (Pauline). Ultimately, the film was dedicated to her daughter Rosalie, then sixteen who appears at the end of the film and nearly fifty years later supervised the restoration and re-release of her mother's masterpiece.
I would be remiss if I didn't point out that Wanda is depressing – heartbreaking if not profoundly despondent. And yet, it's unmissable as a neglected masterpiece from an under-appreciated director and highly rewarding. I'm infuriated that this film wasn't made available to me earlier in life. Groundbreaking, fierce and unapologetic, it's somehow more Cassavetes than Cassavetes (unsurprisingly John Cassavetes advised Loden on the film's making). Produced by the UCLA Film and Television Archive with funding from Martin Scorsese's Film Foundation as well as, of all places, the luxury fashion house Gucci, the restoration of Wanda – a film that was exceedingly difficult to see prior – reinstates the legacy of director, writer, and star Barbara Loden. To watch Wanda is to confront the baffling reality that film names of marginalized voices who changed the film industry in their time were written out of history. It is simply, one of the most important independent films ever produced.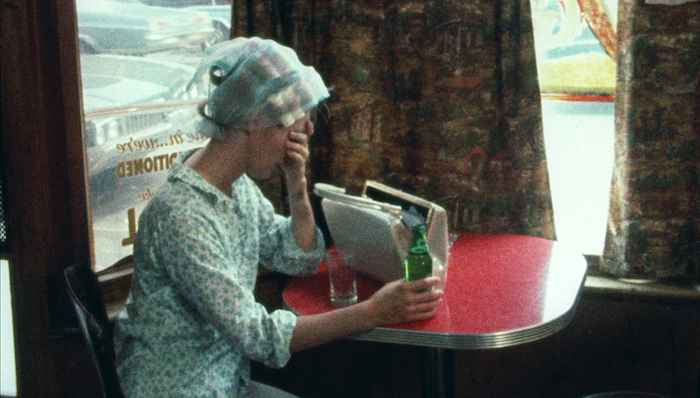 Loden was a Copacabana nightclub chorus girl turned actress, most recognized for her role as the flapper sex kitten in Splendor in the Grass (1961). She married that film's director, the famed and notorious Elia Kazan of On the Waterfront and countless other masterworks. After her part was cut from The Swimmer (1968), Loden started writing. Her directorial debut Wanda was released in 1970, just a year prior to Elaine May's A New Leaf, making her a vanguard and one of the only women directing at the time. An independent film shot on 16mm with little to no production value (read: handheld camera, minimal crew, real locations, no extras), in Wanda, Loden plays the title character, an untethered woman who has abandoned her husband and small children to drift around the Ashbelt of Eastern Pennsylvania's coal towns. Sleeping with a series of men who use her, she eventually finds herself unwittingly enmeshed in a bank robbery scheme with the abusive Mr. Dennis (Michael Higgins). Speaking often in whispers or mumbled offerings that overlap with another character's dialogue, observing Wanda as a viewer is an intimate, startling experience. Loden based the story on a real-life woman who had been sentenced to 20 years in prison as an accomplice to a bank robbery. And yet, the film is also auto-biographical for Loden. Born to a North-Carolinian coal miner, she grew up impoverished and occasionally abandoned by her parents, leaving her grandparents to care for her. She described herself as "the daughter of a Hill-billy."
According to Loden, had her good looks not brought her to New York in her youth to audition for a chorus line, and had she stayed in her hometown, she likely would have succumbed to Wanda's fate – married young, forced into motherhood with little preparation, unskilled with little opportunity for betterment, desperately searching for a way out that could only lead to self-destruction. Wanda, as a character, is an example of the "unseen" woman the second wavers debated as to whether they should advocate for. She's similar to Pauline in Varda's One Sings as she contemplates her illegal abortion. It's only through friendship with Suzanne and Pauline's network of women colleagues that she's uplifted. Wanda, on the other hand, is utterly friendless. What angered critics about this film, especially the female ones, which included Pauline Kael who found her time wasted by this film's titular "slut," was that Wanda was a heroine without any fight. The world beats her down – but for Loden, that was the reality.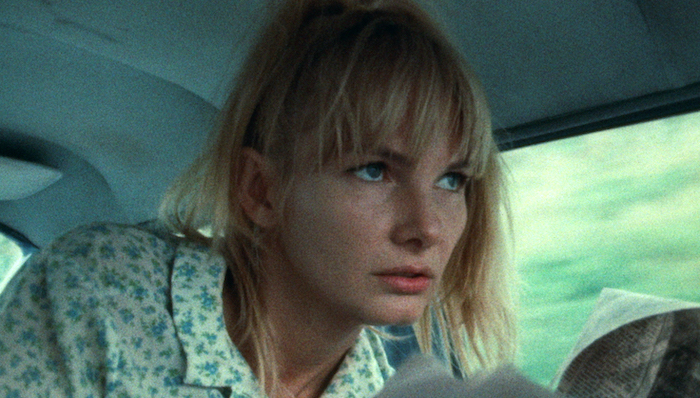 Wanda made history, winning a Critic's Prize for Best Foreign Film at the 31st Venice International Film Festival – it was the sole American entry that year and the first win of such a prize for a woman. Produced on a micro-budget, often using her director husband's discarded costumes and props, conducting all post-production with cinematographer and editor Nicholas Proferes from her home, Wanda is simply extraordinary. And Loden's performance is unparalleled – it's only possible comparable is Gena Rowlands's performance in Cassavetes's A Woman Under the Influence (1974), and if Loden turned to Cassavetes for some advice four years prior, then Cassavetes and Rowlands channeled Loden and Wanda for their unhinged domestic fable. Ultimately, Wanda was out of circulation for decades and rarely written about in the meantime, despite the wake that it made upon its release. Tragically, Loden's life was cut short – she died of breast cancer in 1980, having not made another film. Wanda is her sole work as a director. And, because of her death, she wasn't able to speak to her own work, or even preserve it, once feminist historians became interested in it.
Amy Taubin, a film critic lucky enough to interview Loden just a few years prior to her death, asked the director about Wanda's opening sequence. It's a sequence that angered the film's critics and reportedly alienated some of its audiences – we are introduced to Wanda as a tiny figure traipsing through mounds of coal with the camera at a far distance. It feels like she has to walk forever to get to where she's going (a miner sitting on one of the mounds from whom she's going to borrow a few bucks). When Taubin asked why she would include this scene at length, where seemingly nothing happens but Wanda walking a far distance along blackened earth, she responded "I wanted to show that it took a long time to get from there to there." It's a simple, logical answer that minimizes the element of illusion in film. And for me it's one of the most memorable sequences in Wanda – branding the film early as unique and subversive (in both technique and subject). The fact is, women have to show how long it takes to get from "there to there" simply because it takes so damn long. It takes longer to get funding for a film as a woman, it takes long to produce sometimes as a result, and when women are successful, it takes a long time to get recognized, or in the case of the both these films, reinstated – a process that in the cases of these two films took nearly 50 years.
Find the next playtimes for One Sings, The Other Doesn't on Hollywood Suite