Bittersweet Realities: The Umbrellas Of Cherbourg and La La Land
February 6, 2017

By Go Back

Few genres are more universally disparaged or dismissed than the movie musical. The defenseless target of cynical, browbeaten cinematic purists, musicals were the blockbusters of the 1940s and 1950s. Producing peachy keen crowd pleasers that reinforced American values, MGM was the foremost purveyor of musical fare – An American In Paris (1951), Singin' In The Rain (1952), and The Band Wagon (1953) are just a few of their most iconic titles. Musicals were the splashy staple of classical American cinema, however, by the mid-1960s the genre's popularity and box office viability waned. The 1969 release of Hello, Dolly! starring Barbra Streisand, while critically acclaimed, was a financial disaster, bankrupting its production company (with tongue firmly planted in cheek, Pixar referenced this failure with 2008's Wall·E, having the Chaplinesque robot obsessively projecting the film). No Technicolor palette or upbeat tap-infused bounce and beat could counter the realities of Vietnam or the rapid alteration of youth culture. In the decades since, the musical would return periodically to marginal success. And yet, in 2017 we have a musical anomaly. A critical and audience darling, Damien Chazelle's La La Land, which won six Golden Globes, is nominated for eleven BAFTAs, as well as fourteen Oscars (a record tying Titanic and All About Eve), is poised to sweep the awards season some seventy years after the genre's original popularity.

With clear references to the MGM musical spectacles of the 1940s and 1950s, La La Land knows its Hollywood lore. Yet, upon closer inspection, Chazelle (who is of French parentage) is more indebted to the work of French New Waver Jacques Demy than any MGM forbearer.  In the 1960s, Demy with his skittles-candy palettes, iconic Michel Legrand Jazz-infused scores, and grand, sweeping cinematography transformed the genesis of the MGM musical at the time of the genre's Hollywood depreciation. The release of 1964's The Umbrellas Of Cherbourg was met with total acclaim, winning its director the prestigious Palme D'Or at Cannes. It launched the career of its angelic star – a 20-year-old Catherine Deneuve – and made composer and jazz pianist Legrand a hot commodity. But more importantly (and pertinent to La La Land) it manipulated the genre conventions, distilling the musical with a distinctive (and bittersweet) French twist. It broke the rules established decades prior by classic Hollywood. Demy, like Chazelle today, took the sweeping, operatic notes of the classic musical and applied them to everyday life, and more importantly, practical life lessons: heartbreak, missed postions, unwanted pregnancies, choosing financial security over the heart – ultimately in both Umbrellas and La La Land, we settle for life's harsh realities. Like a bitter lozenge made more tolerable (at first) by its candy coating, the two films lure us in with tantalizing sensation, only to break our hearts with pragmatic outcomes.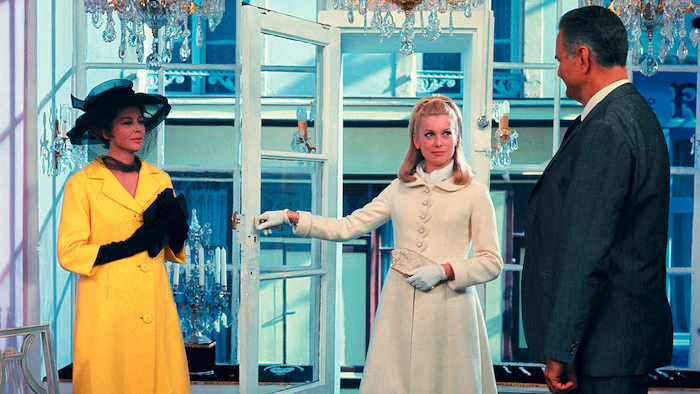 COLOUR AND SCALE
Pepto-Bismol pink, hues of lemon cordial and varied fruity sorbets give The Umbrellas Of Cherbourg its distinctive and alluring colour palette. Like a fauvist painting by Van Gogh, Gauguin, or Matisse, colours in Umbrellas swirl and coalesce, heightening the drama and emotion in every scene.  Cherbourg, a port town in Normandy, is a dreary place for a teenager. Geneviève (Deneuve) helps her mother tend to an umbrella shop – a business that thrives on grey skies and unprepared victims of a storm – while dreaming of a better life with her paramour Guy (Nino Castelnuovo). Similarly, Chazelle transforms the concrete enclave of Los Angeles, with its freeways, strip malls, and abandoned lots, into a bucolic playground for starry-eyed lovers. Both directors paint landscapes that soar to fantastical heights, making it all the more crushing when romantic disappointment ensues.
"PEOPLE ONLY DIE OF LOVE IN MOVIES"
Guy is drafted and soon dispatched to Algeria for two years. The couple pledge their love to one another, promising to hold onto their romance. Their last night spent together results in pregnancy, much to the dismay of Geneviève's mother (Anne Vernon), who pleads with her daughter to be reasonable, reminding her that "people only die of love in movies." Pregnant and with letters from Guy dwindling, Geneviève is faced with a decision: hold on to her love and bear the moral and financial repercussions of her pregnancy, or marry for money at the behest of her mother to an interested suitor willing to raise the child as his own. Like in La La Land, romance is trounced by the harsh reality of living day-to-day.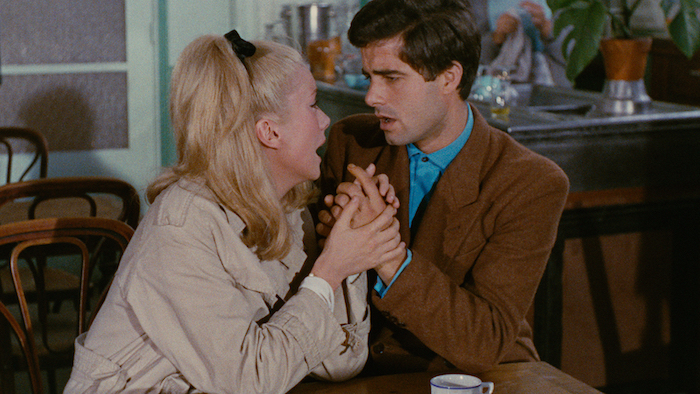 "I WILL WAIT FOR YOU"
The final act, like in La La Land, flashes forward five years and recounts a chance encounter between Geneviève and Guy. It is a sequence that seals the film's bittersweet reality. Demy made musicals relatable. He crushed the Hollywood fantasy that true love conquers all, effectively cracking our rose-coloured lenses. With La La Land, Chazelle resurrects an archaic genre, while also instilling it with new blood. He puts an American twist on a French distillation of a Hollywood genre. And in doing so, breathes new life into one of the most disparaged of movie genres, while also honouring the master that is Jacques Demy.
While splashy, happy-go-lucky MGM musicals inform several of La La Land's homages (Mia and Sebastian's Hollywood Hills dance sequence quotes Gene Kelly and Cyd Charisse's "Dancing in the Dark" number from The Band Wagon), it is the direct, undeniable influence of Umbrellas that catalyzes the audience's collective weeping. If you are left with any doubt regarding Umbrellas' importance to this year's awards darling, refer to Mia's heartfelt one-woman show. An Easter egg of sorts, Chazelle strategically allows the audience a glimpse of Mia's script, revealing that her alter ego is named – what else but Genevieve.
Find the next playtimes for The Umbrellas Of Cherbourg on Hollywood Suite