Staff Picks: Ryan's Personal Faves
June 13, 2022

By Go Back

Can't decide to what to watch? Just head over to the Staff Picks rack for some personal recommendations from the experts at Hollywood Suite!

This month, Ryan, our head of production, has assembled some of his personal favourites. Tune in Tuesday, June 28 to catch Ryan's picks on all four Hollywood Suite channels, or catch many of his picks all month on demand.

Want to see some of Ryan's own handiwork? Check out the Hollywood Suite originals Ferris's Room, Relentless: The Kevin Porter Story, Raising the Dead: Re-Examining Night of the Living Dead, and A Year in Film.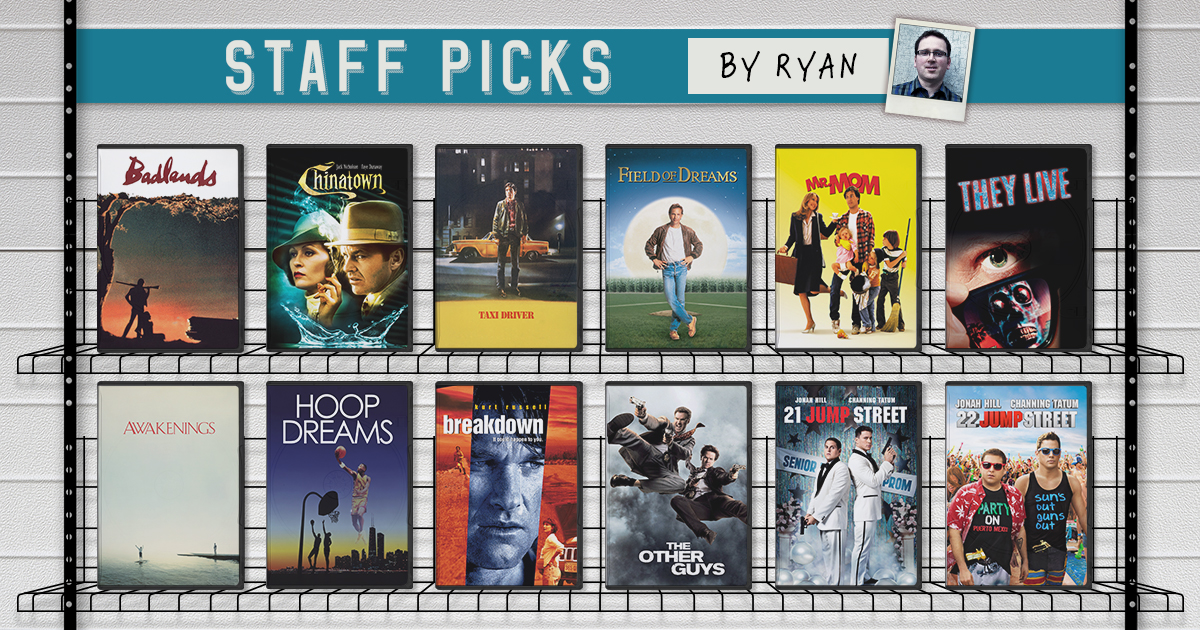 RYAN'S PICKS
Click on titles below for more info and additional playtimes
Hollywood Suite 70s Movies
Badlands (1973)
June 28 at 9pm ET
Chinatown (1974)
June 28 at 10:40pm ET
Taxi Driver (1976)
June 29 at 12:55am ET
Available on demand
Hollywood Suite 80s Movies
Field of Dreams (1989)
June 28 at 9pm ET
Mr. Mom (1983)
June 28 at 10:50pm ET
They Live (1988)
June 29 at 12:25am ET
Hollywood Suite 90s Movies
Awakenings (1990)
June 28 at 9pm ET
Hoop Dreams (1994)
June 28 at 11:05pm ET
Available on demand
Breakdown (1997)
June 29 at 2am ET
Available on demand
Hollywood Suite 00s Movies
The Other Guys (2010)
June 28 at 9pm ET
21 Jump Street (2012)
June 28 at 10:50pm ET
Available on demand
22 Jump Street (2014)
June 29 at 12:45am ET
Available on demand