Lavender Menace's Jicama Rainbow Slaw Recipe Inspired by the LGBTQ+ History Docuseries Equal
June 8, 2021

By Go Back

This Pride Month is extra special on Hollywood Suite with the Canadian premiere of the LGBTQ+ history docuseries Equal. To help celebrate, we've invited Agnes Lee and Vivian Lynch from Toronto's Lavender Menace cocktail bar and restaurant to come up with a perfect recipe to pair with a viewing this important series.
Jicama Rainbow Slaw
Light and vibrant in taste, it pairs excellently with your favourite BBQ grilled fish, especially salmon or local rainbow trout. We like to also accompany this dish with our Dark & Stormé cocktail, which is a tribute to Black butch lesbian activist and entertainer Stormé DeLarverie who is said to have started the Stonewall riots in 1969. It's a spiced rum float with red berries, ginger beer, lime, falernum, and coconut ice-cream. Perfect for a hot summer day on the patio or at a cottage.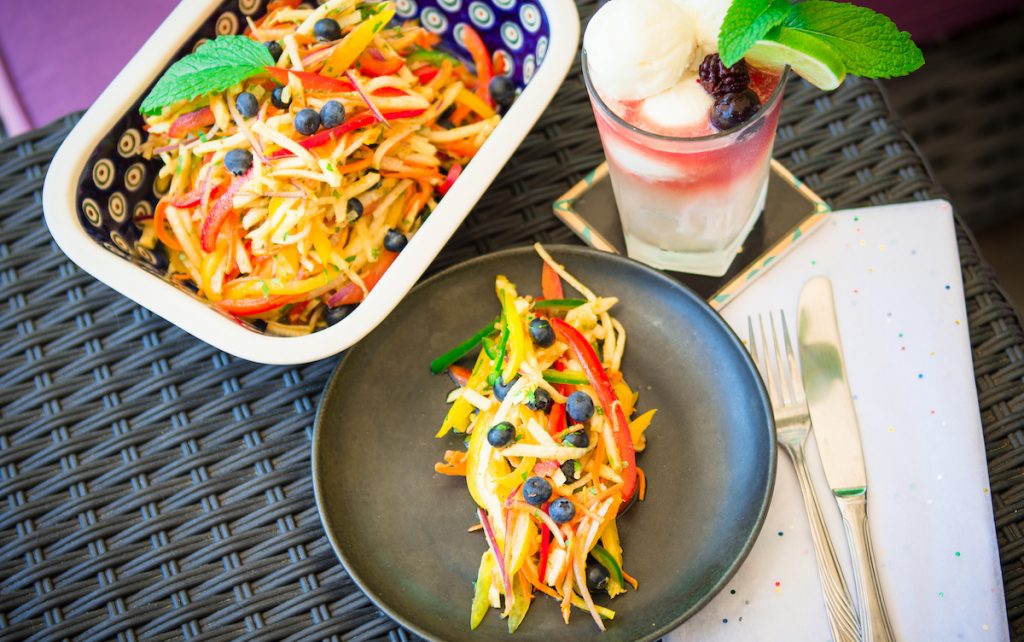 Ingredients
1 medium Jicama Root, about 1 lb, peeled
1 small Red Onion, peeled
1 small Yellow Pepper, deseeded and deveined
1 small Red Pepper, deseeded and deveined
1 Carrot, peeled
1 Jalapeño, deseeded and deveined
½ tbsp dried Mexican Oregano
2 tbsp chopped, fresh Culantro (you can use Vietnamese Coriander or Cilantro)
juice of 2 Limes
½ cup Mango Purée
½ tsp Ground Cumin
¼ tsp Cinnamon
1 clove Garlic, minced
¼ tsp Cayenne Pepper
Salt & Pepper to taste
¾ cup Blueberries
Method
Finely julienne jicama root (with a mandolin if you have one), red onion, yellow pepper, red pepper, carrot, and jalapeño. Toss together and set aside.
In a mixing bowl, whisk together oregano, culantro, lime juice, mango purée, cumin, cinnamon, minced garlic, and cayenne pepper, if using.
Season to taste with salt and pepper.
Pour the dressing into the julienned vegetables and toss until well incorporated. Add in blueberries and toss again lightly. Let sit for 20 minutes before serving.
Serves 8
About Lavender Menace
Lavender Menace is an adventure undertaken by wife team Agnes Lee and Vivian Lynch. Starting from the roots of their previous cocktail bar, Yard Sale Bar in Toronto's Leslieville neighbourhood, they've used COVID-19 as a time to relaunch into am LGBTQ+ space that they felt the city needs more and more as venues disappear.
Working in the kitchen behind the scenes is Agnes, the chef. Born in Hong Kong and moving first to Vancouver, and then Toronto, she has over 25 years of culinary experience. Having previously worked at high-end establishments in Hong Kong where she received her training, she moved onto her own ventures in Vancouver's Kerrisdale, and then into the GTA first in upscale fusion cuisine and now the newest addition, Lavender Menace, am LGBTQ+ craft cocktail bar and restaurant specialising in cooking of the American South. Her ability to create flavours, source novel ingredients, and blending her Chinese culture with Canadian tastes brings out a unique style that has no name but is exceptionally memorable.
Meeting almost 8 years ago and after getting married in 2017, Agnes and Vivian slowly developed an idea of what they both would love to bring to Toronto's East End in a way to combine their individual strengths. With cocktails being Vivian's fancy and food being Aggie's, they found a perfect solution. When COVID-19 came for many LGBTQ+ venues in Toronto, and with the positive feedback from many guests, especially women, they decided to turn their gay-friendly bar into a more dedicated space for the community. As lesbians, they often were on the lookout for low-key places that felt welcoming and in the absence of many of those, there has been no better time to pivot. Lavender Menace is very much a labour of love that aims to provide a safe space full of craft cocktails and beer, tasty food, and a casual, relaxed atmosphere of an inclusive neighbourhood bar, and one that welcomes everyone.