January Staff Picks – By Cam
January 20, 2022

By Go Back

When I was given the opportunity to program a night this month I had one clear goal: Try to get more eyes on James Glickenhaus' wild but under seen 80s action flick Shakedown (1988). But, how do you program a night around a shaggy, strange mix of buddy comedy and explosive action with a decidedly cynical take on the world? Picking through the decades I was thankfully able to find some films that match the unusual tone and feel of sweaty, small-time characters in over their heads trying to fight against 'the man'.

The 70s practically invented this bleak and sweaty vibe and my three choices in Slither (1973), Buck & The Preacher (1972) and Gumshoe (1971) are classic looks at reluctant heroes pushed beyond their resources. Slither follows James Caan as a hapless criminal after 'one last score' that becomes so cataclysmically complicated he has to rely on the shady likes of Peter Boyle, Sally Kellerman, and Louise Lasser. Buck & The Preacher (1972) follows a slightly more saintly pair of men trying to protect freed slaves in the west but Harry Belafonte may turn in the wildest performance of the night as a preacher turned bounty hunter. Gumshoe (1971) is the ultimate 'wrong place, wrong time' film noir where Albert Finney plays a man whose obsession with old detective stories embroils him in a conspiracy way above his pay grade.

For the 1980s I decided to follow Shakedown's lead when it came to looking at corrupt systems. The film follows Sam Elliot and Peter Weller as a cop and public defender who stumble upon a ring of dirty drug enforcement officers and will do anything to take them down both legally and via explosive action scenes. Corruption runs just as deep in Cutter's Way (1981) but the two alcoholic bums turned detectives, played by the transcendent John Heard and Jeff Bridges, have even fewer resources to protect themselves and end the corruption. Few societal rungs are lower than that of the humble Pedicab Driver (1989) but when things go wrong for his crew you can rest assured Sammo Hung is plenty capable of bringing swift and violent justice to even the most powerful men in 1930s Macao.

For the 90s I looked to the overpowering allure and destruction of gambling. Franka Potente's Lola gambles both literally and with fate when she says she can run fast enough to save her boyfriend's life in Run Lola Run (1998). Clive Owen plays A writer who thinks he's not gambling taking on an inspirational job in Croupier (1998) but ends up biting off much more than he can chew. And in-between I ask you to take a gamble on a movie that looks like a corny Shannon Tweed erotic thriller but has dark, unusual Coen-esque charm by sitting down to the tale of a haunted hitman in Cold Sweat (1993).

In the 00s we get even darker with protagonists fighting against the repercussions of something that has gone horribly wrong. While it has a comic tone, the forced vacation of In Bruges (2008) carries more menace than you may expect for stars Colin Farrell and Brendan Gleeson.  Director Majid Majidi's Sun Children (2020) follows child labourers roped into a high-stakes heist inside a school to correct a criminal's mistake. Finally, Green Room (2015) is the ultimate gig gone wrong when a punk band led by Anton Yelchin and Imogen Poots accidentally witnesses something they shouldn't at a white supremacist compound and has to fight their way out.

No matter which film or decade you choose I promise there are thrills to get your pulse pounding and leave you questioning the overwhelming power of fate and those people who think they can control us.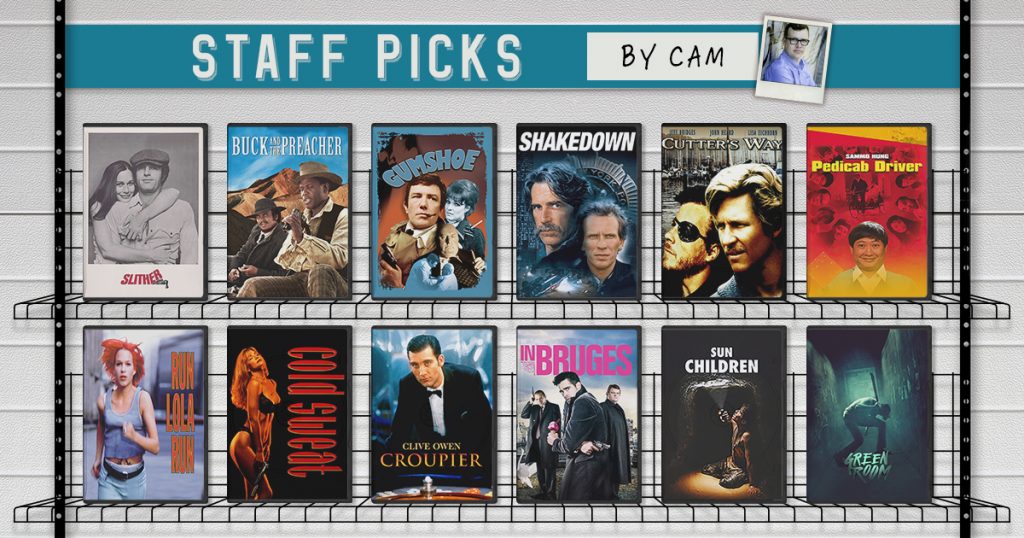 CAM'S PICKS
Click on titles below for more info and additional play times
Hollywood Suite 70s Movies
Slither (1973),  and
January 28 at 9pm ET
Buck & The Preacher (1972)
January 28 at 10:40pm ET
Gumshoe (1971)
January 29 at 12:25am ET
Hollywood Suite 80s Movies
Shakedown (1988) 
January 28 at 9pm ET – Available all month on demand
Cutter's Way (1981)
January 28 at 10:40pm ET
Pedicab Driver (1989)
January 29 at 12:35am ET
Hollywood Suite 90s Movies
Run Lola Run (1998)
January 28 at 9pm ET – Available all month on demand
Croupier (1998)
January 28 at 10:25pm ET
Cold Sweat (1993)
January 29 at 12:00am ET
Hollywood Suite 00s Movies
In Bruges (2008)
January 28 at 9pm ET
Sun Children (2020)
January 28 at 10:50pm ET – Available all month on demand
Green Room (2015)
January 29 at 12:35am ET