All That Heaven Allows (1955) – Melodrama as Cultural Critique
January 21, 2022

By Go Back

It may be overstating things to say that all you really need to understand America in the 1950s is contained in Douglas Sirk's All That Heaven Allows, but not by much. Made for Universal a couple of years after Sirk scored his first big hit with Magnificent Obsession (also starring Heaven's Jane Wyman and Rock Hudson), All That Heaven Allows may pull out all the melodramatic stops, but beneath all the emotional histrionics and vibrantly coloured surfaces lurks an indictment of American conformity and consumerism in the mid-fifties so withering it rivals that other masterwork of stealth subversion Invasion of the Body Snatchers.

Douglas Sirk was a fascinating character. Born in Hamburg, Germany, he became a theatre director at a very young age. One of the original interpreters of Bertolt Brecht's The Threepenny Opera, he first became a movie director at the renowned UFA studios in Germany. As the Nazis grew in power and influence Sirk (like so many in the movie industry) fled to Hollywood. There he eventually teamed up with producer Ross Hunter and Universal studios, directing a series of high-gloss melodramas (code for 'women's pictures') that were top box office draws throughout the 1950s. His last Hollywood movie, 1959's Imitation of Life, also marked the end of Sirk's tolerance of America, a country he'd never felt at home in.

As was revealed later in his life, when he had moved to Switzerland, retired from movie making, and began drawing critical attention that took his work very seriously, Sirk never liked the U.S. or Hollywood. He found American culture restricting and conformist, and it was this sense of alienation that eventually drew the attention of European critics. While his films, though mostly successful, indulged just about every melodramatic cliche, they were dismissed at the time as weepies or women's pictures. It wasn't until Sirk had retired from America and filmmaking that the director was lauded as one of the great cinematic ironists, an artist whose smooth and glossy surfaces covered a ruthless take on American greed, puritanism and hypocrisy. They were Trojan horses, containing within them a withering indictment of the U.S. in the 1950s.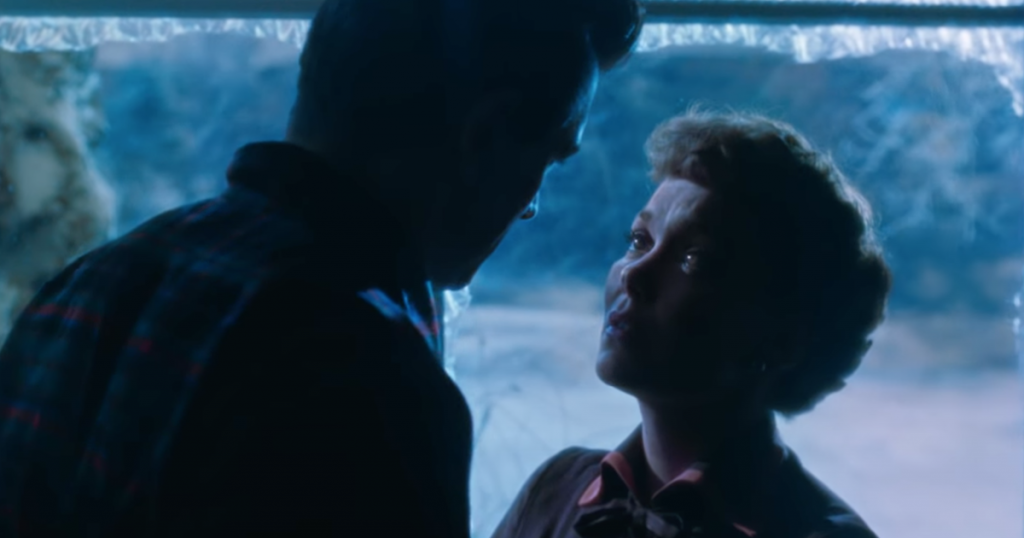 He was one of the prime beneficiaries of the so-called 'auteur theory', a French-born way of looking at movies that emphasized the strength and consistency of a director's work through a body of films. And Sirk was nothing if not consistent in his vision of a predatory America. But the key was this: all this subversion thrived beneath the melodramatic surfaces, to which Sirk brought a style and technique that pushed the narrative to the brink of the absurd while fulfilling all the requirements of the Hollywood soap opera.
All of this and then some is on display in All That Heaven Allows. Starring Jane Wyman (fresh from her divorce from Ronald Reagan) as a suburban middle-class whose relationship with her studly landscaper (Rock Hudson, then one of the era's biggest box office draws) causes almost hysterical consternation among her class-conscious country club peers, the movie is so stylized it verges on abstract. From the first images of an impossibly idyllic American small town to the final arrival of a deus ex machina in the form of a tame deer, All That Heaven Allows wears its artifice boldly on its sleeve.
Working with cinematographer Russell Metty, Sirk creates a world where clothing reflects a character's inner state, lighting is bold and high-contrast, and nothing on the screen is left to chance. Wyman's character not only wears grey until she surrenders to her bohemian lover's almost literal animal magnetism, her state of frustrated confinement is emphasized by Sirk's constant use of frames (windows, mirrors and, most famously, a TV screen) and dynamically coloured filters. Even her home, with all its middle-class comforts, comes to feel like a gilded prison, especially in comparison with Hudson's all-wood rustic retreat deep in the picture perfect natural world. (This is where the deer comes in.) Fake snow blankets the equally-fake small town – making it look like a freshly shaken snow globe) harsh, blue-filtered lighting casts characters in sinister shadows, and every bit of costume is calculated to reveal person's personality and state of mind.
While some of the scenes and dialogue might play for laughs with contemporary viewers, there's no denying that this is a ravishing and bold movie, and proof that sometimes what you see is only the surface of things, like that phony snow that covers Small Town, U.S.A. It's also proof that repression can sometimes be a gift to certain artists. Constrained by the moral and institutional limitations of his era, Sirk resorted to style as a form of critique. His work thrived within those limitations, forced as it was to hide its real intentions beneath a breathtaking facade.
---