Jackie Brown: The Queen of Cool
July 9, 2020

By Go Back

There's no denying the popularity of Quentin Tarantino's Reservoir Dogs (1992), Pulp Fiction (1994), and Kill Bill Vol. 1 & 2 (2003/04). They were full of tension, sharp dialogue, and tons of violence. These films took us on a ride-along inside the criminal mind, gave us a shotgun seat to vengeance, and pulled the underdog out of the back of a van to make an unlikely comeback. His education received from years of film consumption at an early age and working as the archetypal video store clerk profoundly influenced his work. There's no doubt he, in turn, profoundly influenced pop culture from the early 90s to the current day, and he continued this trend with the return of a 70s icon in his 1997 modern crime classic, Jackie Brown.

Elmore Leonard's 1992 bestselling novel, Rum Punch, was the source for Jackie Brown. It's a wild caper about a middle-aged flight attendant who becomes entangled in a money, gun, and drug smuggling scam run by a wily crime lord. Even though Tarantino owned the rights to the book, he was still relieved to get Leonard's blessing for the final script, and in interviews, Leonard went so far as to say it was the best adaptation of his work. Tarantino, known for his controversial use of culturally appropriated language, damaging stereotypes, and more recently, questionable directing techniques, was on his best behaviour here as he expertly adjusted the book's content to create an organic flow to the action and story. His skill as a scriptwriter shines with Jackie Brown, adapting someone else's work with his signature voice while staying true to the source, and his love for cinema, especially Blaxploitation, created the perfect storm of casting, dialogue, and atmosphere.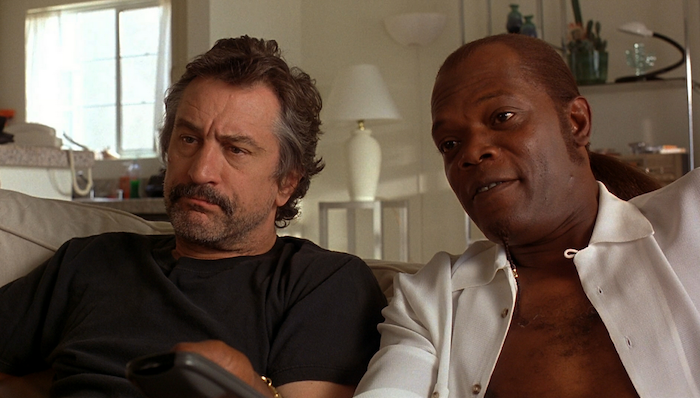 The real prize with Jackie Brown, however, is the rewriting of Leonard's main character Jackie Burke, who is white, to a middle-aged Black woman. When white creators do this, we get an inevitable shift in the dynamic of the character, especially in terms of representation. Tarantino also unwittingly revived the careers of middle-aged actors not typically considered for blockbuster films. Robert Forster, known for his B movies and the critically acclaimed 1969 Medium Cool, got a second chance at his career as Max Cherry, the bail bondsman who helps Jackie out of her bind. Another second chance came for 70s Blaxploitation icon Pam Grier, Tarantino's idol, and his only choice for the lead in Jackie Brown.
Blaxploitation films, while they perpetuated many stereotypes, put Black people in front of the camera as powerful, militant entities. Black audiences could escape everyday struggles and see themselves triumph over authority and racial injustices, and nobody did it better than Pam Grier. In her 2010 memoir Foxy: My Life in Three Acts, Grier details her big break for her first role in the 1971 sexploitation film The Big Doll House while working as a receptionist. Dedicated to her craft, she soon rose as a reliable, talented professional. She changed the perception of black women on screen with her starring roles in Coffy (1973), Foxy Brown (1974), and Sheba, Baby (1975). Grier became more than a sex symbol or a stereotype; she was an example of self-determination during the sexual revolution, injecting power and meaning into her roles to become the icon we know today. Blazing a trail, she forced Hollywood to make room for dynamic Black women, and those roles heavily influenced Tarantino when he wrote Jackie Brown for her.
This transition into the next stage of Grier's career couldn't have been more fitting as she plays a character who is single, in her mid-40s, working a low-paying job, and must take matters into her own hands. For Jackie, this isn't new since she's been looking out for herself forever. She devises a plan to make sure her use as a pawn pays off, asking for as much as she can get while the opportunity presents itself. In this case, morality takes a back seat since no one else has her best interest in mind.
Most of the characters are out for themselves, especially Jackie. Her age and race determine whether she is viable in a male-dominated, youth-oriented society; toeing the line with bad relationships and mediocre jobs, and breaking the rules is a way out for her. When the authorities discover her smuggling money for the ruthless crime lord Ordell Robbie played by Samuel L. Jackson, she must once again figure out how to use a bad situation to her advantage. Her only respite is Max Cherry, the bail bondsman with a heart of gold and a conscience. He's her moral compass and the only person who does the right thing instead of what's right for himself, a willing pawn for the woman he loves.
Throughout the countless dilemmas Jackie, Ordell, and Max face is the music. Tarantino chose the scoring to pay homage to Grier's catalog of films and the Blaxploitation genre, including "Long Time Woman" a song she sang for The Big Doll House and hits from Bobby Womack and The Delfonics. Each song conjures nostalgia for bellbottoms, big cars, and high stakes and ties Max to Jackie in an endearing way.
When you watch Jackie Brown, you'll see why Grier and Jackson secured Golden Globe nominations among countless others and Forster an Academy Award nomination. You'll also experience an icon who, due to her grace, beauty, and enduring presence, regained her place as the queen of cool.