Critic's Picks – Guest Programmer Karen Gordon
July 21, 2020

By Go Back

Do movies have seasonality? Do some movies just feel better in the long sunny, sultry days and warm breezy nights? It was the question I asked myself as I chose three movies to program for July's Critic's Picks night.

As guest curator, I was assigned to pick one of Hollywood Suite's four decades channels, and then select three movies that would play back to back on the last Wednesday in July, like a mini film festival (they're all also available on demand). I chose the 2000's, mostly because this is when I began working as a film critic, a job that exponentially deepened my love and appreciation for movies.

But what to choose? The list of films included some of my favourite directors, (Paul Thomas Anderson, the Coen Brothers, Debra Granik, Wes Anderson, Richard Linklater, Barry Jenkins), plus too many actors and performances that I love and can watch repeatedly. To make things less overwhelming, I decided to restrict myself only to movies that were hitting the platform in July.

Interestingly enough, there was another factor that influenced my choices and that was the date.

The last Wednesday in July is mid-summer, and it's also leading into the August long weekend in most Canadian provinces. Summer nights are precious, and have their own rhythm, which speaks to me of movies that are a bit gentler on the system – a positive in a difficult year, when many of us are feeling burdened, stressed and worried.

Here's what I chose and why:

Almost Famous (2000) – It's surprisingly difficult to make a really good rock n roll movie. Although Almost Famous is really a coming of age story, it can't be separated from its setting.

Writer/director Cameron Crowe's semi-autobiographical film is rooted in the rock 'n' roll of the 70's. Now that was an era!

At that time, music and the culture that sprung up around it was everything. It was so defining that it feels weird and a bit surreal to note that it's been more than 40 years since the action in the film.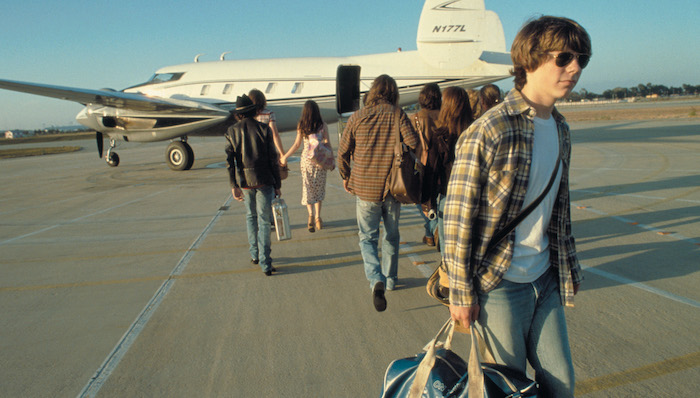 It's an era rear-view-mirror. Done and gone. (To put it in context, if you grew up in the 70s and watched Casablanca, which felt like it was ancient history, you were looking at something that was only 33 years old. )
Back then, being a music fan meant you read one of the influential music magazines, the bibles of the era: notably Creem and the mighty Rolling Stone magazine.
The magazines were so central to the conversation and so well respected that the staff, writers and photographers were rock stars in their own right.
And that included Cameron Crowe, who, incredibly, started writing features for the magazine when he was in his teens before transitioning to making music videos and then directing feature films.
In Almost Famous, Patrick Fugit plays Crowe's avatar, a sweet, level headed, 15-year-old named William Miller, a child prodigy, who loves rock and wants to write about it, over the reasonable objections of his mom (Frances McDormand). Improbably, he wins over both Creem editor Lester Bangs (the late Philip Seymour Hoffman), and then, Rolling Stone's Ben Fong-Torres who for a long time has no idea how old William is.
Fong-Torres agrees to send him to write about Stillwater, a band that is either on its way up or imploding. On tour, William is taken under the wing of the beautiful and enigmatic, Penny Lane (Kate Hudson) the philosophical leader of a group of young women, music fans, who call themselves "band aids", not groupies.
William falls in teenage-love with her. She, however is in love with the band's gorgeous guitar player, Russell (Billy Crudup), and maybe he's in love with her too.
In the world of a touring band, it's complicated.
Crowe won the Oscar for Best Original Screenplay, and both Hudson and McDormand were nominated for Best Supporting Actress.
But it's an all around terrific cast, including Jason Lee, Anna Paquin, Fairuza Balk, Jimmy Fallon, Noah Taylor and a young Jay Baruchel.
It also has one of my favourite movie lines: On leaving home, William's sister, (Zooey Deschanel) gives him parting advice, assuring him. "One day, you'll be cool." Perfect.
Y Tu Mamá También (2000) – I'd forgotten how sexual this movie is. Sex permeates, from the opening scenes where the main characters, teenaged men between high school and university, say goodbye to their girlfriends with mad sex, each swearing that neither will cheat on their respective summer vacations.
And yet that sex is not what stayed with me years later, says a lot about what director Alfonso Cuarón achieved here.
"Y tu mamá también," which translates to "and your mother, too," is a kind of sexual road-trip/comedy that in the end, is much more profound than that suggests.
It stars two then-young Mexican actors who have gone on to international careers: Diego Luna (Tenoch) and Gael Garcia Bernal (Julio). They play school chums, respectively from a rich and politically influential family, and a lower-middle-class single-mother home.
They're inseparable, and spend time smoking dope and bragging about their sexual conquests. It's silly stuff, these two are very carefree and confident. They're in their prime, they'd say, life is good.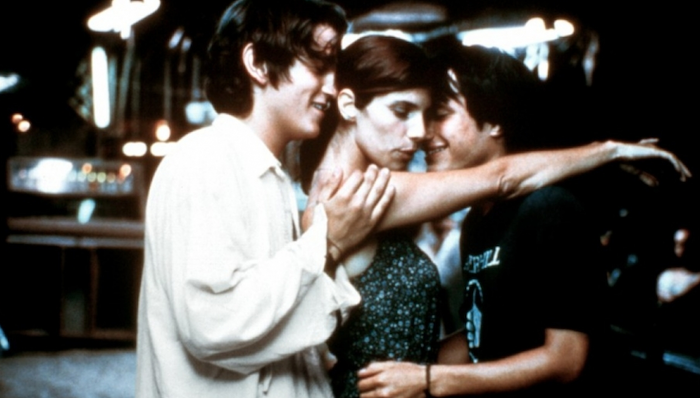 At a wedding celebration they meet the beautiful Luisa (Maribel Verdu), who is married to Tenoch's annoying cousin. The two approach her, laying on the machismo, dangling an invite to a weekend trip to a beautiful beach. Soon after, they can't believe their luck when she's suddenly willing to go. There are reasons for her change of heart, but the boys don't know that. Full of themselves, they think they're the draw and have hit the jackpot.
The film is co-written and directed by Mexico's Alfonso Cuarón, who went on to win Oscars with a range of critically acclaimed films (Children of Men, Harry Potter and the Prisoner of Azkaban, Gravity, Roma).
He's a minimalist storyteller, who isn't in a rush to reveal where he's going with this.
It's fascinating to watch these two high spirited, boastful young men, find themselves in situations that push them, little by little. It's all done with a light hand, but by the end, the frivolity and celebration youth and of life, has transformed into something else.
And along the way to this mythical beach, we very casually see a certain kind of life in Mexico. The carefree boys and Luisa pass police checkpoints and road blocks. Life is silly and sexy, but also complicated. And, at times unfair and mysterious.
The Assassination of Jesse James by the Coward Robert Ford (2007) – Based on a novel of the same name, and adapted and directed by Australia's Andrew Dominik, this is a revisionist western, a slow moving, stately, gorgeously shot drama focusing on the last days of Jesse James (Brad Pitt), and the members of his gang, including a wannabe member, the man who would eventually murder him, Robert Ford (Casey Affleck).
Dominik isn't after a bang bang shoot 'em up western here. He takes his time, giving us an opening scene that feels more like a stage play. The gang members' storytelling gives us time to adjust to the oddly formal 1800s American version of English.
That's where we first meet Robert Ford, a young man obsessed with Jesse James, who's read all about him and wants to be part of the gang.
He tries too hard to charm. Jesse's weary older brother, Frank (Sam Shepard), sizes him up and disgustedly dismisses him
Affleck, who was nominated for an Oscar for Best Supporting Actor, gives us a Ford as a man who appears to have carved his self-image out of a fantasy vision of being Jesse's pal.
As he confronts the reality of who James is, and how James views him, a deep resentment builds behind an increasingly uneasy smile that wavers and disappears in seconds, revealing something ugly in his psyche.
This is a study of a narcissist. Ford is a romantic figure in his imagination, living in a fantasy world where he imagines becoming as large a figure as James. He can't cope with the reality that he might just be ordinary. Affleck is superb in the role, not at all afraid to make Ford less and less tolerable as the film unfolds.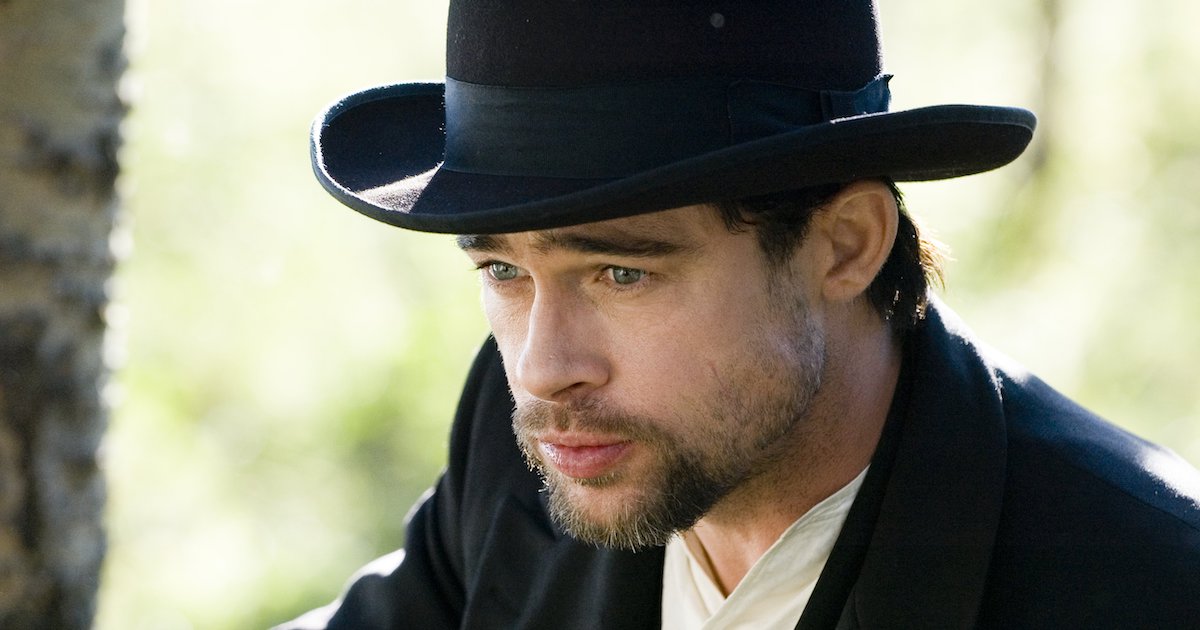 Jesse James' has come down through the last century as a folk hero, but that's a highly romanticized image. The exploits of the real James caught the popular imagination in frontier America, but the reality was probably more that James was a sociopath and a megalomaniac.
Brad Pitt has the looks and the charisma to justify James' appeal. The film portrays him as a conundrum, one part family man, but also nasty, paranoid and dangerous. Pitt takes him there in the quietest way possible.
I'm personally having a bit of a renaissance when it comes to Brad Pitt. I sometimes found his earlier work uneven, but as he's matured, he's become a different kind of actor, quieter and deeper on screen. He's riveting in roles like this, where he's able to be still and do as much reacting as acting. There's a soulfulness to his work these days. With Jesse James, he achieves both depth and a subtle unwholesome reveal.
Another reason to love this movie is that it's gorgeous to look at. Shot by the great cinematographer Roger Deakins (who was nominated for an Oscar for this film), every frame looks like a work of art.
The film also has a a great cast, including Sam Rockwell, Mary Louise Parker, Jeremy Renner and Paul Schneider. And, towards the end of the movie, look for a cameo by Nick Cave, as a singer in a bar. Cave, along with Warren Ellis, composed the very spare score.
Wednesday, July 29, 2020
Hollywood Suite 2000s Movies – HS00