Halloween H20: 20 Years Later (1998) — The Shockingly Satisfying End Laurie Strode (and Michael Myers) Deserved
October 27, 2020

By Go Back

At one point in John Carpenter's 1978 slasher classic Halloween, Sheriff Leigh Brackett tells teen Laurie Strode (a young Jamie Lee Curtis) that when it comes to the spookiest day of the year, "everyone's entitled to one good scare." But what if that scare never stops, the memories of that specific horrific moment keeping you up at night for years after, and, eventually, forcing you into hiding? That's the question Halloween H20: 20 Years Later (1998) — the seventh film in the Halloween series and direct sequel to Halloween II (1981) — asks us to consider.

Like Halloween (1978) and Halloween II (1981), Halloween H20 centres on Laurie Strode's battle with her estranged and deranged brother, the fictional murderer Michael Myers (also known as The Shape). But this time, Laurie isn't quite herself, having taken on a new life and new name (Keri Tate) after fleeing the suburban streets of Haddonfield, Illinois for Summer Glen, California. The girl we were introduced to as a burgeoning babysitter is now the headmistress of a private school (Hillcrest Academy) and the mother of a teenage son, the floppy-haired John (Josh Harnett).

Navigating the conflicting timelines and storylines of the Halloween series can give you a headache rivaling the aftermath of a night of overeating candy bars. But what you need to know going into Halloween H20 is that the films that followed Halloween II (1981) — with the exception of Halloween III: Season of the Witch, which is fully removed from the Laurie/Michael storyline entirely — presumed Laurie Strode to be dead, the victim of a car accident that left her daughter, the cleverly named Jamie Lloyd (Danielle Harris), an orphan.

Directed by Steve Miner (Friday the 13th Part 2, Lake Placid), Halloween H20 revives Laurie's story on her own terms, turning what became a tragedy into a triumphant tale of confronting — and eventually, overcoming — trauma. The film tells us that Laurie faked her death in an attempt to protect herself and her son (Jamie is not mentioned and thus, presumed to not exist in this version of the Halloween universe) from further familial harm.

Rumour has it that Curtis didn't want to return for the initial Halloween sequels, which is why they initially killed her character off in Halloween 4: The Return of Michael Myers (1988) and kept her dead and buried through Halloween: The Curse of Michael Myers (1995). Curtis chose to return for one last good scare with Halloween H20, presumably because the script (developed by then sought-after Scream scribe Kevin Williamson) not only offered her a starring role, but also gave her character an actual ending.

Of course, Curtis would go on to play Laurie Strode again in several other films in the ongoing Halloween saga (see: embarrassingly bad Halloween: Resurrection from 2002, as well as the 2018 reboot from David Gordon Green and planned sequels to it, Halloween Kills and Halloween Ends). But none of those films respect Curtis, or her signature character, as much as Halloween H20 does.

Halloween H20 is one of the only examples of an entry in a slasher series that allows its Final Girl to honestly address what it means to be a survivor of a serial murder spree. And it manages to tackle this possibly problematic material while also having some thematically appropriate fun along the way (see: Curtis's mom Janet Leigh making a Psycho-scored cameo as a co-worker of Keri and repeating the "one good scare" line).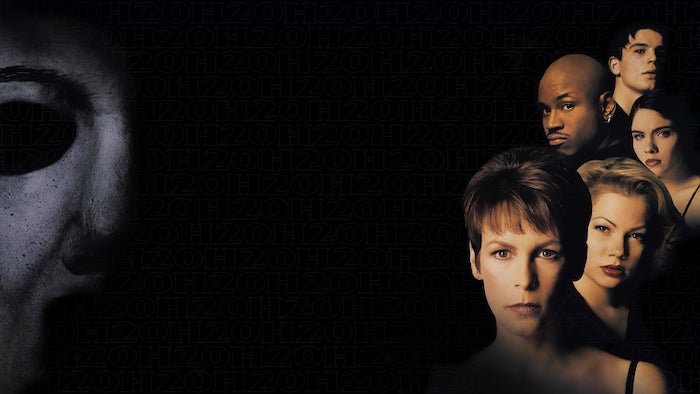 Yes, there is discussion of Laurie's trauma in Halloween (2018), but that version of Laurie is less of a person and more of an enigma, a cousin of the Terminator series' signature heroine, Sarah Connor, in the toughened-by-trauma department. The grown-up Laurie we meet in Halloween H20 feels like a natural progression from the Laurie we met in Halloween (1978). She's still smart, savvy and staunchly independent, but she has a recurring few issues from two decades of living with (and reliving) what happened to her on October 31, 1978. She often drinks too many glasses of wine at lunch and consistently refuses to let John out of her sight. Oh, and don't even try to make her talk about (let alone celebrate) Halloween.
A high-functioning alcoholic with assumed PTSD (Post-Traumatic Stress Disorder), Halloween H20's version of Laurie has spent much of her adult life running away from what her brother did to her, often compromising her and her son's happiness to do so. After 20 years of successfully evading Michael, she is still scared, but somewhat softened, as evidenced by her decision to allow John to take off on a school trip to Yosemite on October 31, 1998.
The Laurie of Halloween H20 is trying, and struggling, to do and be better. Unlike her infamously unkillable brother, she is a real person with real feelings and sometimes those feelings come out in ways that aren't ideal, or are even damaging. But nothing she has done, or will do, can compare to the horror Michael inflicted on her and her friends back in 1978.
As fate would have it, the one year Laurie decides to let go of her Halloween hang-ups, Michael (played by Chris Durand) finally comes back to finish what he started. And, of course, John doesn't make it to Yosemite, secretly skipping the trip to stay close to his girlfriend Molly (Michelle Williams) and Hillcrest Academy, which will become the site of the film's nail-biting and reference-heavy finale.
Early on in the film, it seems like Molly will become the final girl of Halloween H20, with rising star Williams (then on Dawson's Creek) even having a pointed classroom conversation with Laurie about fate and redemption as seen in Mary Shelley's Frankenstein (a nod to the part in the 1978 film where a teacher gives Laurie a similar prompt). But in truth Molly is — like all the other characters in Halloween H20 — nothing more than spectator in the ongoing battle between a woman and her monsters (literal and emotional).
After Molly not-so-subtly tells Laurie that Dr. Victor Frankenstein was "paralyzed by fear" until he "reached the point in his life where he had nothing left to lose," it's easy to predict where Halloween H20 is headed. The climax sees Curtis's Laurie going head-to-head with the man who made her into the woman she's become, staying strong in her quest for revenge even after witnessing her boyfriend, Will (Adam Arkin), get killed in front of her (in an homage to the knife-and-lift death in Halloween II). Unlike in Halloween (1978), however, Laurie is not the sole survivor, with Molly, John and security guard Ronny (LL Cool J, the film's comedic relief) all making it to the end credits as a result of her insistence on facing, and defeating, the object of her fear.
In Halloween H20's final scene, Laurie gets the closure she has been craving, decapitating Michael. It's triumphant moment, one that had me gasping into a blanket in my basement at an all-too-tender age. It was, and remains, a shockingly satisfying conclusion to Laurie's story, freeing her from that "one good scare" that followed her for 20 years.
It's really too bad the series didn't end there, with Halloween: Resurrection swooping in to kill the fantasy by revealing that Laurie actually beheaded the wrong guy (Michael put a paramedic in his signature mask and boiler suit) before killing her off for good. But it's nice to know that her happy ending does live on in Halloween H20, a rare scary movie sequel that honours its protagonist as much as the Shape haunting her.
Find the next playtimes for Halloween H20: 20 Years Later (1998) on Hollywood Suite.