"That's a Big Twinkie": A Ghostbusters-Inspired Stuffed Bundt Cake from MasterChef Canada Winner Jennifer E. Crawford
October 19, 2020

By Go Back

Reel Meals is the latest side dish to Hollywood Suite's signature programming, which features movies you love from the 70s, 80s, 90s and 2000s. With Reel Meals, get to know a Canadian chef or food personality through an original recipe catered to a film from the Hollywood Suite catalogue.

This Shocktober, we're serving up assorted tricks and treats with over 50 thrilling and chilling films available across our four channels and On Demand. One of the films featured this Shocktober is Ghostbusters (1984) — a spooky season standard starring Bill Murray, Dan Aykroyd, Harold Ramis, Ernie Hudson and Sigourney Weaver, not to mention a personal favourite of chef and MasterChef Canada winner Jennifer E. Crawford.

In celebration of our Shocktober lineup, Crawford crafted an original recipe featuring – what else! – a marshmallow twist. Find out how to make their Ghostbusters-inspired Bundt cake (to quote the great Winston Zeddemore, "that's a big Twinkie!") below and dig into our Shocktober lineup all now through October 31.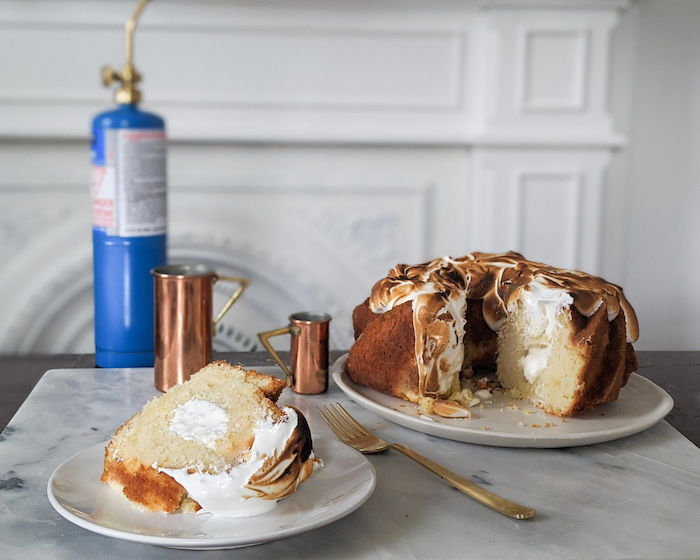 "That's a Big Twinkie": A Ghostbusters-Inspired Stuffed Bundt Cake
Ingredients for Bundt Cake (Adapted from Delish)
1 ½ cup butter, at room temperature
2 cups granulated sugar
4 large eggs
1 tbsp vanilla extract
3 cup all-purpose flour
6 tbsp cornstarch
2 tsp baking powder
1 ½ tsp kosher salt
1 cup whole milk
Make Cake
Preheat oven to 350°.
Grease a 12-cup Bundt pan with cooking spray or oil.
In the bowl of a stand mixer with paddle attachment (or with a hand mixer), beat butter and sugar until it turns a light yellow and is fluffy.
Add eggs one at a time, fully incorporating after each.
Add vanilla and mix until combined.
In another large bowl, whisk together flour, cornstarch, baking powder, and salt. Add half of the dry ingredients to the wet ingredients and beat on low until just combined.
Pour in milk and mix until incorporated.
Add remaining dry ingredients and beat on lowest setting until just combined.
Pour batter into greased Bundt pan. Use a spatula to smooth out the top!
Bake for 1 hour, or until an inserted skewer/toothpick comes out clean.
Cool in the pan for 15 minutes, then invert onto a cooling rack to cool completely.
Marshmallow Topping & Crème
6 egg whites
1 ½ cup white sugar
¼ tsp cream of tartar, or rub the bowl with a cut piece of lemon
½ tsp kosher salt
3 tbsp butter (for the marshmallow creme)
3 tbsp icing sugar (for the marshmallow creme)
In a double boiler over boiling water, combine egg whites, sugar, salt and cream of tartar. Stirring and scraping constantly with a flexible spatula, keep over the double boiler until the sugar is entirely dissolved, and egg whites hold steady at 175°F (79°C). This will take around 10 minutes.
Transfer to the bowl of a stand mixer fitted with a whisk attachment (or use a hand mixer) and whip at high speed until meringue is glossy and holds its peaks, about 5 minutes. THEN — because we are going for an oozy, melty Stay-Puffed-just-got-torched vibe — beat about 3 minutes more. It should deflate slightly, making it more like melted marshmallow. Set 2/3 aside to top the Bundt cake.
With the remaining ⅓ of the oozy marshmallow, we will create the marshmallow creme for stuffing the cake. Allow it to cool completely, then whip in the butter adding just 1 tbsp at a time, followed by the 3 tbsp of icing sugar. Transfer to a piping bag, and snip off the end to create a 1 cm opening. Place in fridge until using.
To Assemble
Flip the cake so it is flat-side up and make 12 evenly-spaced holes in the bottom of the cake using a skewer, pressing only halfway down into the cake and wiggling the skewer slightly to widen the holes until they are each about 1 inch wide and connecting with each other. Insert the piping tip in each of the hollowed-out holes and pipe in the marshmallow creme until it starts to ooze out the top of the hole.
Flip the cake flat-side down onto a cake stand or serving platter. Top generously with the marshmallow topping, and torch to your heart's desire!
About Jennifer E. Crawford
Jennifer Crawford has been cooking non-stop their whole life, especially since getting sober in early 2018 and subsequently winning MasterChef Canada in 2019. They're a desk jockey turned food writer, chef, aspiring pro-wrestler, and Moon Mist ice cream enthusiast. In their My Queer Kitchen show and column with Xtra Magazine, they focus on the intersections of food, feelings, and identity. Their first book, Raging Appetites, will be published by House of Anansi in fall 2021.