Go Back
AWARD-WINNING GERMAN DRAMA SERIES THE ALLEGATION ARRIVES ON HOLLYWOOD SUITE
Exclusive Canadian Broadcast Premiere April 7, 2022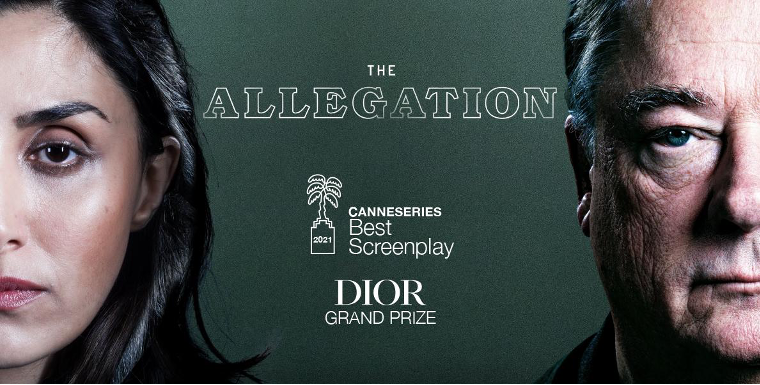 Toronto, March 22, 2022 — Hollywood Suite is pleased to announce it will be the exclusive Canadian broadcast home to Canneseries 2021 Dior Grand Prize and Best Screenplay winner The Allegation. The riveting seven-part German legal thriller will premiere with back-to-back episodes on April 7, 2022 at 9pm ET on Hollywood Suite, with new episodes airing weekly throughout April. Viewers can also catch the series on Hollywood Suite On Demand starting April 1, 2022.
Conceived by German criminal lawyer turned best-selling author Ferdinand Von Schirach, The Allegation is inspired by the true story of a shocking child sexual abuse scandal that rocked the German legal system in the 1990s. When a pediatrician discovers seemingly incontrovertible evidence that a young girl has been abused, events are set in motion that lead to a judicial scandal of immense proportions. Stirred up by frenzied news coverage, prosecutors make a devastating case against the accused, with shocking implications. The Allegation is a poignant examination of the search for truth and justice, and the distorting power of social media.
"We are excited to showcase such a high-quality series for Canadian audiences. Like the compelling hit series Broadchurch, it's a fast-paced, riveting thriller and represents a continuation of our commitment to bring top-tier international programming. We are excited for our audience to discover The Allegation, and I hope they will find it just as captivating as our programming team has," said Sharon Stevens, VP Programming, Hollywood Suite.
The Allegation stars Peter Kurth (Inventing Anna; Babylon Berlin), Narges Rashidi (Gangs of London) and Sebastian Urzendowsky (The Way Back). Directed by Daniel Prochaska, the critically-acclaimed series was written by Von Schirach.
ABOUT HOLLYWOOD SUITE
Hollywood Suite owns and operates four exclusive HD channels featuring the iconic movies that defined the 70s, 80s, 90s and 2000s, plus essential Hollywood classics from the Golden Age, always uncut and commercial-free. With hundreds of movies every month on four HD channels and Hollywood Suite On Demand, Hollywood Suite provides an unparalleled value to consumers.
Hollywood Suite is available to over 10 million households across Canada, exclusively through Canadian television service providers and Amazon Prime Video Channels. Visit hollywoodsuite.ca for more information.
SOCIAL MEDIA
Facebook: Hollywood Suite
Twitter: @hollywoodsuite
YouTube: HollywoodSuiteTV
Instagram: @hollywoodsuite
Website: hollywoodsuite.ca
For more information regarding Hollywood Suite, please contact:
Angie Power
ROUTE 504 PR
angie@route504pr.com
647.969.6026