To Catch a Thief: Haute Hitchcock and 1950s glamour
Alfred Hitchcock's 1955 thriller To Catch a Thief, starring Cary Grant and Grace Kelly, premieres Sunday, March 11 on Hollywood Suite.
His fourth colour feature and his first widescreen, To Catch a Thief (1955) is rarely considered one of Hitchcock's top masterpieces. Yet, its picturesque locale, phenomenal star pairing of Cary Grant and Grace Kelly, as well as its exquisite production design, and glamourous costume design – the latter orchestrated to perfection by the legendary Edith Head – make To Catch a Thief a rare delight. A feast for the eyes, without Hitchcock's patented perversion or twisted psychosexual leanings (although truly, that's why we love him, don't we?), To Catch a Thief is a stylish mid-century romp through the bistros, beaches, and rooftops of the French Riviera. A rare murder-free thriller (which isn't to say there is not a dead body or two), it proves some of Hitchcock's strengths in comic timing, as well as the superior craftsmanship of his collaborators (Edith Head, cinematographer Robert Burks, and Art Directors J. McMillan Johnson and Hal Pereira). Nominated for Oscars in Best Cinematography, Best Production Design, and Best Costume Design (Head would win for her costumes), it is one of Hitchcock's best-looking films.
Cary Grant plays John Robie – a supposedly reformed jewel thief known as "The Cat." Living in the French Riveira, Robie, who hasn't committed a crime in fifteen years, is questioned by police after a series of jewel heists – remarkably similar to The Cat's M.O. – are committed at a hotel. An insurance adjuster, worried at the vast payouts he'll have to dole out if the thief isn't caught, enlists Robie to help catch the copy-cat burglar. Clients of the adjuster are the heavily bejewelled mother/daughter duo, the Stevens, guests at an illustrious Cannes hotel. Smitten with Robie, the daughter Frances (Grace Kelly) aggressively pursues him, as does the teenage daughter of his former accomplice Danielle (Brigitte Auber), all the while the cat burglar sets Robie up for a fall.
At age fifty-one, Grant had been retired from acting for two years when Hitchcock persuaded the actor to once again collaborate with him. He had previously starred in Hitchcock's Suspicion (1941), playing a cad of a husband suspected of plotting his wife's death, and in Notorious (1945), playing a cad of a lover who enables his paramour to be murdered by her husband (the 1940s were quite a time for marriages and affairs), and he would of course go on to star in Hitchcock's masterpiece North By Northwest in 1959 – apparently retirement didn't take. Tanned, as would be appropriate for a Riviera-dweller, fit, and still as handsome as the day he debuted in This is the Night (1932) nearly twenty-five years prior, Grant was at the top of his game and one of the most recognized male stars Hollywood had ever known. No wonder Hitchcock wanted him for his roguish burglar.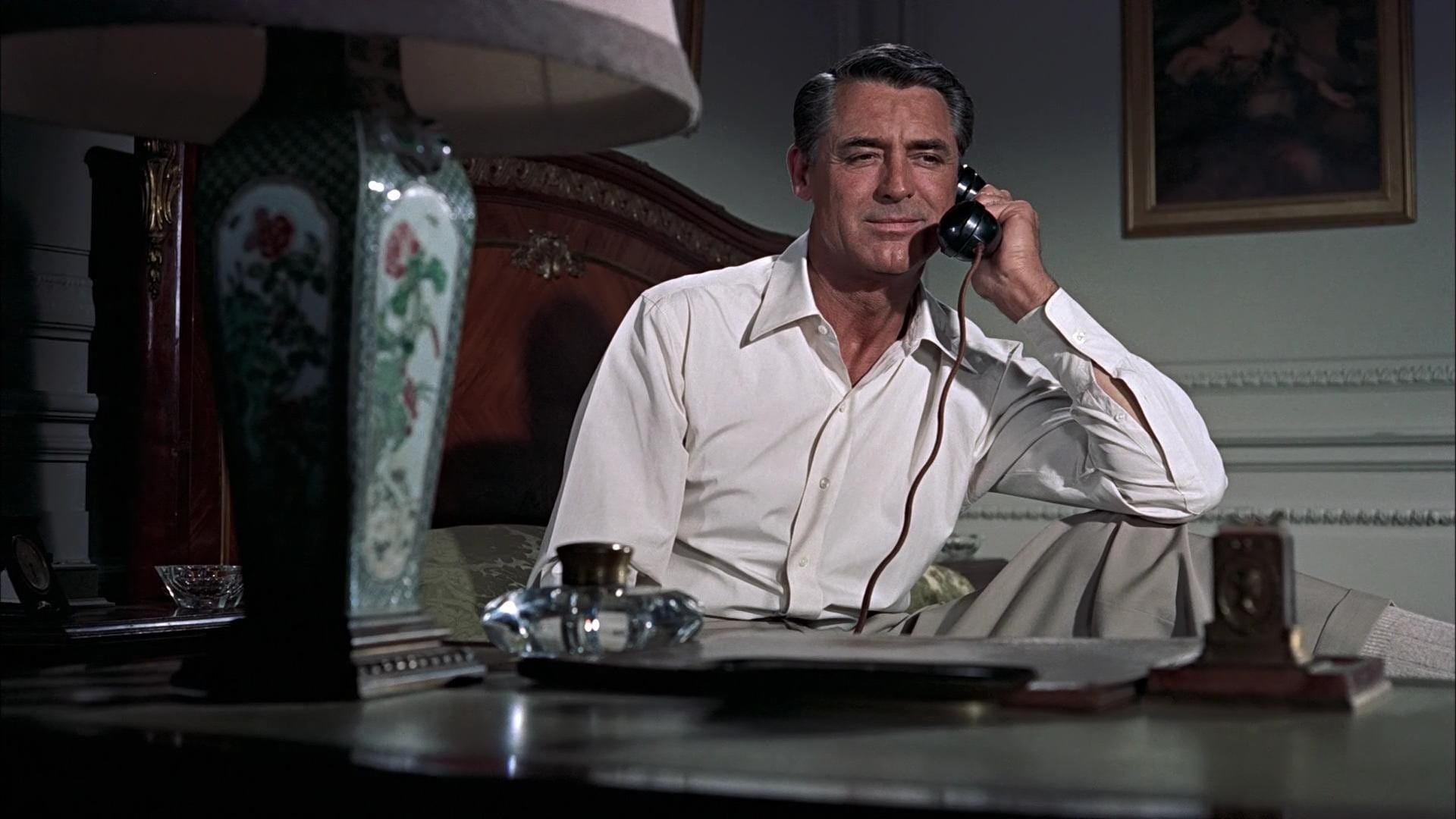 Pairing him with the director's most coveted starlet, Grace Kelly, the director created a dynamic on-screen pairing, even if the age difference between the 50+ Grant and twenty-four-year-old Kelly did raise some eyebrows. Kelly was Hitchcock's ultimate blonde. Having only appeared in seven films at the time of production – two of which were Hitchcock predecessors (Dial M for Murder and Rear Window both from 1954). Her true blueblood origins perfectly suited the character of a wealthy American heiress. Rounding out the cast was twenty-six-year-old French ingénue Brigitte Auber, who Hitchcock personally selected after seeing her in a number of French productions. Auber plays Robie's former accomplice's daughter – a rambunctious spitfire out to ensnare the cat in her romantic exploits, despite Frances's designs on him.
Filmed on location amidst the Côte d'Azur's Mediterranean beauty, To Catch a Thief made great use of Paramount's newly-minted VistaVision process. A rival to CinemaScope and exclusive to Paramount, VistaVision oriented the 35mm film vertically, rather than horizontally, allowing for a higher resolution image, much like the recently resurrected 70mm process. And while Hitchcock was sceptical of widescreen's true value (assuming it a gimmick like the 3D he used in Dial M for Murder), he and cinematographer Robert Burks nonetheless made incredible use of it by filming elaborate car chase scenes along the cliffs and vineyards of the Riviera from a helicopter – something that in 1955 had rarely been attempted and required careful customization of the vehicle and camera to make possible.
To Catch a Thief also rendered colour in a remarkable way. A film concerned with fine jewels, To Catch a Thief is bathed in emerald green lighting for the film's twilight sequences, including its rooftop climax of duelling cat burglars. It's an element of style that would be used three years later for Vertigo and its encroaching green fog of jealousy and obsession. Throughout To Catch a Thief, jewel tones predominate, whether the green lighting, the sapphire blues of the sea, or Frances's gold lamé ball gown – worn for the film's final act. Like the Technicolor epics to soon follow, each hue was meticulously thought out in To Catch a Thief and utilized to subtly to tell the story – nowhere is this truer than with the costumes designed by Head and worn exquisitely by Kelly.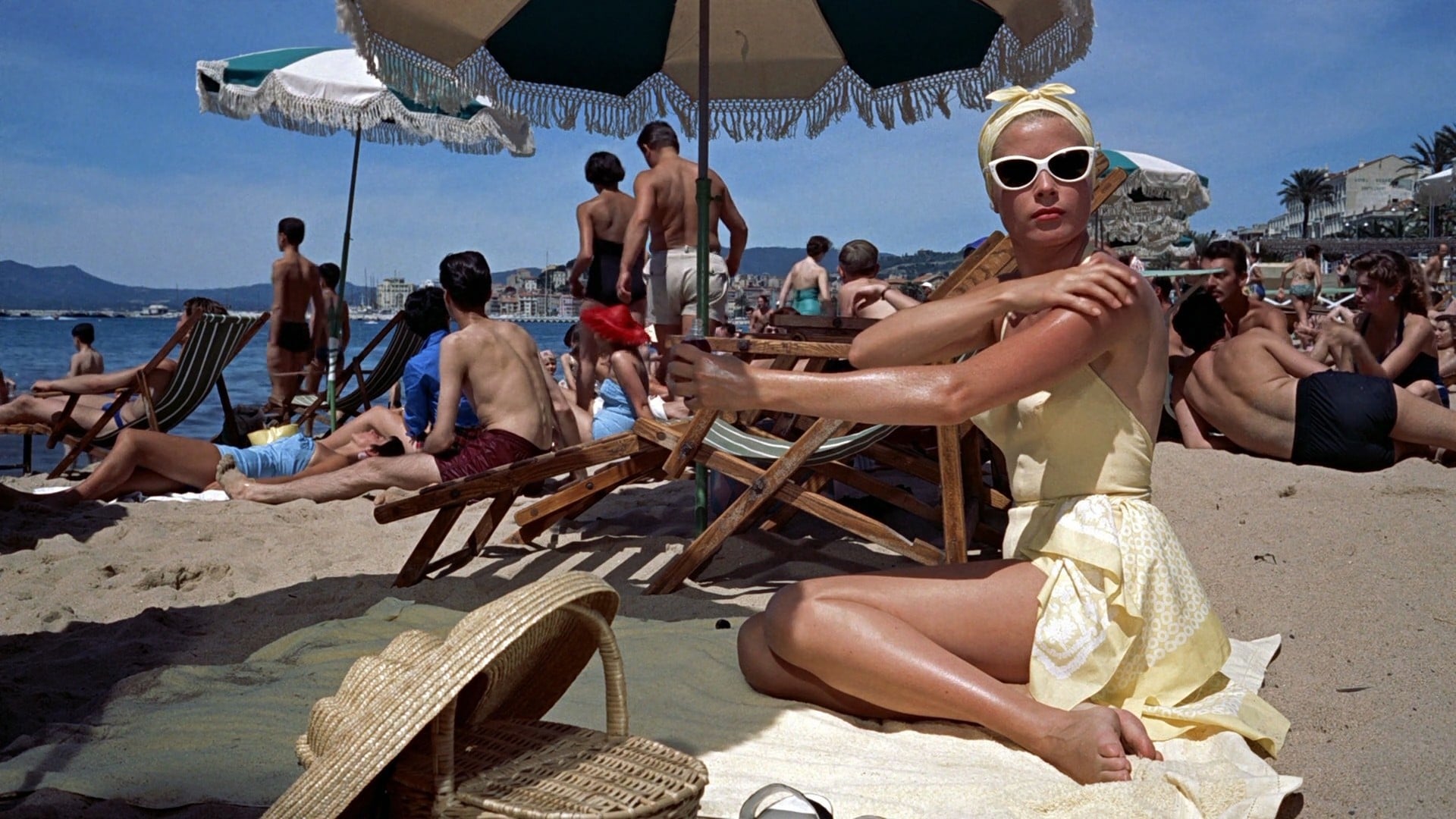 To Catch a Thief was Head's third collaboration with Hitchcock – having previously designed costumes for Grant and Ingrid Bergman in Notorious and for Jimmy Stewart and Kelly in Rear Window. They would collaborate on another eight films for a total of eleven. Head was, and still is, the most awarded costume designer in the history of film, with an astounding thirty-five Oscar nominations and eight wins, which also makes her the most anointed woman in Oscar history. In 1955, she would win for the Audrey-Hepburn starring Sabrina and a year later, she achieved Oscar gold again, winning for To Catch a Thief.
Head always claimed, when asked in interviews (and she was invariably always asked), that Kelly was her favorite star to work with, and one can see why when you look at the dresses in To Catch a Thief. From Frances's swimsuits (which Hitchcock insisted be one-pieces and not those cheap new-fangled bikinis sweeping the beaches of France), to her chiffon evening gowns, to her ostentatious, but oh-so-fun 18th-century inspired ball gown, Kelly and Head's collaboration was movie magic. Indeed, some of Head's most recognized pieces are in To Catch a Thief. While glamour was key, Head was keen, as was Hitchcock, to tell the story of the film through costumes, rather than thinking of the costumes as mere decoration to an elaborate, high budget production. Tracing the transition in colors of Frances's costumes, from the whites and ice blues she wears in her more shrewish phase, to the brilliant gold of her lamé gown in the film's climax, there is a transformation in her character illustrated via colour – from cool and calculating, to warm and in love. Head, like Hitchcock, was never one to miss a beat, rather within all that glamour is a calculated storytelling technique.
From its costumes, to its breathtaking cinematography, to the beauty of its environs, To Catch a Thief is a jewel in Hitchcock's crown. And while it may not be revolutionary in its filmmaking – like Psycho (1960) or Vertigo (1958) – it is, nevertheless, an important entry in Hitchcock's much-studied and admired filmography. With its use of colour, widescreen, and design, it served as a testing ground to the epics he was about to embark on. The perfect rainy-day film, it shouldn't be thought of as Hitchcock-lite as many critics and historians have suggested, but rather, a nice, light appetizer (French-inspired) to a much heavier, calorie-rich main course soon to arrive on the table.