Underrated and Overdressed: A Toast to Parker Posey and Party Girl (1995)
In the mid-to late-90s, Parker Posey was a true trendsetter. Dubbed the "Queen of the Indies," she had a closetful of trendy collaborators, working with everyone from Noah Baumbach and Gregg Araki to Christopher Guest and Richard Linklater. Still, her crowning achievement of the time period (and, arguably, her career) was her starring role in Daisy von Scherler Mayer's Party Girl (1995).
Sure, Party Girl is not as well-known or well-made as, say, Dazed and Confused or Waiting for Guffman. But with quirky cool direction by Von Scheler Mayer (who also co-wrote the script) and fabulously flamboyant costumes by Michael Clancy, the comedy feels almost tailor-made for Posey and her scene-stealing on-screen persona.
Posey plays Mary, a seasoned New York socialite who is forced to work at a library to pay her godmother back for bailing her out of jail. Mary has a very distinct style, mixing bold patterns with bright tights and clunky heels for a sort of rave-meet-runway look. Her personality – extroverted and eccentric – is as bold as her fashion sense.
Suffice it to say, Mary is a character who could be grating, even unlikeable. However, thanks to Posey and her nuanced brand of neurosis, she comes across as much more than another whiny rich girl forced to check her privilege. You understand why this person has become such a legend in her scene. Whether she's dancing up a storm or sorting through the stacks, she is fully committed to the task at hand. Oh, and she has a damn good time doing it.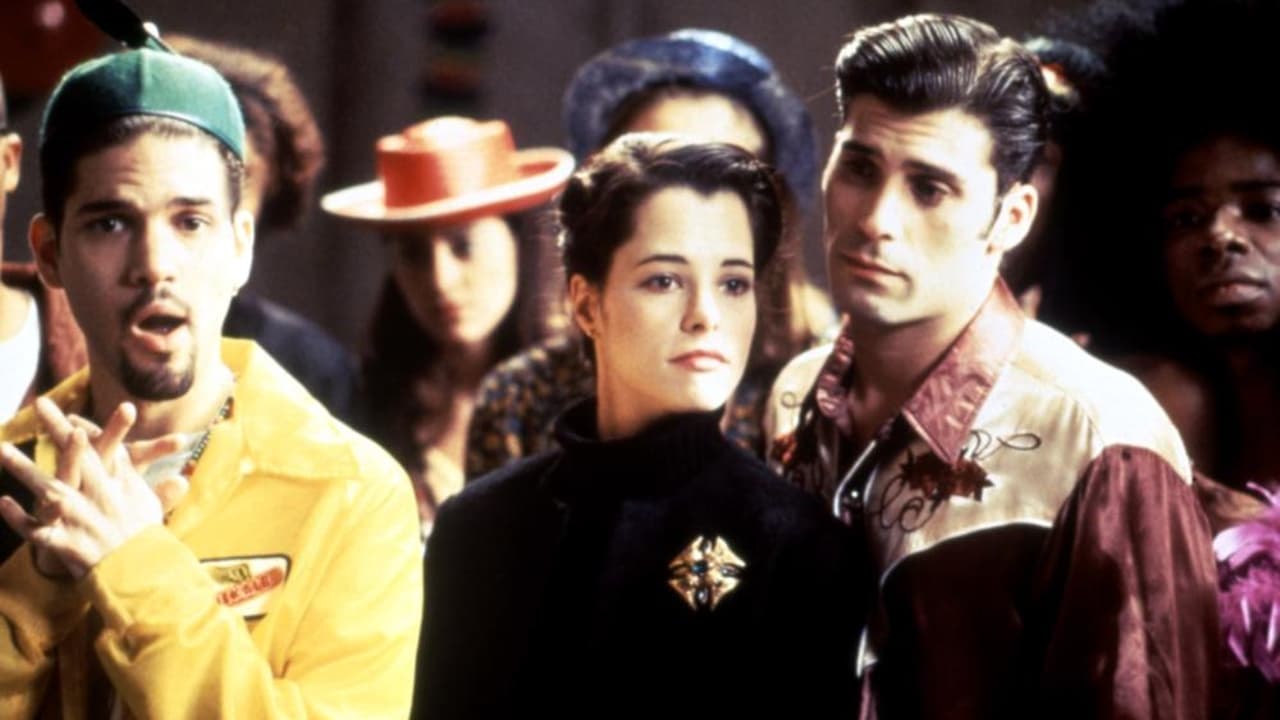 You can see Posey had a blast with Mary. In playing such a larger-than-life character, she got lean into her campiest impulses, not only in terms of fashion, but also body language and line delivery. Von Scherler Mayer truly let her leading lady run wild throughout the film, with a standout scene centring on Posey prancing around the library alone after Mary has finally figured out the Dewey Decimal System. Commanding Mary's newfound space with confidence, Posey uses desks as a makeshift runway to showcase one of Clancy's truly iconic costumes: four jewel-toned shirts layered over leather shorts with blue striped tights, ankle booties, gold hoop earrings and a fruit charm-covered scrunchie.
The fashions aside, there are a few elements of Party Girl that, on reflection, feel out of style. There is a problematic subplot featuring Mary's crush Mustafa (Omar Townsend), a former teacher and current falafel stand owner (Townsend and Posey are very cute – the "Middle Eastern-themed" party Mary throws to win him over, not so much). There are also a quite a few dropped threads including a cute, yet underdeveloped section on Leo, an aspiring DJ played by Guillermo Diaz. But Von Scherler Mayer pulls it all together in the end by bringing the focus back to Posey – and some perfect accessories.
In the final scene of the film, Mary sews together pieces of her past and her present as she looks to her future. Wearing chic, yet professional all-black ensemble accented by a beautiful broach and burnt orange glasses, she announces to her godmother that she wants to pursue a career in library sciences. Then she dances around her loft with her friends, her found family and, of course, a bright purple boa.
It's a moment that feels like a precursor to another fashion-forward film, Legally Blonde. Party Girl may be edgier than that mainstream comedy and its leading lady, but it has a similar intentions, suggesting that people (particularly women) don't need to choose substance over style, or vice versa. At the end of the day, what matters is that you stay true to yourself and the things that make you stand out (even on a busy Manhattan street).
Parker Posey has never been someone who blends into the background, which made her a perfect match for the funky frivolity of Party Girl. The imperfect, but underrated film serves as a reminder that while the eccentric actor's working wardrobe may be stocked with supporting roles, she is not some throwaway accessory. She is, in fact, a statement piece, the kind of performer that can make even the most pedestrian ensemble seem utterly chic.
Catch Party Girl in October on Hollywood Suite On Demand, the HSGO app and hsgo.ca! 
Find the next playtimes for Party Girl on The Hollywood Suite 90s Movies channel.