Mamma Mia! How Meryl Streep Became the Movies' Ultimate Mother Figure
Starstruck – A constellation of the biggest stars of the 70s, 80s, 90s and 2000s is lighting up Hollywood Suite this summer!
During the 2018 Academy Awards, Tiffany Haddish stood up in front of the world and declared, with undeniable sincerity, that that she wanted Meryl Streep "to be my mama one day!" In that moment, she was not only speaking for herself, but for all of movie-loving kind.
Over her 40-plus years on screen, Meryl Streep has proven herself to be a true contender for mainstream film's ultimate mother figure. In honour of Hollywood Suite's Starstruck tribute to Meryl, let's take a closer look at the various mom-ments of her career and how they have affected her choices, not to mention our view of her as both an actress and public figure.
1979–1988: "Bad" Mom Meryl
After stealing small scenes in films like The Deer Hunter and Manhattan, Meryl received her first truly substantial role in Kramer vs. Kramer. In this 1979 film, she plays Joanna Kramer, a young mother who gets into a bitter custody battle with her ex (Ted Kramer, played by Dustin Hoffman) after suddenly abandoning their son, Billy.
When watching the first half of Kramer vs. Kramer, you may be inclined to side with Ted. But all bets are off after you see Meryl in the courtroom scene, during which Joanna has to explain through tears why she wants custody of Billy again. Meryl lays it all out emotionally in this moment, her voice quivering between each word. What's more, she actually rewrote this monologue with director Robert Benton in an attempt to better illustrate Joanna's struggle to reconcile her desire for personal fulfillment with society's expectations of her (and all mothers). Meryl may not have been a mom when she worked on this film (her son, Henry, would be born in late 1979), but she was clearly passionate about creating a character that realistically represented the struggles of being a woman with children.
Unsurprisingly, Meryl won her first Oscar (Best Supporting Actress) for playing Joanna. In 1982, Meryl would earn her second Oscar (Best Actress) for playing another challenging movie mama: the title character in Sophie's Choice. Meryl's Sophie has an even more devastating decision to make than Joanna, as she is forced to choose which of her children will be sent to death during the Holocaust. The film actually focuses more on the years following Sophie's rescue from Auschwitz at the end of the war, but this harrowing flashback is the moment film fans reference (often with oddly unbridled brevity).
A few years, Academy Award nominations, and children (hi, Mamie and Grace!) later, Meryl booked her next reference-worthy part with A Cry in the Dark  (1988). This time, she'd play an already infamous mother figure: Lindy Chamberlain, the New Zealand woman charged with murder who claimed a "dingo took her baby" after it disappeared mysteriously.
Lindy, much like Joanna and Sophie, is taken to task for leaving a child behind. The thing that separates Lindy (the woman and the character) from her predecessors is her stoic personality, which the court and public would deem downright unmotherly. With a dark haircut, piercing stares and ruthless line delivery, Meryl brought the first decade of her screen career to a close with shades of the strong-willed matriarchs she'd play in her later life (Miranda Priestley, Sister Aloysius and Violet Weston, anyone?).
1994–1996: "Average" Mom Meryl
After A Cry in the Dark, Meryl moved towards the comedic end of the spectrum, getting to play dramatic, independent women in films like Postcards from the Edge and Death Becomes Her. As she settled a bit more into motherhood off screen (her last child, Louisa, was born in 1991), she shied away from it on screen. Then came the mid 90s.
Meryl's "average mom" period began with a splash—a.k.a. 1994 action-adventure The River Wild. On paper, Meryl's character, Gail Hartman, seems to be your basic plucky, yet sensible water sports enthusiast mom. But she reveals more and more layers as the film takes a harsh turn into thriller territory, showcasing her sexuality and ruthlessness in the face of danger. In the end, you're rooting for Gail, even as she commits murder (bye forever, especially icky Kevin Bacon!). Gail Hartman—she's just like us!
After successfully conquering the roaring rapids of Idaho, Meryl made her way to Iowa for 1995's The Bridges of Madison County. In what might be one of her most sensual roles to date, Meryl plays Francesca Johnson, a 60s mother and homemaker who yearns for a break from the monotony (or is it monogamy?) that has become her day-to-day life, and finds it in a four-day affair with photographer Robert Kincaid. The film doesn't shame Francesca for choosing to go against her vows, but it does end with her choosing her husband and family over a new life with Robert. You leave the movie feeling as though Francesca has ultimately made the "right" choice, even if it was wrong for her. Meryl, meanwhile, walked away with her first Oscar nomination in five years.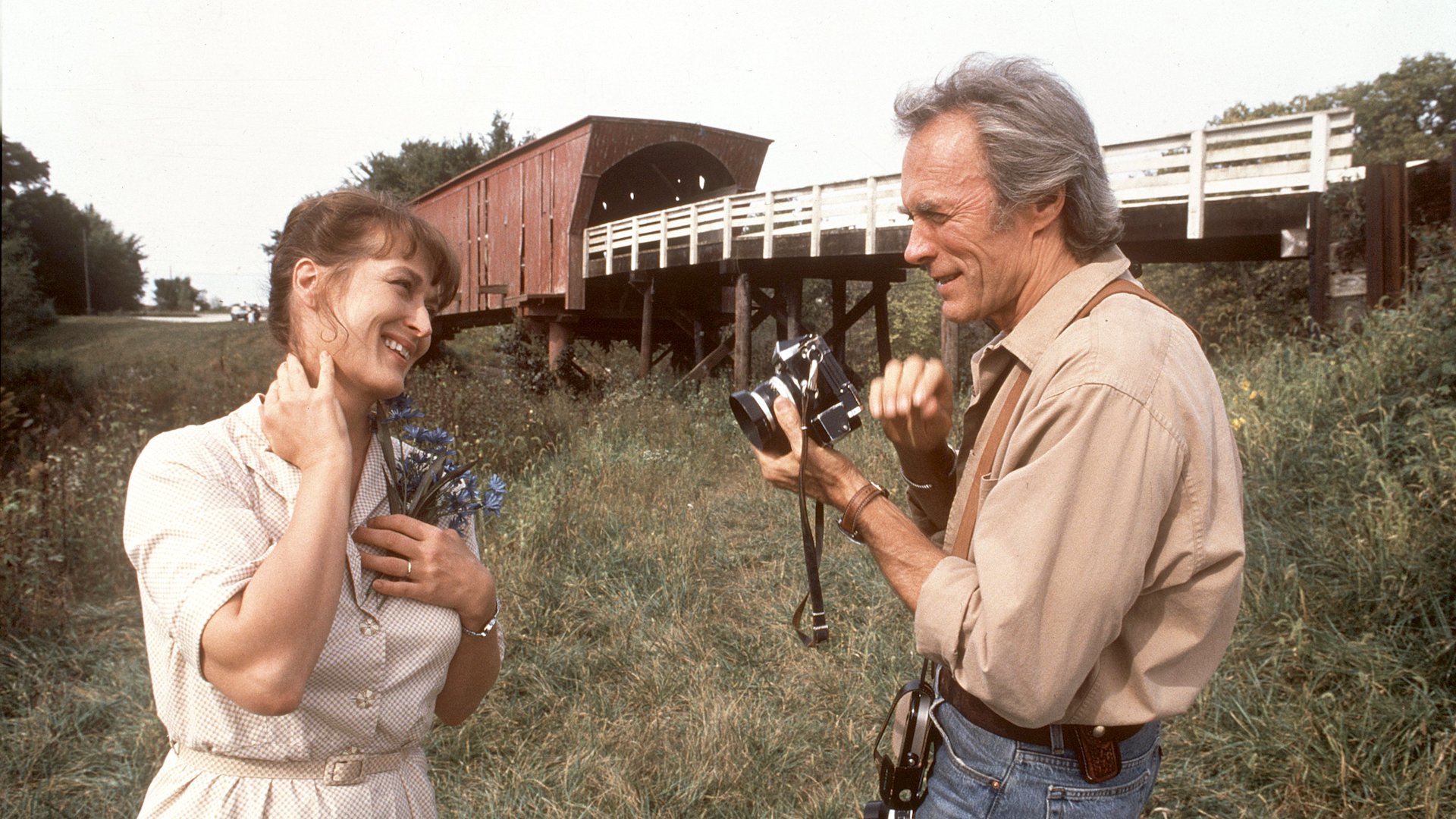 Redemption is a huge theme in Meryl's "average mom" period, which wrapped with her playing Lee Wakefield Lacker in the 1996 film adaptation of Marvin's Room. Lee begins the movie appearing to the prototypical bad mom and daughter as she constantly spars with her troubled teenage son, Hank (Leonardo DiCaprio), and suddenly appears at her dying father's bedside after leaving her sister, Bessie (Diane Keaton in full Diane Keaton mode), alone to care for him for years. After few major curveballs get thrown her way (Bessie gets leukemia and develops a close bond with Hank), Lee is forced to step up and learn how to be more kind, compassionate and present with those around her.
Through Lee, Francesca and Gail, Meryl proved that she could play both the "good" and the "bad" mom effectively, if not simultaneously. It's a skill she's still putting to good use today in films like Ricki and the Flash.
1998–2009: "Ideal" Mom Meryl
In 1998, Meryl continued her journey towards becoming the movies' mom of choice with Kate Gulden, the matriarch of One True Thing. When we meet Kate, she is a walking dream, joyously playing house and appearing at her husband George's birthday party dressed as Dorothy from the Wizard of Oz. As the film goes on and Kate is diagnosed with cancer, she moves from perfect mom to martyr. After admitting to her daughter, Ellen (Renee Zellweger), that she knows that George has been cheating on her and has come to accept it to keep their marriage afloat, she commits suicide, thus absolving Ellen and George from having to care for her any longer. Even in death, she's doing good, bringing her family closer than ever before.
Meryl earned yet another Academy Award nomination for portraying Kate, and just a year later, she'd get more Oscar buzz for playing real-life mother figure Roberta Guaspari (co-founder of the Opus 118 Harlem School of Music) in the saccharine Wes Craven flick Music of the Heart. It would take her another decade, and a grab bag of roles ranging from somewhat edgy (see: her sensuous portrayal of Susan Orlean in Adaptation) to purely political (see: her parts in Rendition and Lions for Lambs), to return to ideal mom mode. But when she did, she would make it bigger than ever.
In 2008, Meryl nabbed the lead role in the big screen adaptation of ABBA mega musical Mamma Mia!. Playing Donna, Greek villa owner and single mother to bride-to-be Sophie (Amanda Seyfried), would be one of the smartest business decisions of her career. Not only did the movie go on to make over $600 million (a record for her!), it also reached audiences around the world, endearing her to a whole new generation. Meryl appears to be having the time of her life playing Donna too, and it translates in her performance. Whether she's prancing around in sensible overalls like a dancing queen, or waxing poetically about how Sophie is slipping through her fingers, she radiates. My, my, how could we resist her?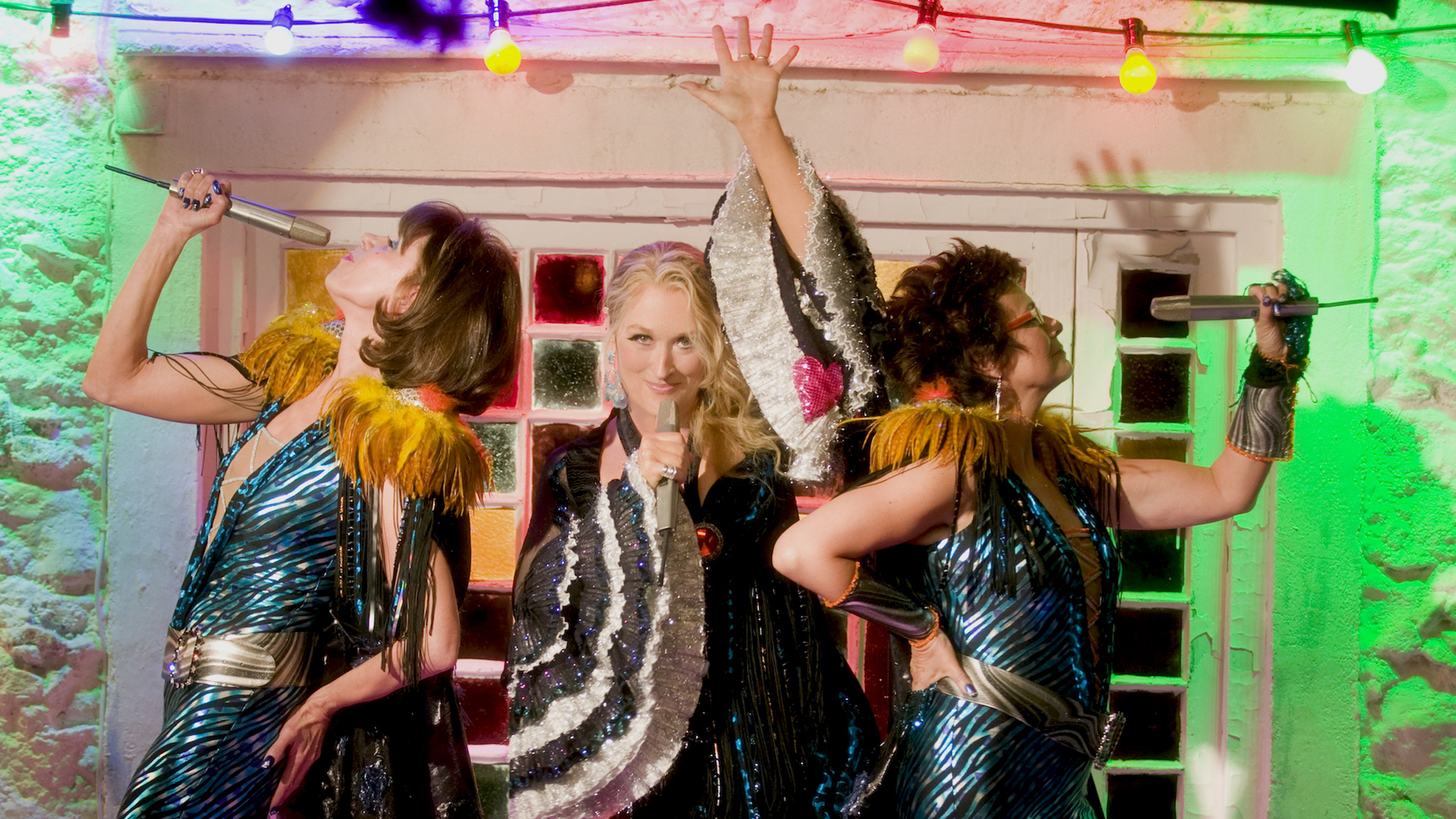 It's hard not to leave Mamma Mia! wanting Donna to adopt you, and the same could be said for the trio of characters Meryl brought to the screen in 2009. Her larger-than-life take on Julia Child in Julie & Julia is an absolute delight, making the scene where the infertile Julia has finds out her sister is pregnant all the more heartbreaking. In Fantastic Mr. Fox, the soothing tones of Meryl's voice make Mrs. Fox feel more than just made of felt. And who can resist Jane Adler, the sexually active, croissant-making matriarch of It's Complicated?
Although Meryl hasn't played many "ideal" moms since Jane, she continues to book rich roles as she enters her late 60s. And it's because, she has shown us, time and again, that she is someone you can rely on for layered characterizations of women at all stages of life. She is the one we can settle in whenever we need a laugh, a cry, an inspirational speech, and/or a therapeutic singalong.
The Mamma Mia! sequel comes out this summer, and while the trailers are hesitant to reveal too much about her role in the film, we do know one key piece of information: Sophie's going to be a mom! In other words, Donna's going to be a grandmother! We can only assume Meryl's future will be as fertile.