Atlantic City: The story behind the only Canadian film ever nominated for Best Picture at the Oscars
In the history of well-regarded Canadian productions, many see the tax shelter era, when the government allowed investors to write off 100% of film production costs, as an era of cheap movies made for a quick buck. Some movie fans appreciate the great genre offerings of science fiction, horror and exploitation movies that came during this time which allowed filmmakers like Ivan Reitman and David Cronenberg to emerge. But there were a handful of prestige movies made thanks to the freedom of the system, including the only CRTC-certified Canadian production to date to be nominated for Oscar's Best Picture, Louis Malle's Atlantic City.
Many are surprised this film is considered Canadian, what with it starring Hollywood talents Susan Sarandon and Burt Lancaster, and being shot and set in Atlantic City. Outside of the leads and a handful of cameos though, including future Malle star Wallace Shawn, almost all the talent in front of and behind the camera is Canadian. In fact, fans of Canadian character actors will revel at the chance to see Burt Lancaster interact with people like Al Waxman, Kate Reid and Hollis McLaren. Keen eyed viewers may even recognize a young Moses Znaimer as a gangster shaking down Burt Lancaster for cocaine. The film served as a launching pad for many of these local talents to move on to higher-profile work in the United States, and actors like Robert Joy continue character work in Hollywood to this day.
Atlantic City itself is worthy of attention even outside the Canadian connection. Like many of Louis Malle's films, it has a driving, straightforward plot that simmers with depth in its acting and wandering eye to larger themes. The story follows the interactions of a down on her luck casino worker Sally, played by Sarandon, who dreams of bigger things and Burt Lancaster's Lou, a fading gangster who's smitten with her. They're thrown together when her ex-husband returns to town with a massive cocaine score and people on his trail.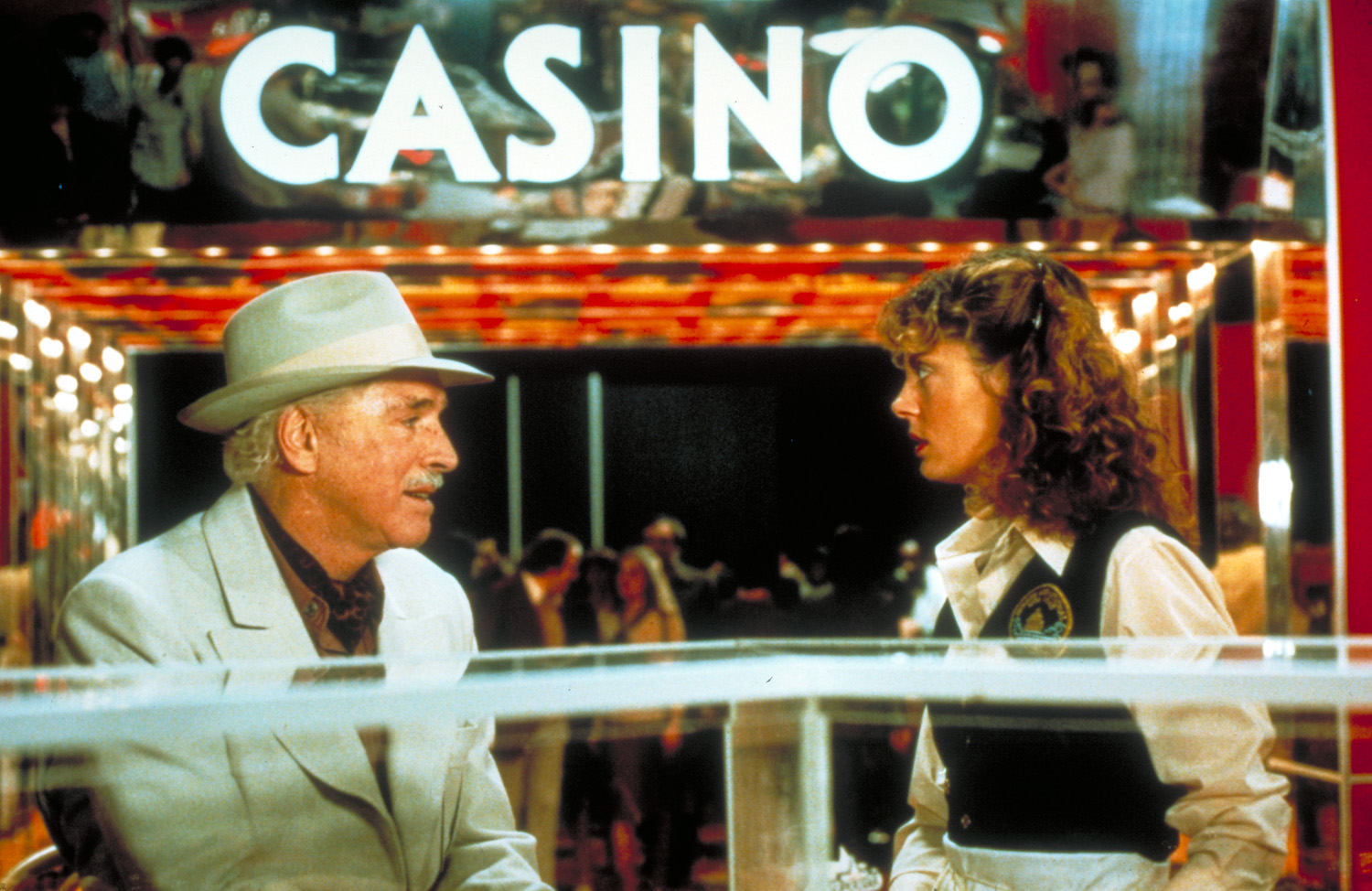 The Atlantic City of the film is a city in transition between the now-dilapidated gangster haven of Nucky Johnson and the future excess of Donald Trump, having just legalized gambling to revitalize the city. The opening images of glittering casinos being hit by wrecking balls echo throughout the vision of an Atlantic City now lost to time and gentrification but always on the verge of returning. It's unusual to see a tourist mecca so faded and run down, stuck in a time of transition.
The screenplay by John Guare, who would go on to skewer east coast class divides in Six Degrees of Separation, leaves plenty up to the actors. He and Malle developed the film with essentially a blank cheque from producers, and his involvement was suggested by Sarandon who was Malle's then girlfriend. In many ways, the film was the first lead role to make use of Sarandon's range of talents, and even in scenes where she's being objectified, you feel the care of shooting that allows her performance to shine, rather than be exploitative.
No doubt the Oscar attention was also for the role this film played in revitalizing Burt Lancaster's career. His character Lou is really the stand-in for the overall themes of the film – a neutered former lothario and bag man who's struggling to be taken seriously in a changing world. Lancaster's past as a romantic lead in movies like From Here to Eternity adds extra depth and sadness to the role, while his chops are on full display and led to a late-in-life resurgence in his career.
Though considered one of Louis Malle's best American works, Atlantic City is a mostly forgotten film that deserves more attention. It stands not only as an interesting mix of genres, and a deep look at the gentrifying of a city, but also as an example of how eras of artistic and financial freedom can produce wholly unique and groundbreaking work. Atlantic City is an interesting glimpse of what could have been in the tax shelter era and perhaps what still could be with a system where Canadians support artists to find a voice and produce something fascinating.