Go Back
BASED ON A SHOCKING TRUE STORY, FAKING HITLER PREMIERES THIS SUMMER EXCLUSIVELY ON HOLLYWOOD SUITE
Streaming on demand June 1. Broadcast premiere June 9, 2022.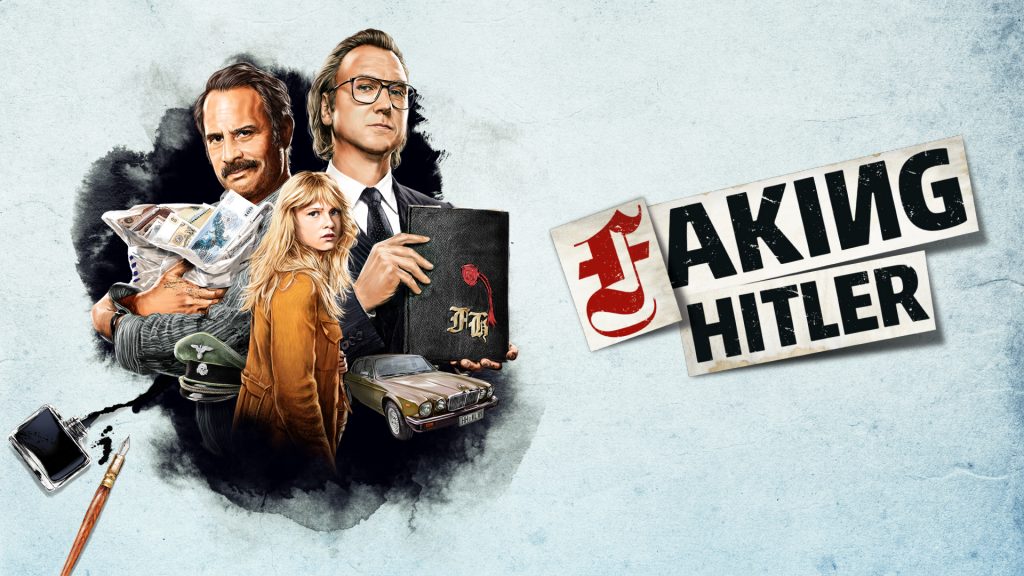 Toronto, May 10, 2022 — Hollywood Suite continues to bring audiences the highest quality series from around the world with the new six-part drama Faking Hitler, following a deal with Fremantle. The German true crime series will premiere on June 9, 2022 at 9pm ET on Hollywood Suite, with new episodes airing weekly throughout June. Viewers can also catch the show on Hollywood Suite On Demand starting June 1, 2022.
Faking Hitler is inspired by the extraordinary true story of forged Hitler diaries and the journalist who fell for them. Gerd Heidemann, the star journalist at Stern, one of Germany's most prestigious publications, stunned the world when he revealed he had unearthed Hitler's long lost diaries. What followed was the biggest media scandal of the twentieth century.
"Faking Hitler is a smart, energetic, new take on an almost unbelievable true story," said Sharon Stevens, Vice-President, Programming, Hollywood Suite. "It brings the 80s to life in sight and sound, and tells an important story about the fight against fake news and historical revisionism."
From the immersive design of Stern's modernist newsroom, to the fashion and pop hits of Hamburg's club scene, to the Cold War intrigue of a nation divided by the iron curtain, Faking Hitler transports viewers to West Germany in the early 80s. The unforgettable soundtrack includes hits by Cyndi Lauper, David Bowie and The Human League.
Faking Hitler stars Lars Eidinger (High Life; Babylon Berlin, Sense8), Moritz Bleibtreu (Run Lola Run, Women in Gold) and Daniel Donskoy (The Crown, Victoria). Directed by Tobi Baumann and Wolfgang Groos, the series was written by Thomas Vass and is presented with English subtitles. Faking Hitler is a UFA Fiction production for RTL+ under the umbrella of the Bertelsmann Content Alliance. Fremantle distributes the series internationally.
ABOUT HOLLYWOOD SUITE
Hollywood Suite owns and operates four exclusive HD channels featuring the iconic movies that defined the 70s, 80s, 90s and 2000s, plus essential Hollywood classics from the Golden Age, always uncut and commercial-free. With hundreds of movies every month on four HD channels and Hollywood Suite On Demand, Hollywood Suite provides an unparalleled value to consumers.
Hollywood Suite is available to over 10 million households across Canada, exclusively through Canadian television service providers and Amazon Prime Video Channels. Visit hollywoodsuite.ca for more information.
SOCIAL MEDIA
Facebook: Hollywood Suite
Twitter: @hollywoodsuite
YouTube: HollywoodSuiteTV
Instagram: @hollywoodsuite
Website: hollywoodsuite.ca
For more information regarding Hollywood Suite, please contact:
Angie Power
ROUTE 504 PR
angie@route504pr.com
647.969.6026
ABOUT FREMANTLE
Fremantle is one of the world's largest and most successful creators, producers and distributors of Entertainment, Drama & Film and Documentaries.
Operating in 26 territories we are a proudly independent group of content creators. We produce and deliver high-quality multi-genre IP including some of the biggest entertainment formats, most watched international dramas, award winning films and hard-hitting documentaries, amplifying local stories on a global scale.
From Too Hot To Handle to Mosquito Coast, Game of Talents to The Hand of God, Farmer Wants A Wife to 'Got Talent', Family Feud to My Brilliant Friend and The Investigation to Arctic Drift, our focus is simple – we create and deliver irresistible entertainment.
We are also a world leader in digital and branded entertainment with more than 480 million fans across 1,600 social channels and over 40 billion views per year across all platforms.
Fremantle is part of RTL Group, a global leader across broadcast, content and digital, itself a division of the international media giant Bertelsmann.
For more information, please visit Fremantle.com, follow us @FremantleHQ or  visit our LinkedIn and Facebook pages.