The Spectacular Now: Miles Teller and Shailene Woodley
July 7, 2022

By Go Back

Many agree that modern Hollywood rarely produces movie 'stars' like there were in the 80s and 90s. Few faces open movies outside the Disney/Marvel mainstays, and even they have a tougher time than before. But there have still been a few breakouts who seem to hold fast in spite of the odds, including Miles Teller and Shailene Woodley, the two stars the movie that rocketed them to stardom: 2013's The Spectacular Now.

Woodley, though younger, was the veteran actor having already spent over a decade on screen, including headlining The Secret Life of The American Teenager and garnering awards buzz around 2011's The Descendants. She had reportedly considered dropping out of acting after being offered dozens of scripts that didn't interest her until The Spectacular Now came along.

Teller, on the other hand was relatively green, had just had his big breakout in 2010's Rabbit Hole, but it lead mostly to supporting roles in films like 2011's Footloose remake and Project X. The Spectacular Now was part of a grander plan to raise both their profiles since they had the Divergent series on the horizon and Teller's Oscar underdog Whiplash was in the works. It succeeded by garnering them both a Sundance special jury prize for Dramatic Acting but, most importantly to movie fans, it showcased the best of their acting talents.

There aren't many films similar to The Spectacular Now even though it was a part of Young Adult adaptation gold rush of the early 2010s. When it comes to cinematic takes on teen life, The Spectacular Now hews closest to the unusual tone of Say Anything in its presentation of 'warts and all' reality of troubled teen life and the uncomfortable truths young adults may face. The story follows Tellers' Sutter, a 'big man on campus' whose relationship falls apart senior year and sends him on a spiral of alcohol where the only light at the end of the tunnel is his quiet, down to earth classmate Aimee. The 'truth' of the script seems to be the word both actors used when describing what drew them to the project.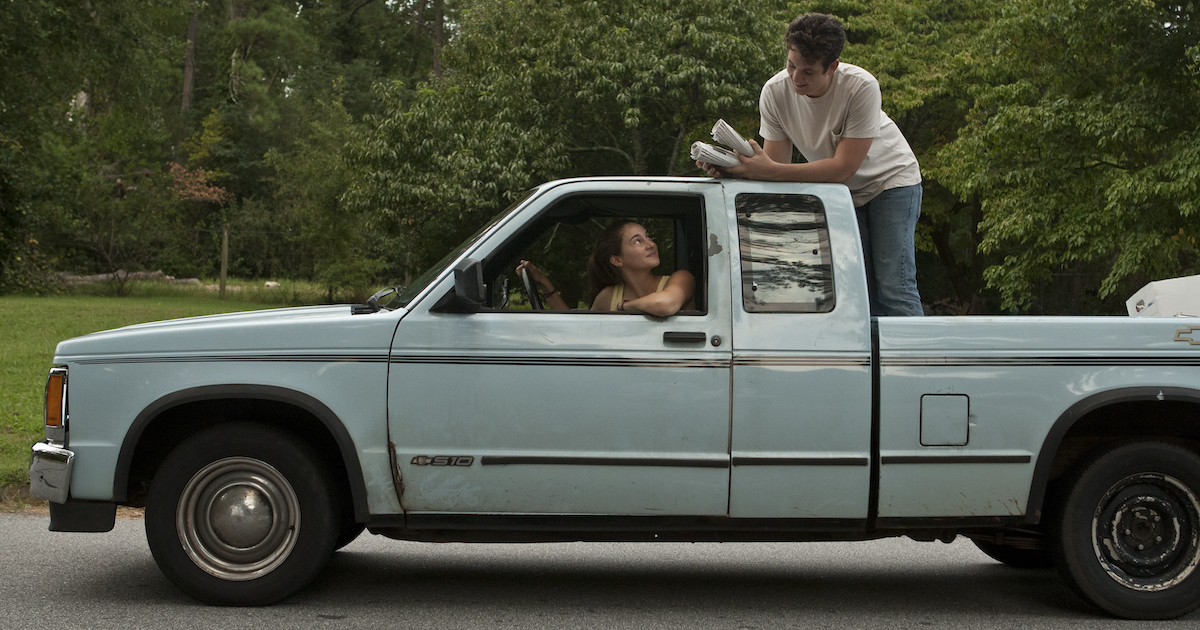 Names like Nicholas Hoult and Saorise Ronan were considered for the leads, but there's a stripped down quality most mainstream teen stars couldn't lend to the roles. Director James Ponsoldt relies heavily on improvised dialogue and tricks like shooting love scenes in a single unbroken take where naturalistic actors like Teller and Woodley excel. While the script shines light on the different kinds of confidence, real and false, that teens can have, it really takes these unique acting talents to make that subtle distinction shine. Neither character is the typical teen movie cool guy or wallflower and performed by lesser talents, the delicate story could definitely ring false.
Miles Teller always strikes me as a controversial actor because he has a certain punchable quality, but Sutter is the perfect role to utilize that attraction and repulsion. He's a boisterous, outgoing guy who slowly realize that everything he has going for him isn't actually doing him any good. Teller is older than he looks and some of those years were used training in the Strasberg School and it really shows. Teller can do the movie star thing but there's a deeper understanding of a charismatic person who's deeply wounded inside. It's that inflection point that helps him bring a vulnerability to a character who meets his love interest passed out drunk on her lawn.
Shailene Woodley on the other hand is a master of the mask, playing her character typically at first and slowly shedding layers that reveal a much more intricate portrait. Aimee isn't just a nerd or shy girl, she's someone whose confidence is hamstrung by her care for the many people around her and decisions she feels she has no control over. You can see Woodley's experience in more 'typical' teen roles allows for her to expose the unexpected here. Woodley allows the character to slowly breathe and build in a way where you're never sure if her burgeoning relationship with Sutter is ever a good or bad thing.
On top of their headline performances, a murderer's row of actors including Jennifer Jason Leigh, Kyle Chadler, Brie Larson and Mary Elizabeth Winstead turn in well-crafted performances as many of the characters slowly revealing the naivety of the leads. The Spectacular Now is a romance, but it's also a wonderful showpiece for each of its actors and ultimately in its way a bit of a tragedy exploring teen loss of innocence. It's a film both worthy of minting two of the few stars we've gotten in the past decade and worthy of a regular rewatch to examine the especially complex teenage characters Miles Teller and Shailene Woodley create.
---