The Magical Melancholy of Eve's Bayou
August 11, 2020

By Go Back

The 1990s brought us an explosion of Black filmmakers approaching the lives of African Americans in unique and stylized ways, the most prominent being Spike Lee, Ernest Dickerson, director of Juice (1992), and Theodore Witcher, director of Love Jones (1997), to name a few. Black female directors made their mark as well, capturing Black people, their history, and family ties in a poetic, fairy tale way. These films showcased emotional storytelling and a sense that Black people are more than the struggles we endure. Julie Dash's 1991 film Daughters of the Dust was a dream-like historical drama documenting the northward migration of a Southern family, becoming a gold standard of Black filmmaking. A few years later, Kasi Lemmons, most recently known for directing the Oscar-nominated Harriet and Self Made: Inspired by the Life of Madam C.J. Walker biopic, stepped into the world of directing. Hollywood Suite gives us a chance to see her first contribution to this exciting time with the lyrical Southern gothic, Eve's Bayou.

Eve Baptiste (Jurnee Smollett) is a rambunctious ten-year-old living in the small community of Eve's Bayou, Louisiana in 1962. Both town and child are named after her enslaved ancestor Eve, who gained her freedom when she healed a white general suffering from cholera. He went on to give her land and to father her 16 children, creating a long line of descendants in the area. Eve's father, Louis (Samuel L. Jackson), is a prominent Black doctor loved by the community, and her mother, Roz (Lynne Whitfield), is a doting mother and wife. During a raucous party at the Baptiste home, Eve witnesses her father with another woman, causing her to question his untouchable status in her eyes. At the same time, Roz struggles with her role as a perfect wife to the most charming man in town. Eve's aunt Mozelle (Debbie Morgan), is a psychic, doomed to fall for men destined for untimely deaths, and her sister Cicely (Meagan Goode) is turning fourteen and confused about her approaching womanhood. Everyone deals with stressful situations, fractured loyalties, and sisterhood. The familial unrest is topped by a late-night encounter between Cicely and her father, creating more turmoil in their midst.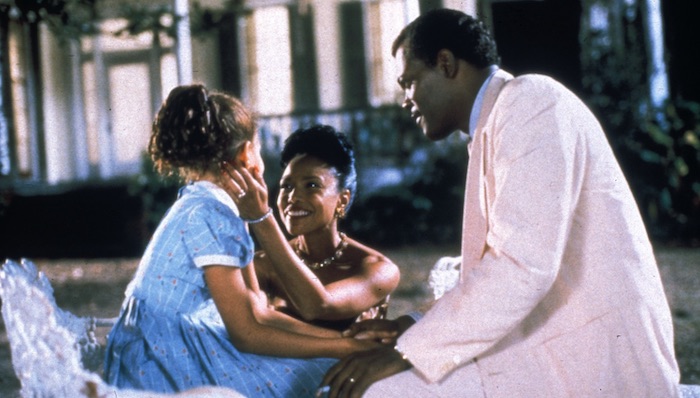 Eve's Bayou is a deeply personal story for Lemmons, drawing from her own experiences as a child growing up in the South. The actor, director, and professor is a writer first, influenced by Southern greats like Toni Morrison and Zora Neale Hurston as well as the beauty of the black women in her family. She first wrote a short story that evolved into a short film Dr. Hugo in 1996, and finally, Eve's Bayou. Lemmons gave us not only a Black story but a universal one as well, with, according to Lemmons in an interview at TIFF last year, an almost 50/50 split of Black and white audiences and one of the highest-grossing independent films that year. Roger Ebert also championed the film, giving it a glowing review and calling it "one of the very best films of the year." This coming of age story is essential, because during this time of civil unrest in the 60s, we rarely saw a Black middle-class family thriving in their own communities, and rarer still, a film about three-dimensional Black female characters.
The Baptiste family is deeply human and complicated; people you love one moment and loathe the next. Personal traumas feed each other, a domino effect as each character's memory and experience are of equal importance with consequences that push everyone to the edge. Eve is also universal. She's like Harper Lee's Scout in To Kill a Mockingbird: a strong-willed girl growing up with a limited scope in such a messy, adult world.
Lemmons also seamlessly incorporates magical realism with Louisiana voodoo into the story. The practice that combines West African rituals with Catholicism and nature was brought over during the slave trade and endured to this day. Elzora, played by the regal Diahann Carroll, is a voodoo woman who Eve and Mozelle go to for answers. She is part of the community and a trusted advisor with a touch of danger, something that is part and parcel with growing up in the South. Lemmons highlights this part of Southern Black culture with love, showing a trust with natural and preternatural intuition and a supernatural edge that never seems contrived.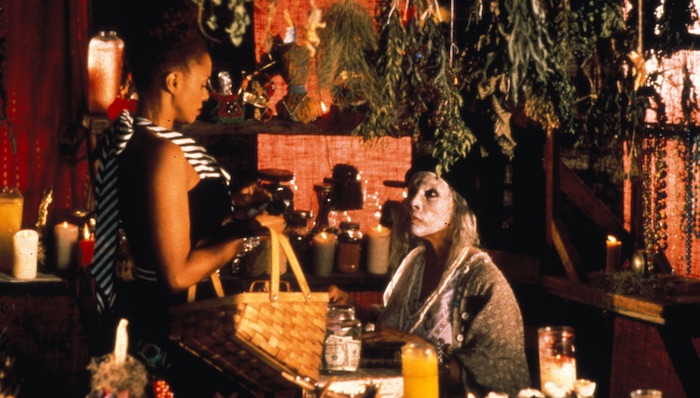 Debuting at TIFF in 1997, and screening again in 2019 with her special director's cut, Eve's Bayou was selected for the Library of Congress film registry in 2018 as culturally and historically significant. Lemmons captures what it is to be a child learning the dangers of adulthood in a world of decorum and the supernatural, evoking a melancholy feel of summers and innocence lost. Cinematographer Amy Vincent created a stunning vision of idyllic summer days awash with soft colours and vibrant greens. We also get multiple award-winning composer and musician Terence Blanchard, known for his Spike Lee collaborations, and his gorgeous score.
Eve's Bayou is a southern gothic melodrama that never gives us the answers we're looking for, but it's the perfect movie for when the sun gently sets on a hot summer's day, and your mind is full of wonder, hope, and mystery.