Jesus of Nazareth: Zeffirelli's Epic Miniseries
March 30, 2021

By Go Back

This Easter, we're excited to bring you the digitally remastered edition of Franco Zeffirelli's 1977 miniseries Jesus of Nazareth. In the 70s, this miniseries was a massive hit in Europe and North America and held the record for the most expensive miniseries for years. Since the series first became a sensation, there have been numerous retellings of the life of Jesus on the big and small screen, and Zeffirelli did plenty to tarnish his own reputation, so why is the series still worth watching 43 years later? I'm happy to preach the gospel of one of the biggest television events of the 1970s.

The project came about from a source that both makes perfect sense and is rather unlikely all at once: The Pope. Infamous British producer Sir Lew Grade (Canadians probably know his name best from the credits of Thunderbirds, The Prisoner and The Muppet Show) had a hit with the 1974 Burt Lancaster miniseries Moses The Lawgiver. He had co-produced the series with Italy's RAI and it was big enough in Italy for Pope Paul IV to receive Grade and Italian producers to congratulate them. But, with those congratulations came a suggestion from the Pope that they might consider a project about the life of Jesus next.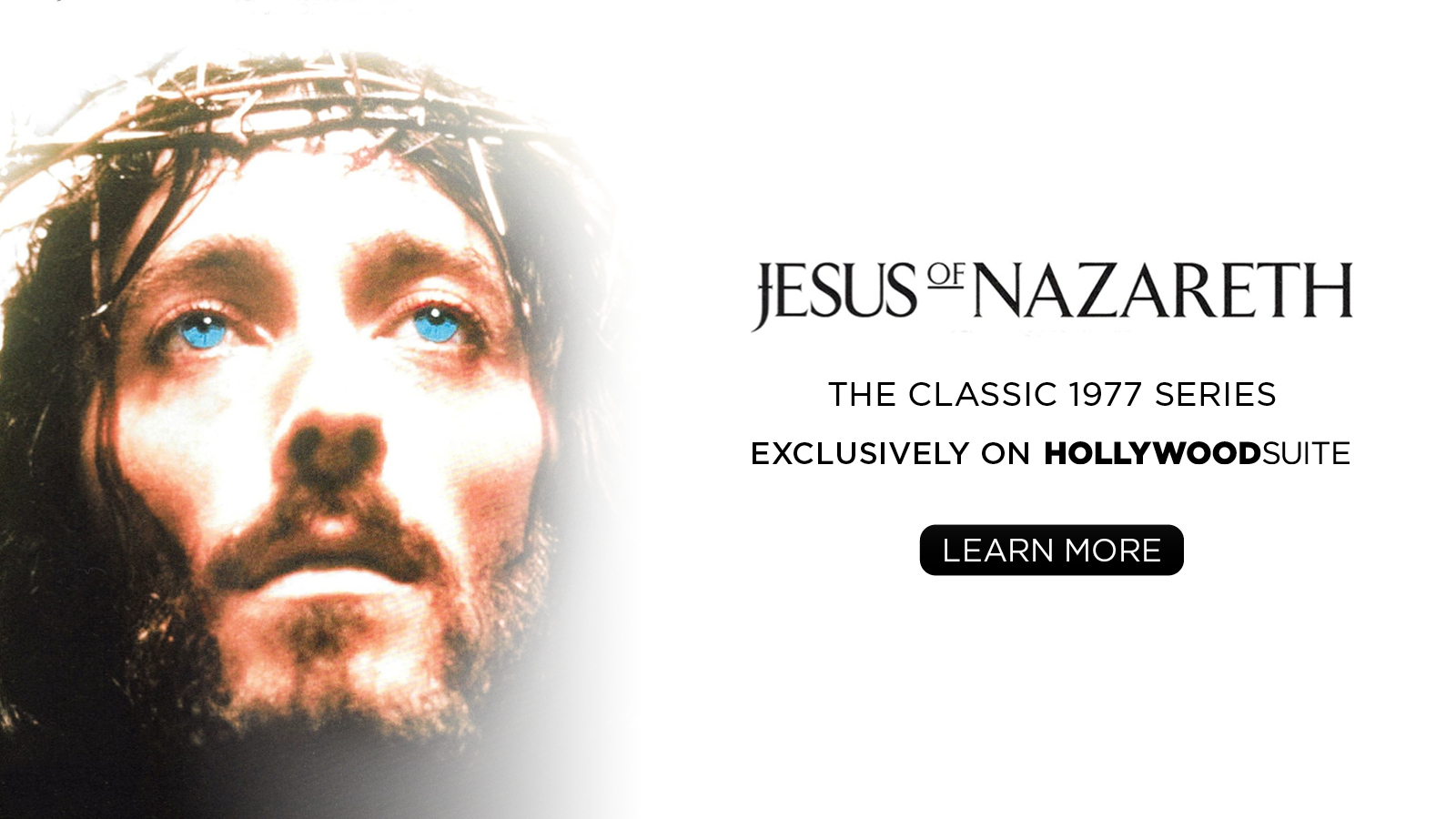 The Pope also suggested Franco Zeffirelli to helm the project. The director had been going through a religious awakening of his own after the stratospheric success of his iconic 1968 adaptation of Romeo and Juliet. The year following the film, he and actress Gina Lollobrigida narrowly survived a massive car wreck, causing Zeffirelli to lean on his Catholic faith once more. His follow-up film Brother Sun, Sister Moon (1972), which examined the relationship between St. Francis of Assisi and St. Clare, was less well received by Hollywood and critics, but had caught the Pope's eye for its liturgical verve. Add to that Zeffirelli's comfort with period dramas and his eye for epics and it's easy to see why producers agreed with the Pontiff and worked hard to get him on the project.
In fact, when looking at what stands out about this project today, it's less the Papal blessing and more how unlikely each major player in the project was that makes it unique. Sir Lew Grade was not a Catholic, but Jewish. Zeffirelli, while conservative and outspoken about his religion his whole life, was also a homosexual. Then of course, there's also screenwriter Anthony Burgess ,who in the 70s was most associated with his novel A Clockwork Orange. These three participants made unusual bedfellows with the New Testament, and ended up producing an especially singular interpretation.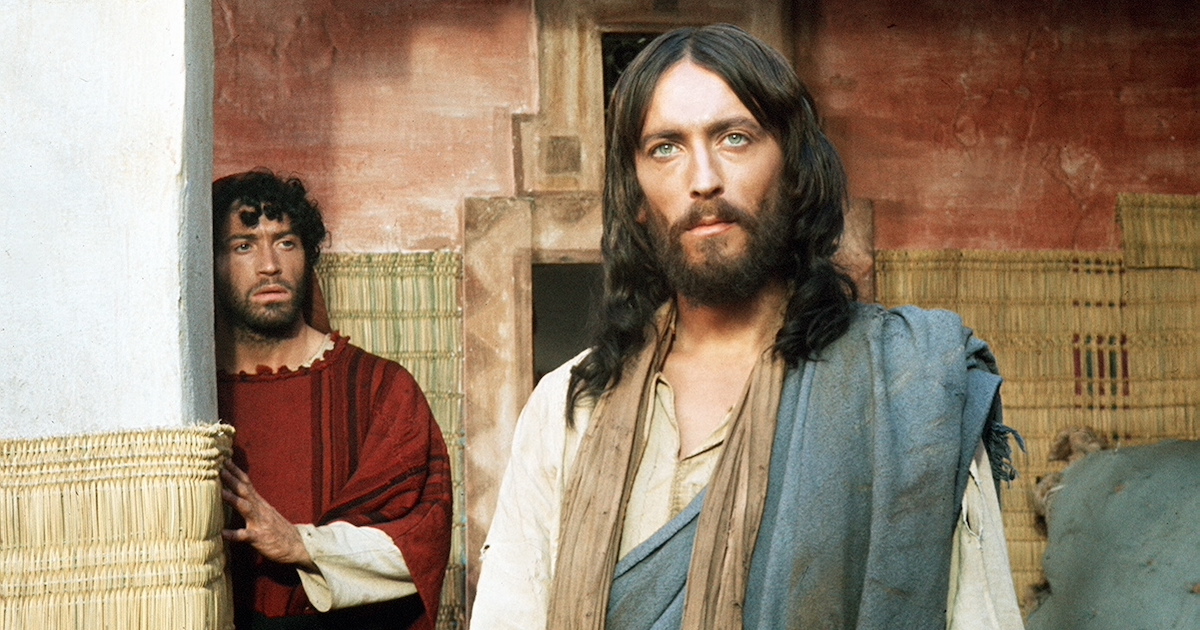 The way this grounded world is sold, and also surely what helped this miniseries reach an estimated 50% of all viewers the night it aired in North America, is the all-star cast. Zeffirelli brought along his Romeo and Juliet star Olivia Hussey to be a miraculously un-aging Virgin Mary, Ian Mcshane as Judas, Canada's beloved Christopher Plummer as a truly nefarious King Herod, Anne Bancroft as a uniquely wisened Mary Magdalene, as well as stars like James Mason, Michael York, and Ernest Borgnine. It's truly a fascinating thing to sit down to a program and have a familiar face show up at almost every turn. More surprisingly, just about everyone is up for the task, and once you get past the varied accents you slip fairly easily into the world of robes and religion that Zeffirelli and his players present.
All of this is dodging who I would suggest is the real reason a casual viewer should tune into this miniseries, and that's Robert Powell's transcendent portrayal of Jesus. Powell was originally up for Judas when the studio was considering the likes of Dustin Hoffman and Al Pacino for the part, but he slid into the role and committed totally. In fact, he was so committed that when the press got wind he was "living in sin" unmarried to his partner he got hitched before production began to quash any unnecessary gossip. The New Testament is a bit like World War 2 in that there are infinite movies and TV shows about it and they can all bleed into one another when you watch as many as I do, but Powell's portrayal of Jesus truly stands out as one of the best I've seen.
Part of what's so effective is Zeffirelli and Powell made the ingenious decision to attempt to never have his character blink onscreen to give an unearthly feeling, and Powell's piercing blue gaze alone would be enough to sell the character. Thankfully, it doesn't end there though as Powell beautifully balances the ground-level emotional realism Zeffirelli was striving for with his supernatural power. Powell's Jesus is frustrated and angry at the world around him, how people are being treated, and what his religion has become, yet can turn on a dime to a shockingly beatific look when performing a miracle or caring for the needy. It's not surprising that his portrayal is still considered one of the best there has ever been because it seems both informed by iconography that came before it and completely unique to this production.
Unique ideas, great acting, and the lush kind of period piece you expect from Franco Zeffirelli come together to make Jesus of Nazareth something more than just a show to leave on in the background at Easter. It's a fresh way to retell the stories of the New Testament with A-list talent and beautiful locations. The digital restoration makes it a feast for the eyes, and 44 years later Robert Powell still brings one of the most invigorating portrayals of Jesus that film has to offer.
---
Find the next playtimes for Jesus of Nazareth on Hollywood Suite