Helter Skelter: The Myth of Manson
February 3, 2021

By Go Back

In 1976 everyone in my grade-eight class had to participate in a public speaking exercise. I can't remember what anyone else chose to talk about except for the one other person who picked the same topic I did — the Manson murders of 1969. Why a couple of 13-year-olds would decide to talk about two murder sprees that happened when they were seven can be chalked up to the power and influence of pop culture, in particular Vincent Bugliosi's best-selling book Helter Skelter, published in 1974. The odd, disturbing appeal of Charles Manson continues to hold our attention, as does Bugliosi's book, which has most recently influenced the new six-part documentary series Helter Skelter: An American Myth airing on Hollywood Suite.

This lasting fascination with the Manson family reflects society's appetite for true crime tainted with celebrity. One wonders whether the story would have the same pull if the Manson family had not murdered movie actress Sharon Tate, wife of director Roman Polanski, and four others in the Hollywood Hills. What if that first night in August 1969 the victims had been non-Hollywood victims such as the LaBiancas who were killed the following night? Yes, the events remain terrifying, and brutal, but would the slayings have held less allure for storytellers such as Quentin Tarantino?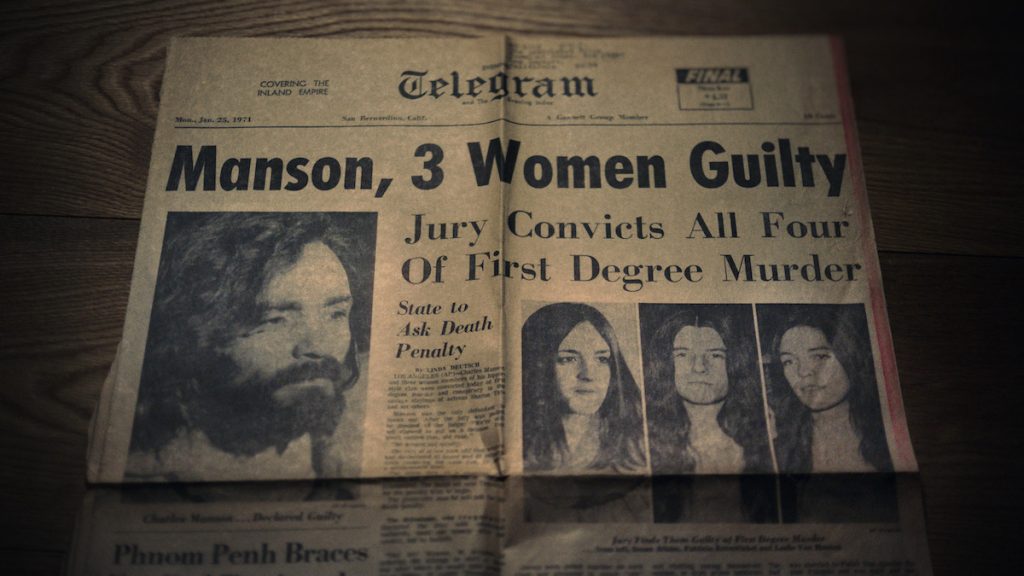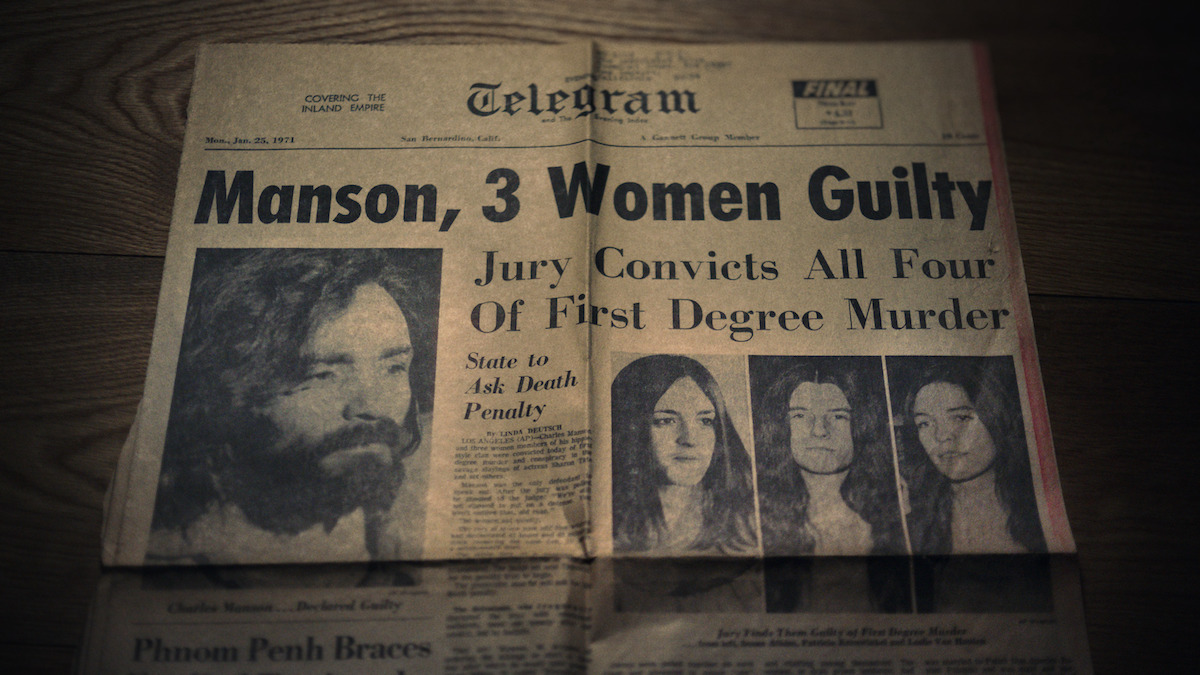 Series director Lesley Chilcott weaves the narrative that the grisly Tate-LaBianca killings stem from the desire of a damaged, charismatic con man to be famous. Without the talent to to rival The Beatles or The Beach Boys, Manson manages to convince his young, troubled followers to submerge their identity, live communally, and experience everything from dumpster diving to murder. Over the six-episode arc the Manson family transitions from being free love, desert-living hippies to remorseless, random killers scrawling "death to pigs" in blood on the walls of their victims' homes. Under the influence of Manson and a lot of acid, his followers move from peace, love and harmony to isolating in the desert, hanging out with bikers, hoarding guns and water in preparation for a race war.
Using archival footage which captures the zeitgeist of the time, dramatic recreations, and new and old interviews, the series takes a look at the free-spirited, hippie culture of sixties-LA, and how the cult leader and his followers changed Hollywood forever. The first three episodes show how LA had embraced an open, high-low culture where everyone mingled; one where Charles Manson could teach the Beach Boys' Dennis Wilson how to play guitar and live in his house, racking up $1,200 dairy bills. Where Doris Day's music producer-son Terry Melcher would turn down a session with Manson, but Wilson would end up recording a Manson-penned song, "Never Learn Not to Love". And finally one where coffee heiress Abigail Folger would wave at an attacker passing by her bedroom at Sharon Tate's, assuming the stranger was a friendly visitor, not someone on a drug-fuelled rampage.
The archival footage breathes life into a story often overshadowed by crime scene photos. Sharon Tate can be seen being interviewed by Merv Griffin, getting married in London, dancing at a nightclub, and washing her dog. Celebrity hairstylist Jay Sebring is shown tending to Steve McQueen. And there's footage of Roman Polanski as he becomes overwhelmed at a news conference and has to leave. There's also a historical context. The Vietnam War protests, footage of Haight-Ashbrury drop out culture,, the assassination of Martin Luther King and the Watts riots. All leading to a boiling point where the Manson family goes off the rails, unravelling the dream of the peace in the sixties.
The series features new interviews with three Manson "girls" who were not involved in the murders (Dianne Lake, Stephanie Schram and Catherine Share), journalists who covered Manson at the time (Ivor Davis, Jeff Guinn, David Dalton), and people from the music scene. As well there are numerous archival interviews in voice-over including Manson himself and Tex Watson who was also found guilty in the killings.
Jarring in a way are the new interviews with three former family members. When talking about "Charlie" during the first three episodes it's as if they're talking about an old, favourite friend. One fondly remembers her first sexual experience with him, "he made me feel womanly". Clearly Manson mastered some of the key takeaways from a Dale Carnegie course on How to Win Friends and Influence People, offered during an earlier stint in prison. His social skills also explain why the Manson family was able to hang out with the Mamas and Papas, and the daughters of stars such as Dean Martin and Angela Lansbury.
The second half of the series looks at the increased paranoia and disappointments of Manson, and ultimately the falling apart of paradise. While claiming The Beatles were sending him secret messages about a race war in The White Album, the dark side of Charlie is revealed: it turns out he was really a misogynist and racist. Although Manson did not commit the murders he encouraged everyone to do them and was found guilty, along with Susan Atkins, Patricia Krenwinkle, Leslie Van Houten and Tex Watson.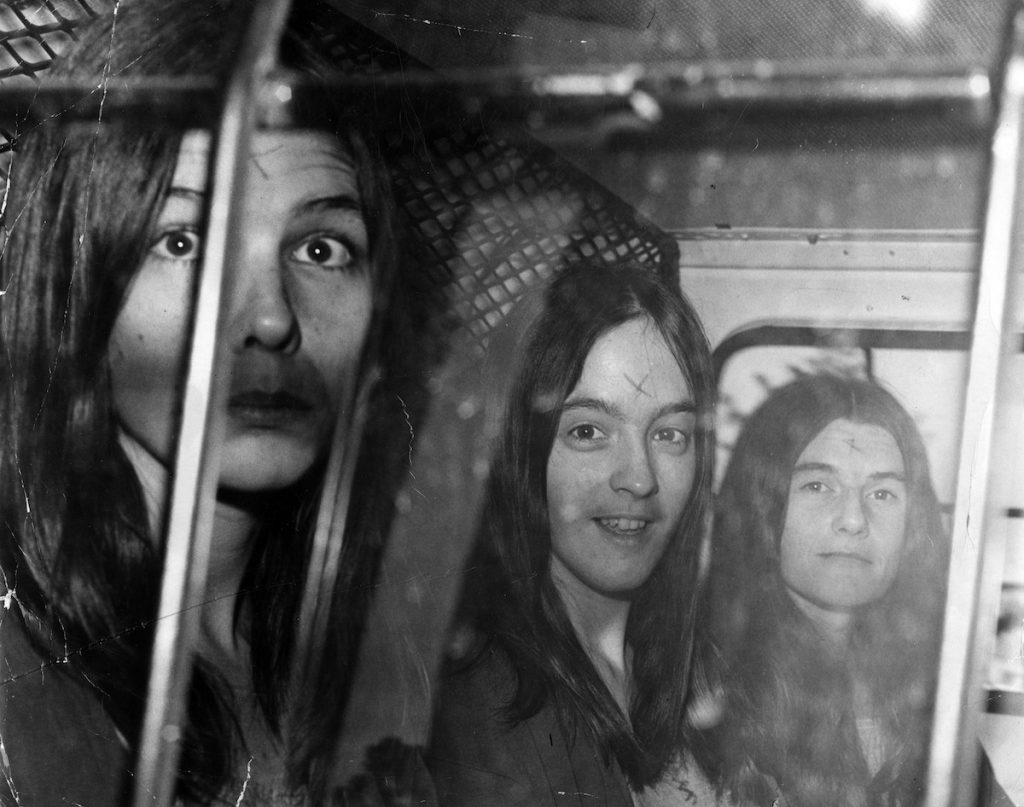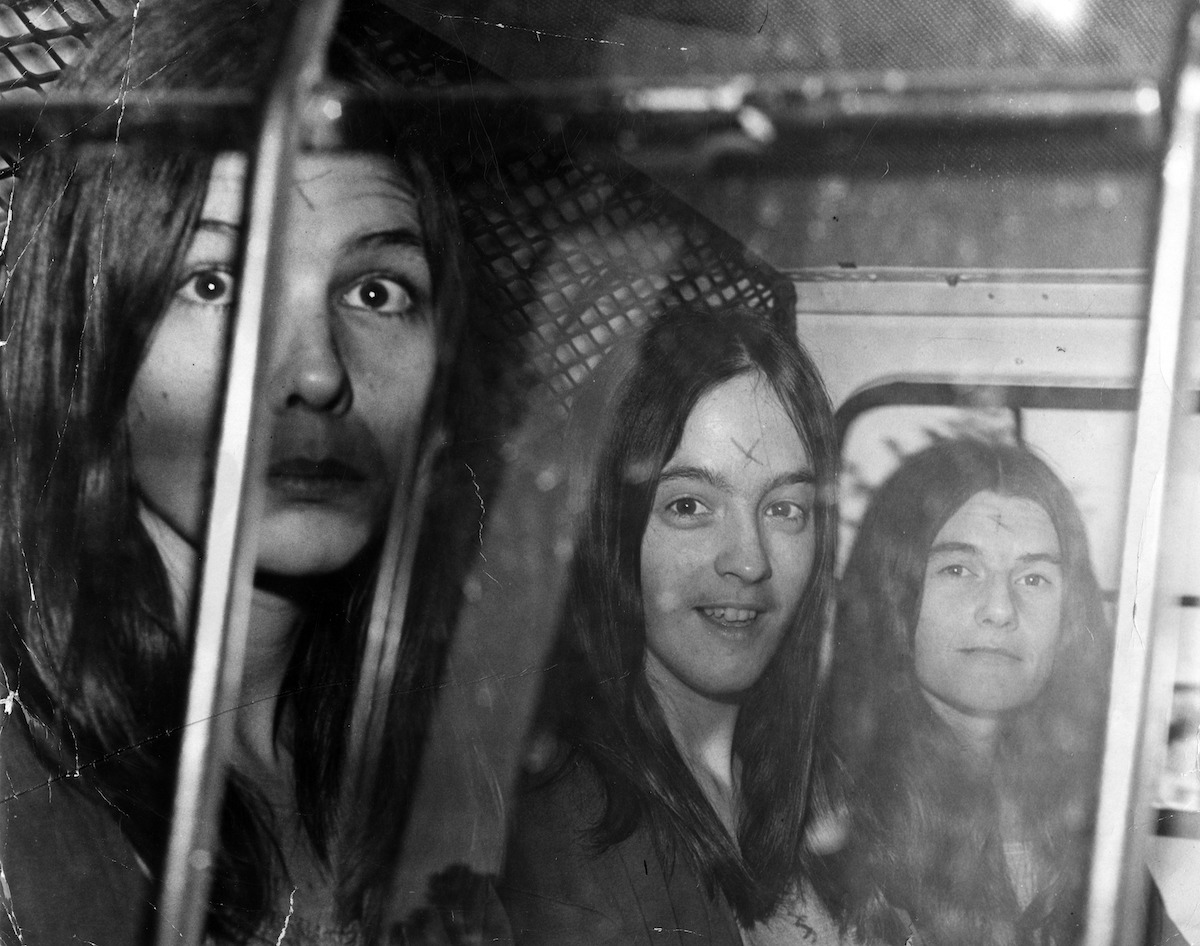 So to get back to grade 8 and telling classmates all about the murders. The accused and convicted had been in jail since 1970, but there were still Manson acolytes making news. Squeaky Lynette Fromme, was on the cover of Time magazine in September 1975. The featured headline: "The Girl Who Almost Killed Ford." As in President Gerald Ford. (BTW she ended up with a life sentence.) Then in 1976 a CBS made-for-TV movie based on Bugliosi's book came out. Lorimar Productions, the makers of the wholesome The Waltons and Eight is Enough, were pivoting. They soon went on to make Dallas.
Whether it's a documentary or a dramatization of a true story, the appeal of the Manson family and the Tate-LaBianca murders has permeated pop culture. Truth is stranger than fiction, and often more in demand, particularly if it is celebrity-infused, or celebrity adjacent. Law & Order and it's ripped-from-the-headlines formula and Ryan Murphy (The People v. O.J. Simpson, The Assassination of Gianni Versace) are just two examples of the popularity of true crime and the various forms it can take. The definition of celebrity has also been broadened. Reality TV stars and Instagram and TikTok influencers must be included. Everyone wants to be a star. And we're willing to watch. Let's face it, Charles Manson would likely have auditioned for American Idol if it had existed in 1967.
Jane is a writer, editor and communications consultant who has watched, and continues to watch, a lot of TV. Having worked in film, TV and print, some highlights include a stint at the National Post (style editor), a very small cameo in the Vogue doc The September Issue, and some story wrangling for that gem A Current Affair. She is truly a fan of the high-brow and the low-brow, subtitles and reality TV.
---