Ghostbusters: How to Make a Comedy Classic
July 18, 2017

By Go Back

Ghostbusters was such a massive phenomenon it needs no introduction. Its fans know it better than any expert, so it can be a tough one to unpack in any useful way. Still, for those of you who aren't Ghostbusters superfans, let's take a look at the factors that held up production, the last minute changes that led to the film we know today, and the surprising alchemy it takes to make a comedy classic.

Dan Aykroyd had been working on the script for Ghostbusters for a few years in the early 80s. Originally written as a new take on ghost movies from the 1940s, it was essentially an SNL movie with Eddie Murphy and John Belushi as co-leads. The script made big waves but was stalled after the death of John Belushi, and only the continued passion of Aykroyd and Ivan Reitman, who saw something special at the core of the story kept it afloat. The original script involved trans-dimensional travel and out-of-this-world effects, but Reitman knew it could be pulled off on a smaller scale with the help of his comedy superstar pal Billy Murray, while maintaining the heart of the story.

Ghostbusters was controversial among the studios. High-concept comedy wasn't a guaranteed success, and the film needed a $30 million investment. To give an idea of what a gamble that was, two other high-concept comedies of 1984, Splash and Gremlins, cost $8 million and $11 million respectively. Even the similarly SNL-pedigreed Beverly Hills Cop cost just $15 Million. The last big-budget comedy in memory was Steven Spielberg's epic flop 1941 and 1984 saw plenty of high-budget flops like Supergirl and The Cotton Club (which incidentally filmed at the same time in New York), so the studios' worries weren't unfounded. Demanding a budget closer to the latest Indiana Jones movie than any comedy before it was a massive risk, and a testament to the reputation Ivan Reitman, Dan Aykroyd and Bill Murray had following Animal House, Caddyshack and The Blues Brothers.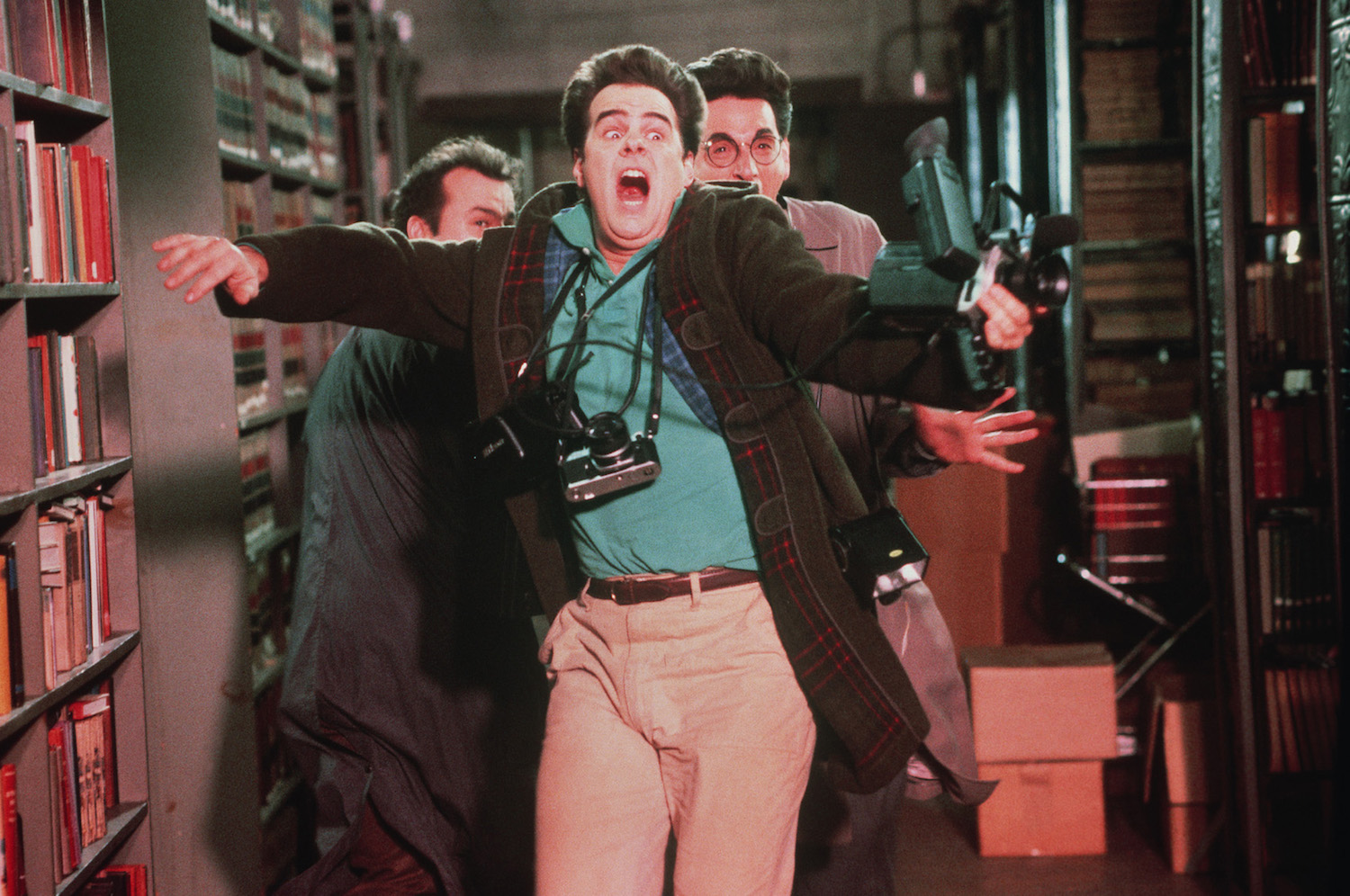 Notably, there's a name missing there: Eddie Murphy. The film had taken so long to produce that Murphy had become a superstar in his own right, with his first starring vehicle Beverly Hills Cop coming out the same year. The part was recast with Ernie Hudson who'd worked with many of the Ghostbusters team on Spacehunter: Adventures in the Forbidden Zone. Ultimately, the part Hudson had signed on for, a renegade demolitions expert, was significantly reduced after Murphy's departure, leaving him as an audience surrogate and straight man. Though it was an unfortunate waste of Hudson, an actor whose solid career has proven him a great asset dramatically and comedically, it's hard to imagine Ghostbusters with a fourth comedic talent as large and bombastic as Eddie Murphy.
Another choice which surprised many was the casting of Sigourney Weaver. Though they auditioned people like Julia Roberts, it was Weaver who petitioned hardest for the part, famously acting like a dog to prove she could pull off the transformation aspect. Though she'd made waves in Alien and A Year of Living Dangerously, she was unproven as a comedic actress. Thankfully Reitman saw the power Weaver knew she had, and Ghostbusters opened the door for many of Weaver's classic comedic performances.
Other casting involved a little random magic as well. The part of Louis Tully was originally written for John Candy but he too was making his way to leading man status and had a different vision for the role than Aykroyd and Reitman. Instead, Rick Moranis, famous for his improvisational skill, was cast and brought along a nerd character that charmed everyone and reshaped the role. In fact Moranis was so good at being a nerd, it would become his usual casting and make up his most memorable parts in his post-SCTV career. Fnally, the casting of the villain Zuul involved rumors of everyone from Paul Reubens to David Byrne to Grace Jones considered for the part before model Slavitza Jovan got the part.
All those talented writers, directors, effects technicians and actors flying by the seat of their pants is part of what makes Ghostbusters so special. When remakes and reboots fall flat on their face, it's always interesting to examine the struggle stories of the original films that weren't perfectly crafted in a hothouse – films that succeeded in spite of themselves and would go on to surprise critics, audiences, and even the studios that produced them. If you love Ghostbusters I highly recommend deep oral histories from Vanity Fair, Entertainment Weekly and Esquire on the creation of the film before you watch it next. The behind the scenes joy, heartbreak and misadventure make Ghostbusters one of the most unlikely and wonderful surprises of filmmaking in the 1980s.
Find the next playtimes for Ghostbusters on Hollywood Suite.