The Eyes of Laura Mars: Disco meets slasher horror
July 7, 2017

By Go Back

Gaudy, graphic, and provocative, The Eyes of Laura Mars was a Hitchcockian thriller for the Studio 54 scene (picture the music video for Blondie's "Heart of Glass" – if it had been directed by Brian De Palma). Set in a gritty late 1970s New York amongst an entourage of cocaine-addled fashion industry professionals, it was the first major studio film penned by horror legend John Carpenter (based on his spec script "Eyes"). It's stylish, suspenseful, boundary pushing and distinctly arty, yet it has largely been forgotten. It also features key performances from Hollywood legends – including Faye Dunaway, fresh off her Oscar win for 1976's Network (and just prior to her 1981 act of career suicide with Mommie Dearest), as well as Tommy Lee Jones in one of his first leading roles. Rounded out with iconic 1970s character actors – Alien's Brad Dourif, Napoleonic descendent René Auberjonois, and Raul Julia, the late actor most recognized for his role as Gomez Addams – Laura Mars's cast is a main attraction here. As is the keen direction of Irvin Kershner (1923-2010). The film's dark, brooding tone was noticed by George Lucas, who hired the director a year after Laura Mars's release to helm The Empire Strikes Back (1980), a choice which greatly surprised Hollywood.

Laura Mars (Dunaway) is a talented art/fashion photographer at the top of her game in New York City. With an exhibition of her work mounted at a respected gallery, the subject matter of her photography comes under scrutiny by the media and an outraged public. Drawn from the headlines of newspapers, Mars's photographs recreate crime scenes and glorify and eroticize brutal violence, especially when inflicted on women. She poses her models amidst burning cars, in scrap fights, surrounded by fresh corpses. When police officer Jon Neville (Jones) sees uncanny commonalities between Mars's photos and unpublished facts of several murders, the photographer comes under suspicion. Too specific to be coincidental, Mars starts to envision horrible murders when she looks through her camera lens – the eyes of Laura Mars become the eyes of a serial killer preying on those closest to her, including her models, crew, and close friends. When these murders are realized one-by-one, Mars, with the assistance of Detective Neville, must solve the case before she becomes a victim.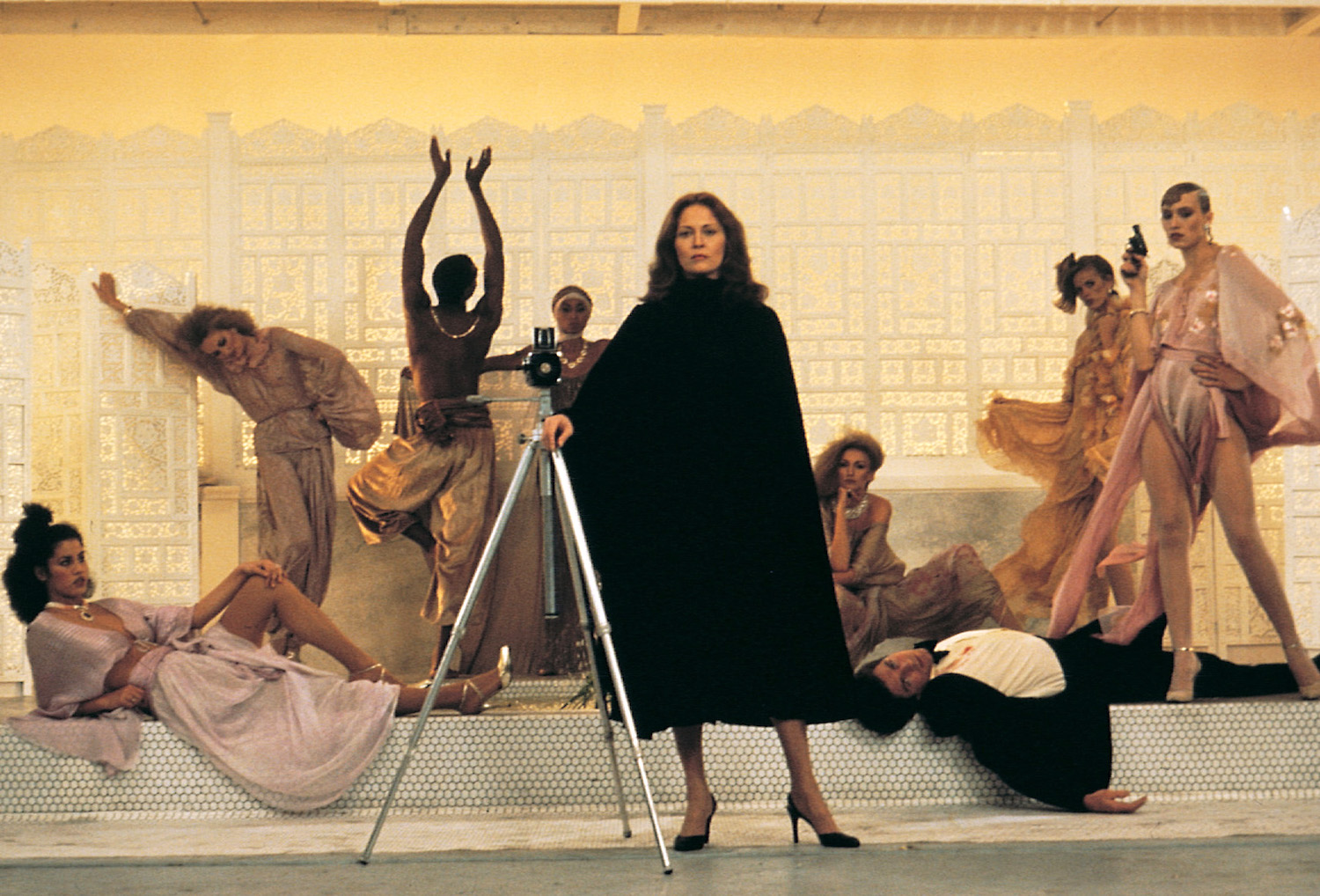 Photography, suspense, and horror have been intertwined throughout the medium of film. Hitchcock's Rear Window, for instance, uses its protagonist's camera as a voyeuristic enabler, as well as a tool that exposes a murder. In the decade prior to Laura Mars, Italian auteur Michelangelo Antonioni's Blow-Up of 1966 posted the act of photographing with death, voyeurism and its resulting festishization, imparting an arthouse spin on a Hitchcockian trope.
This Italian postion in Laura Mars is worth exploring further. With its stylized graphic imagery, synth score, arthouse infused direction, and violent, sexualized charge, Laura Mars Americanizes the giallo films that were produced in Italy in the 1960s and 1970s. A sub-genre of horror that found inspiration from pulpy crime and mystery paperbacks and fused slasher films with art house, Euro-centric filmmaking sensibilities, giallo films were hugely popular in both Europe and North America at the time of filming – with Dario Argento's iconic, highly celebrated Suspiria released just two years prior. Laura Mars's focus on a female protagonist – like Suspiria – further aligns it with the giallo film.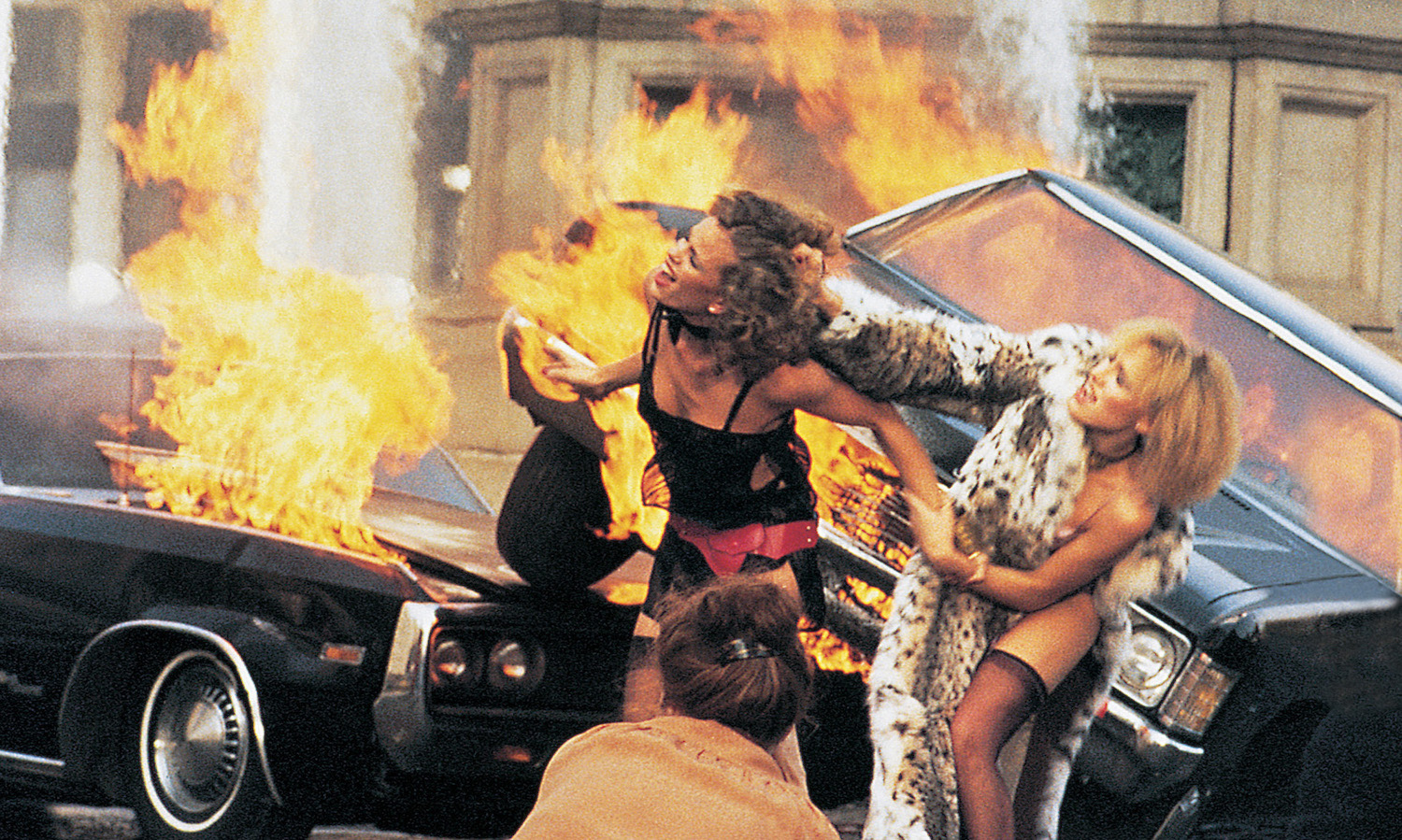 While trashy (so much so that Barbra Streisand declined it prior to Dunaway's casting), the role of Laura Mars is three-dimensional and complex. A victim to be certain, yet nevertheless exuding agency, Mars takes matters into her own hands. Moreover, Mars's photographs, which were taken by real-life enfant terrible Helmut Newton (1920-2004) – the German-born provocative fashion photographer who revolutionized Vogue, as well as other top publications in the 1960s and 1970s – comment on the state of "art" photography in the era, and the objectification of women in the industry. Newton's photographs, which make up the fictional exhibition and catalogue "The Eyes of Laura Mars" are pivotal to the film and offer another layer of commentary – the photographs are staged, yet they also function as their own art object within a film about commercialized art and its detrimental impact on women.
What Kershner achieved with Laura Mars was uniquely his own within the horror/thriller/slasher genre. The film would inspire 80s slasher flicks and the ever-evolving scream queen. While trashy, gaudy and downright disco tacky, the film is nevertheless innovative in its style and cinematography, provides a key performance from Dunaway, and captures Manhattan and its surroundings in all their late 70s grittiness. Unseen, largely due to unavailability rather than lack of quality, The Eyes Of Laura Mars deserves a re-evaluation and proper place within the horror canon. It also should be acknowledged as the key "disco horror" of the era.