Just a girl, standing in front of a boy: Revisiting Notting Hill at 20
Notting Hill unites two A-listers at the peak of their powers with a master of British romantic comedies. Will (Hugh Grant) is a London bookshop owner who becomes smitten with Hollywood star Anna Scott (Julia Roberts) after a chance encounter. They start an unlikely romance, and risk being pulled apart by their separate worlds. It is a classic story with added insightful commentary into fame, deepened by the celebrity of its stars.
Julia Roberts was well established as a leading lady with considerable box office draw, having appeared in Pretty Woman, My Best Friend's Wedding and Stepmom earlier in the decade. For most of the 1990s, she was the world's highest-paid actress, and reportedly received $15 million for her role in Notting Hill (which Roberts ad-libbed into the scene where her character is asked about her pay). Buoyed by her and Grant's star power, Notting Hill would become the biggest British hit in history, and she followed it up soon after with other mega-hits Runaway Bride and Erin Brockovich.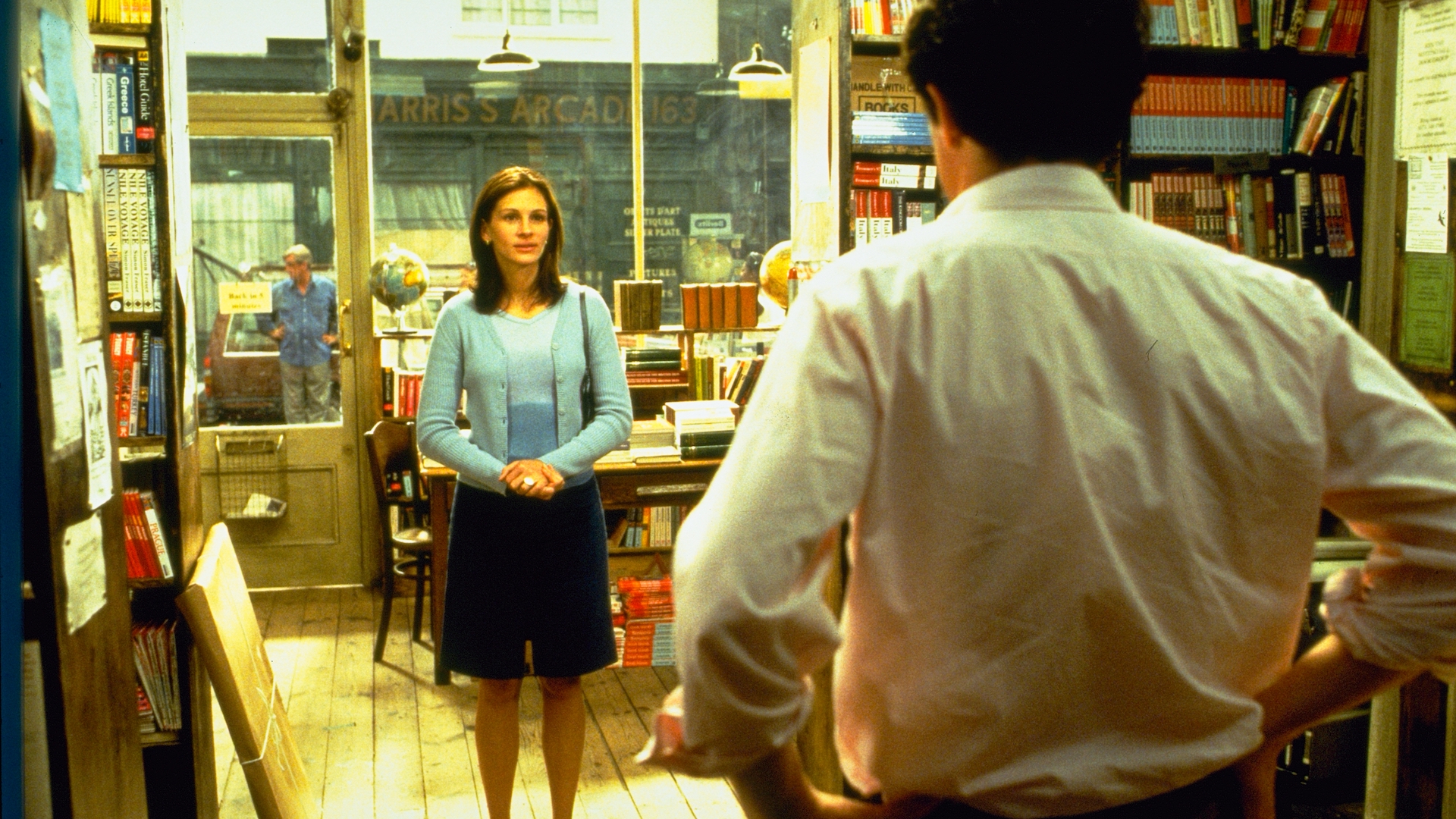 Hugh Grant's star was rising, but he was not in the same galaxy as Roberts. He was best known in for his work in Merchant-Ivory's Maurice, and smaller television and European productions until Four Weddings and A Funeral. It became the biggest British hit to date upon its release in 1994, and Grant was suddenly a household name, taking home the BAFTA and Golden Globe for his role. It also marked the beginning of his long-running collaboration with writer Richard Curtis, who would go on to write roles for Grant for many years to come in Notting Hill, Bridget Jones's Diary and Love Actually. Grant would later become known for his roles as charming, somewhat sleazy womanizers, but as Will in Notting Hill he is nothing of the sort.
Screenwriter Richard Curtis got the idea for the film lying in bed one night, imagining the reaction of friends if he turned up to dinner with Madonna, or a similar star. Seeing Will's friends react to Anna Scott (always her full name!) is one of the funniest scenes in the film, and instantly confirms the level of her fame in this world. Initially Curtis wanted Four Weddings director Mike Newell to direct, but after he passed on the project, duties fell to Roger Michell. The film's treatment of the perils of celebrity are particularly resonant given its stars – Grant has had a contentious, litigious relationship with the UK media, and while Roberts has had less personal drama to contend with, she has certainly had her share of
paparazzi attention.
In other news, the woman next to me is watching NOTTING HILL. A few choice folks will get the irony of this happening on my last flight of this sojourn. Also... Julia Roberts is STUNNING in this film. And holy shit Lester Freamon is in this?!

— Barry Jenkins (@BarryJenkins) January 4, 2018
The film was well received by critics, but audience reaction was through the roof. It usurped the biggest opening weekend box office for a romantic comedy held by My Best Friend's Wedding, and would soon after be overtaken by Runaway Bride – all starring Roberts. It took home 2000's BAFTA audience award, and continues to connect with new audiences today. Moonlight and If Beale Street Could Talk filmmaker Barry Jenkins went viral last year for his first viewing live-tweeting – an excellent alternative to director commentary to accompany your viewing.
Roberts, Grant and Curtis's place in the romcom pantheon is inarguable, and Notting Hill is a joy to revisit.