Not just a science movie: Discovering A Brief History of Time
Hollywood Suite is proud to present a series of masterpieces from Janus Films and The Criterion Collection each Saturday at 9pm ET.
80s nostalgia is so awash in silly action movies it's easy to lose sight of the many geniuses the decade also brought about. Specifically, the year 1988 produced two works that would change the face of their respective fields: Stephen Hawking's ground-breaking cosmology text A Brief History of Time, and Errol Morris' true crime documentary The Thin Blue Line. Coming into the 90s, the two masters collaborated on a documentary adaptation of Hawking's book that was essentially lost – but this week, thanks to a wonderful restoration by Janus Films and The Criterion Collection, we're proud to air 1991's A Brief History of Time.
If you're worried this is just a science movie: don't. A Brief History of Time exists somewhere between Hawking's instruction and Morris' traditional interview style. Errol Morris saw the book as a sort of covert biography, and tells the story of Hawking's discoveries alongside a deep dive into the man himself, and his past. Keep in mind this film existed well before Stephen Hawking was a cultural icon, so Morris revels in things like his unexpected sense of humour and his freewheeling youth. Stories are told from Hawking's friends, family and colleagues dealing with not just his struggle with ALS or his discoveries, but also with what has moulded him and created the scientific genius we know today.
A simple biography wouldn't please Hawking though, so he's lucky Errol Morris studied physics at Princeton, coincidentally under John Wheeler, who appears in the film to discuss his work on Black Holes. Morris and Hawking share a belief that science can have the most power when understood by everyone, not just scientists, and the film expands on Hawking's work to create simple "what-ifs" that illuminate physics for the average person.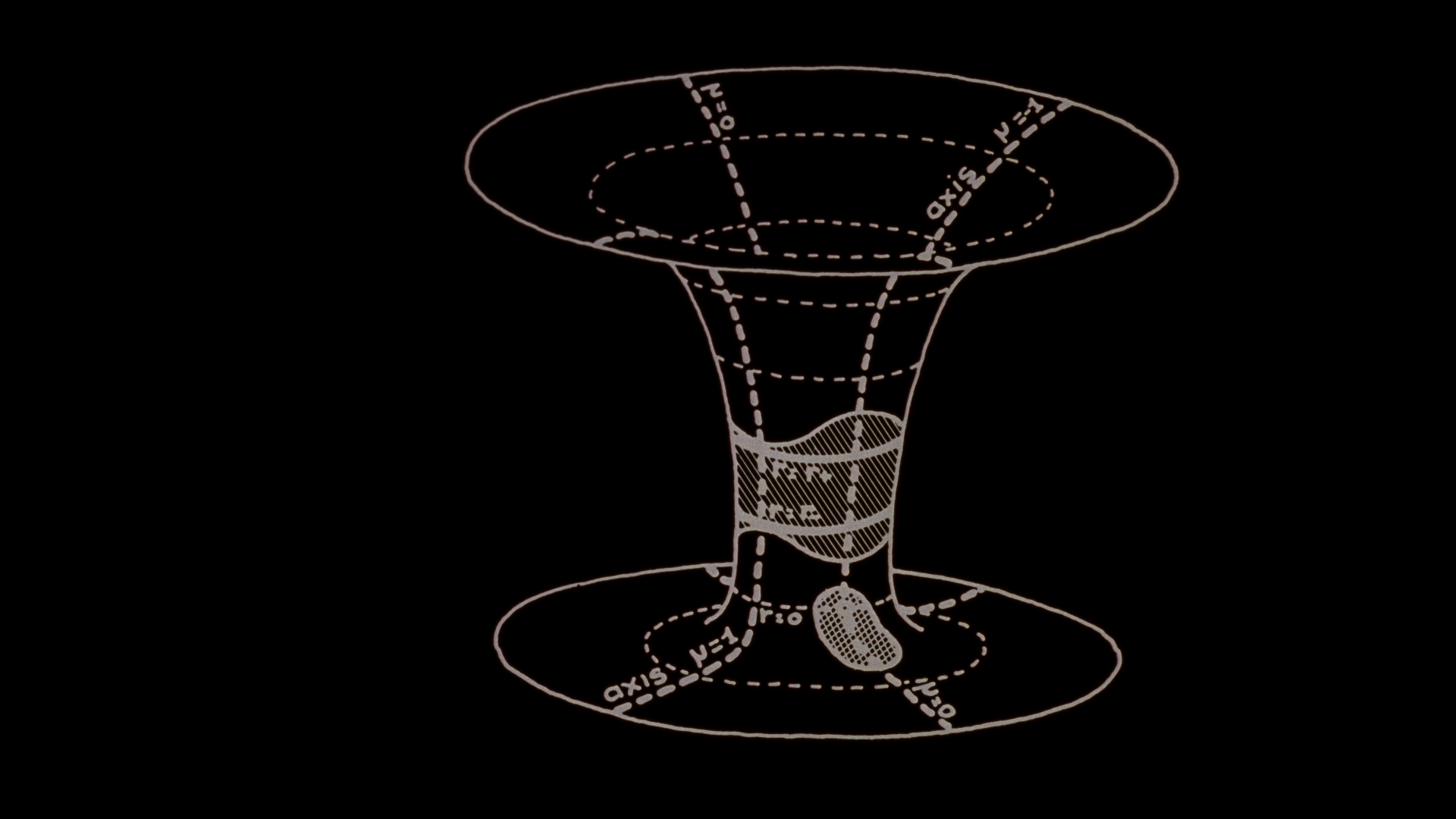 In these recreations, Errol Morris proves once again to be the perfect filmmaker for the task. The Thin Blue Line was seen as such an innovative documentary for its recreation of memory and scenes, and here Morris uses the same techniques, along with CGI, to visualize Hawking's experiments. A watch falling into a black hole turns from a graph into a whirling visual, all brilliantly scored by Morris' long-time collaborator Philip Glass. Together, each of these scenes not only makes complex concepts understandable, but also underscores the weight of their contribution to science and the immensity of the universe itself.
This movie is a lot of fun, whether you're deeply scientific or not, because it's a sort of chess game between two geniuses explaining something from different points of view. The filmmaker becomes beguiled with Stephen, the flippant young adventurer, just as Hawking admits his shame for his lack of rigor and enthusiasm in his youth. Morris finds joy in the eccentric people and stories of Hawking's biographical past as Hawking dismantles the concept of the past itself, picking at the theoretical concept of time. Each finds a way to playfully undermine the other, and throughout, exposes the depths of the concepts and how they apply to everything from Religion to humour to perseverance in the face of unwinnable odds.
It's this fact that really makes the film still stand out, even after decades of deeper dives into Stephen Hawking and his work. Even if you've seen the recent Oscar-winning biopic, The Theory Of Everything, based on his first wife Jane Wilde Hawking's memoir, this stands as quite a different viewpoint and casts a wide focus on the work as well as the man. Whether you're a massive science nerd or someone who just enjoys pondering the big questions of life, I cannot recommend watching A Brief History of Time enough. You'll come out wiser and with a tremendous feeling of the beauty and complexity of the universe, as well as the people within it.