Adaptation and the Rise of the Music Video Director
July 11, 2016

By Go Back

This summer, Hollywood Suite is celebrating the most iconic movies of the last four decades with FLASHBACK! Here on the Hollywood Suite post blog, we'll be taking a deeper look at some of those films: discussing how they were made, exploring their cultural and historic context, and sharing trivia, videos, pictures and memories from some of the best movies ever made.

Adaptation is a product of a new kind of film team that would dominate the 00s – a visually inventive director and a boundary-pushing writer. The 90s were often seen as a decade that preferred writer/directors like Quentin Tarantino or Nora Ephron, but by the 00s a new generation of visual directors had come up in an unexpected way – through the world of music videos.

Most early music videos were simple and straight-forward – that is until the 13-minute John Landis-directed video for Michael Jackson's "Thriller" hit MTV in late 1983. Its artistic and financial success inspired other musical artists, record labels and filmmakers, and paved the way for an explosion in the format in the 80s and 90s. Hollywood took notice and eventually began snapping up the best talent. Eternal Sunshine of the Spotless Mind's Michel Gondry, Fight Club's David Fincher and even Underworld's Len Wiseman all started as music video directors.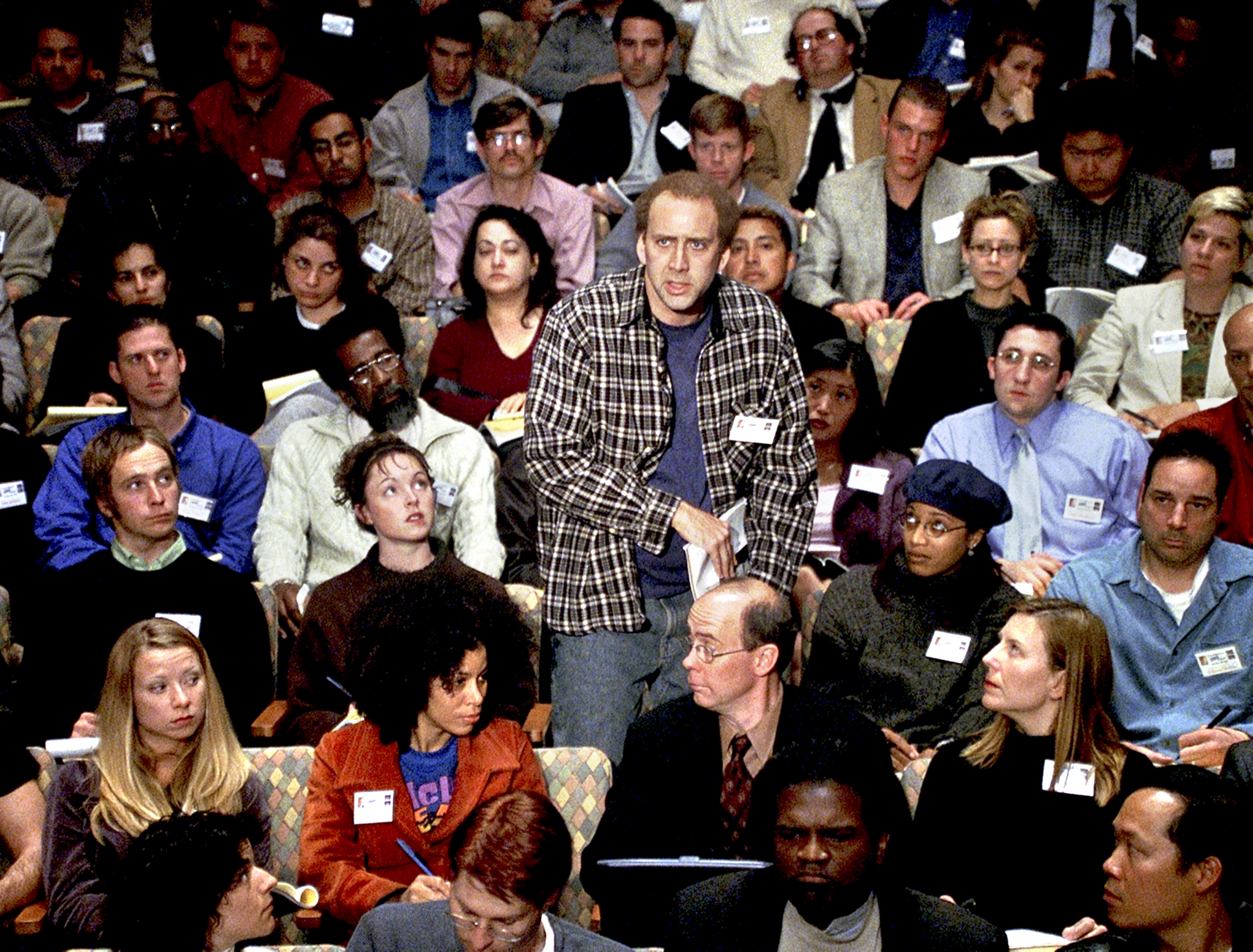 Adaptation director Spike Jonze came from a background of highly-acclaimed videos for the likes of Fatboy Slim and The Beastie Boys, as well as skateboarding and prank videos and was known for incorporating bizarre visuals and story ideas in his videos.
Rather than letting the label of a 'visual' director of music videos slow him down, Jonze teamed up with screenwriter Charlie Kaufman on his unproduced screenplay Being John Malkovich in 1999. Jonze's visual style and Kaufman's complex screenplay suited each other well, and their mutual big screen debut earned them both Academy Award nominations.
In Adaptation, Charlie Kaufman himself is the main character alongside his fictional twin brother Donald (both played by Nicolas Cage). The film follows their struggle to write the screenplay for Susan Orlean's nonfiction book The Orchid Thief. Through a series of bizarre run-ins, movies within a movie, and alligator action sequences, the original material of The Orchid Thief gets lost in the bizarre process of making a script and the brothers Kaufman debate the absurdity of dipping into 'Hollywood' fictionalization versus just presenting everyday life.
A year after the 9/11 terrorist attacks, this injection of the absurd spoke to a strange feeling in society. Nothing was certain and Hollywood itself even seemed unsure if the proper response to such devastating events was the harsh truth of films like The Pianist and City of God or the popular escapism of Spider-Man, The Lord of The Rings and Star Wars.
Adaptation was critically acclaimed for leaving this judgement up to the audience by presenting a story that took both the Hollywood and the mundane routes. And in perhaps the best reflection of the unusual time Adaptation was born into, the fictional Donald Kaufman was even nominated for an Academy Award. Kaufman and Jonze continue to be awards heavyweights both together and apart, and set the stage for other former music video directors and boundary-pushing writers to work together in Hollywood.
Watch Adaptation. July 17 at 9pm ET on HS00, and catch it all this month on Hollywood Suite On Demand and Hollywood Suite GO.
FLASHBACK to the most iconic movies of the last four decades! Join Hollywood Suite every Thursday to Sunday all summer long for another unforgettable film like 1976's Taxi Driver, 1986's Top Gun, 1994's Pulp Fiction and 2003's Lost in Translation. See the full schedule. Subscribe to Hollywood Suite today!