The Heart of Barbershop
August 18, 2021

By Go Back

I had the chance to chat with A Year in Film podcast hosts Becky Shrimpton and Cameron Maitland about two quintessential films set in Chicago. Cooley High, filmed in 1975 but taking place in the 60s, and Mahogany also shot in '75. They were movies featuring African Americans in Chicago, one of America's toughest cities. The characters live, love and laugh in their communities, strive to make something of their lives, perhaps moving to better situations, but honouring their hometown in their hearts.  Another set of films chronicling the lives of African Americans in Chicago is the comedy franchise Barbershop. With West Coast hip-hop legend Ice Cube, a.k.a. O'Shea Jackson Sr. as the lead, this series of films about a family barbershop and the community it serves has become a classic go-to for Black cinema.

Calvin Palmer (Ice Cube) owns a barbershop. It was passed down to him by his late father, who ran it for 40 years. Calvin dreams of making it big with a music career, but the responsibilities of the shop and his pregnant wife Jennifer (Jazsmin Lewis) keep him grounded. He has an eclectic staff with Eddie (Cedric the Entertainer), the old-timer who runs his mouth with politically incorrect soundbites any chance he gets, Ricky (Michael Ealy), the tough barber from the streets, and Jimmy (Sean Patrick Thomas), the college kid with clippers, to name a few. There are often heated debates among the patrons and barbers, and Terri (Eve), the only woman on staff, has to fight to have her voice heard. She's dealing with a cheating boyfriend and an amorous co-worker, Dinka (Leonard Earl Howze), the African transplant. Her chair is close to Isaac (Troy Garity), the white barber who has to earn respect before anyone lets him touch their hair. Calvin is the referee, father figure, and shop owner all at once. It's a frustrating job, and he's running out of money to keep the shop open. Asking the local businessman and loan shark, Mr. Wallace (Keith David), to help out with a loan is the last resort, but that becomes more trouble than it's worth when Wallace reveals his true plans to turn the shop into a gentlemen's club. Now that the shop's legacy is threatened, Calvin must think about who he's hurting with his hasty decision and how he can make things right.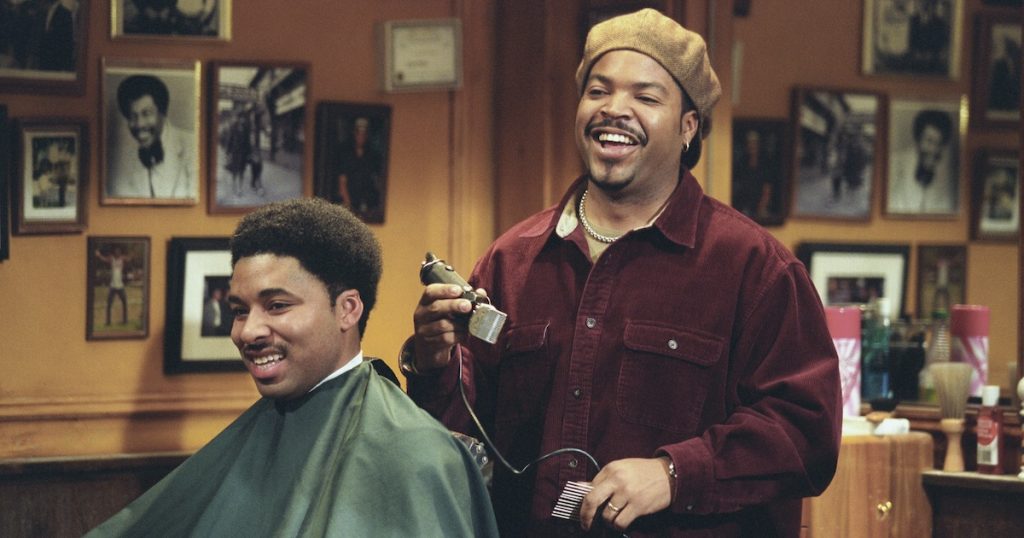 The second film in the franchise, Barbershop 2: Back in Business, delves into the past and the future. Don D. Scott, who wrote the first film with Mark Brown and Marshall Todd, took on the ensemble again, and director Kevin Rodney Sullivan, who started as an actor in The Adventures of Buckaroo Bonzai Across the 8th Dimension and the classic TV series Happy Days in the 80s, took over from Tim Story. Known for his work on series like Grey's Anatomy and Riverdale, Sullivan picks up with Calvin, this time as a father to an infant son, and Eddie's history at the shop. With gentrification touching the neighbourhood, there's a new threat when a rival shop, Nappy Cutz, tries to move in with new and shiny amenities. We're also introduced to Queen Latifah's character, Gina Norris, who runs a beauty shop next door. She would star in her own film, aptly named Beauty Shop in 2005, following Gina's tenacity to get a business started in Atlanta with her own set of eccentric characters to manage, being a widowed mom and finding love again.
Calvin's Barbershop sits on the corner of 79th and Exchange in South Chicago, an area known for gang-run neighbourhoods neglected by officials and brutalized by the police. But it's also home to regular folk, street hustlers, old-timers and gossip. It's more than back-to-back gags and misguided dating advice from retired jokesters like the barbershop in Coming to America. Calvin's is a hub for the neighbourhood and a place for discourse, debates, and opinions swirling like a comb in a jar of Barbicide. Story, who has a long resume of music videos and money-makers like Fantastic Four, Fantastic Four: Rise of the Silver Surfer, created a comedy with the first Barbershop, but the film has a deeper connection, highlighting the importance of community in Black culture.  It shows hardworking people trying to build a life for themselves; people wanting to buck the system that has kept them down historically, making financial success a pipedream. With the storyline of J.D. (Anthony Anderson) and Billy (Lahmard Tate), who botch a badly thought-out heist, it's a clear indicator that those involved in crime aren't necessarily career criminals. These two young men put up a tough front while they hide out in their grandmother's shed.
Writers Scott, Brown and Todd give us characters representing different archetypes within the Black community.  Eddie is the uncle who makes you cringe when he shows up to the family dinners, the one who says archaic, offensive things, and someone who is corrected endlessly by those around him. There's Terri, who is the "angry black woman," tired of the immaturity surrounding her, looking for a strong partner who can accept her as she is. And there's Ricky, the tough, street hood who hides how intelligent he really is.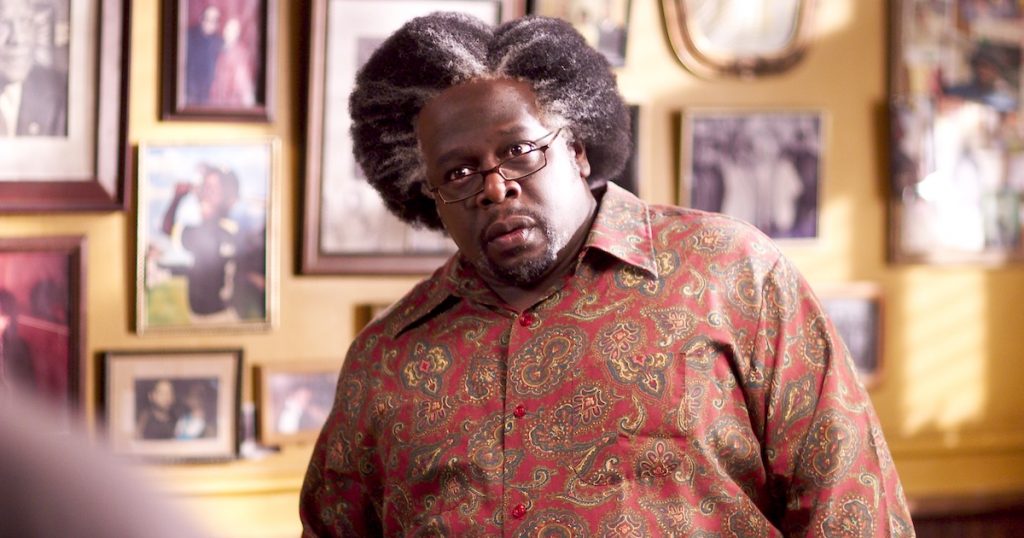 The plots of both films aren't rocket science, and most of the set pieces are played for familiar laughs and easy tugs at the heartstrings. Yet there is a specificity about the Black experience, of being among your community, with the intimate ritual of putting your self-esteem in someone else's hands as they braid, twist and clip curls and afros into the perfect fade, press or loc. The beauty industry still has work to do when it comes to Black hair and Black beauty in general, so a series of films committed to what Eddie calls "the cornerstone of the community" – the barbershop – is something special regardless of how many stars it garners from critics.
With each film, expect something to come into the community to divide residents, be it crime, gentrification, breaking traditions or fractured loyalties. Each film also brings up hot topics like racial and sexual politics, and in the last movie, 2016's Barbershop: The Next Cut, gang violence is covered, peppered with the silliness that comes when you're among friends. We also see characters grow, like Jimmy, who leaps from a barber to the political arena, Terri from a single woman to a wife, mother and businesswoman; and Calvin, who becomes a bigger part of the community than he could ever imagine. It's all under one roof, united through Black love, resilience and respect for where you come from.
---