Reel Meals: The King's Speech + Royal Scones from Chef Eric Wallis
July 6, 2020

By Go Back

Reel Meals is the latest side dish to Hollywood Suite's signature programming, which features movies you love from the 70s, 80s, 90s and 2000s. With Reel Meals, get to know a Canadian chef or food personality through an original recipe catered to a film from the Hollywood Suite catalogue.

This summery Reel Meal comes courtesy of Chef Eric Wallis, who has paired Oscar Best Picture Winner – and one of our The Best of the Best picks – The Kings Speech (2010) with a recipe for his delicious, chocolate and strawberry-filled Royal Scones.

Check out the full recipe below and don't miss The King's Speech on HS00 July 11 at 9pm ET, or stream it all month long on Hollywood Suite On Demand and Hollywood Suite GO.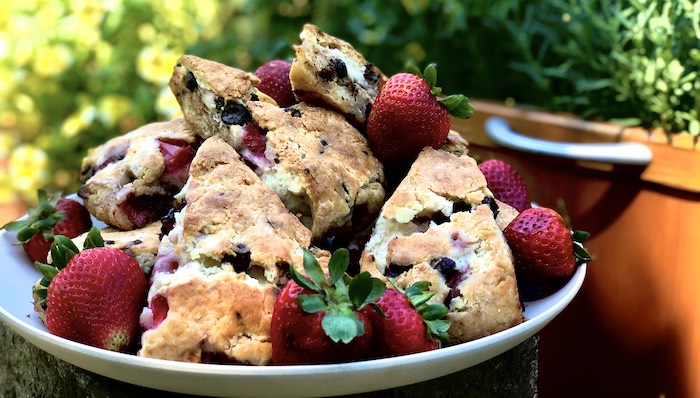 Royal Scones
Ingredients
2 1/2  cups all-purpose flour
2 1/2 tbsp refined sugar
1 tbsp baking powder
1/4  tsp salt
1/2 cup butter (chilled and diced)
1 cup chopped fresh strawberries
1/2 cup of dark chocolate chips
2 eggs
1/2 cup heavy whipping cream (chilled)
course sugar to sprinkle the top (as needed or wanted)
Method
First you want to make sure you've cut your butter and your strawberries into small cubes. The butter should be about the size of a pea and chilled inside your refrigerator. The strawberries can be quartered or even cut in eighths depending on the size.
In a large mixing bowl, add the flour, sugar, baking powder, salt, chilled butter, chocolate chips and, finally, your diced strawberries. Then give it a stir with your hands, breaking up any pieces of butter still stuck together.
In a separate bowl, add your eggs and heavy cream. Then whisk that together and add them to your dry ingredients.
Mix the ingredients together until they are incorporated. Don't worry if it looks a little dry. That's going to help create scones that are fluffy and break apart beautifully. Then place the mixture on a lightly floured counter space and literally push the ingredients together. The final product should look like a circle that's about 1 inch thick.
Once the ingredients are worked enough to hold together move it onto a sheet of parchment and refrigerate your scone dough for at least 1 hour or overnight. (The dough can be frozen and pulled out whenever desired. It can be taken from the freezer and placed right into the oven!)
Preheat your oven to 400°F. After an hour of chilling cut the circle like a pizza (into little wedges). You should be able to get about 8 pieces. Place them on a lightly buttered oven sheet for 13-15 minutes or until lightly golden. Then finish with the course sugar.
About Chef Eric Wallis
Chef Eric Wallis decided at an early age that he wanted to share his love of cuisine with the world. After obtaining his culinary / management degree from George Brown College in Toronto, he headed to Italy for intense training at the famed, Michelin star-rated Le Trabe.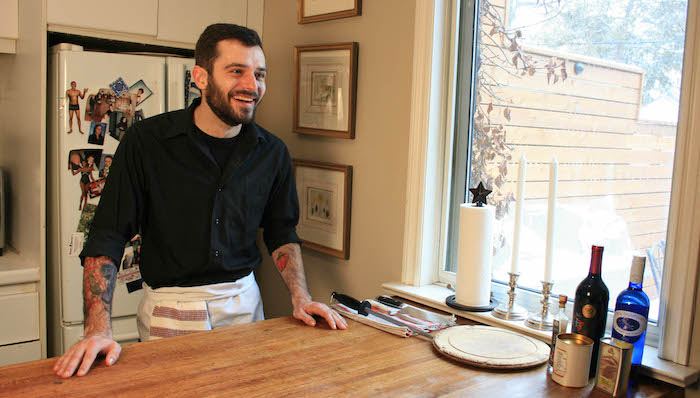 Chef Eric returned home to Toronto with a focus: to spread his unique, inspired and aesthetically stunning culinary vision with others, and FOUR ALL CATERING was born. Menus incorporate traditional and unconventional elements to provide a next-level culinary experience. Dishes feature fresh, seasonal ingredients that combine unique flavors sourced both locally and from around the world. Passionate about customer service, Chef Eric works closely with his clients to craft the perfect menu for every event, every budget.
Food is where the heart is and that is what Chef Eric brings to the table.