Reel Meals: Chef Brad Long's Knuckle Sandwich
May 21, 2020

By Go Back

Reel Meals is the latest side dish to Hollywood Suite's signature programming, which features movies you love from the 70s, 80s, 90s and 2000s. With Reel Meals, get to know a Canadian chef or food personality through an original recipe catered to a film from the Hollywood Suite catalogue.

Our first Reel Meal comes from the kitchen of Brad Long, chef and owner of Café Belong and Belong Catering. Brad cleverly chose to pair Fight Club (1999) – David Fincher's mind-bending movie about mayhem, materialism and machismo – with what he's calling a Knuckle Sandwich.

Check out the full recipe below and don't miss Fight Club on HS90 on May 27 at 10:45pm ET.

KNUCKLE SANDWICH

Ingredients
2 tablespoons good extra virgin olive oil
2 dozen or more cloves peeled fresh garlic
1/2 cup dry white wine (don't be too fussy)
1 cup any good stock or water
Salt, to taste
1/2 cup butter, your choice of salted or unsalted, at room temperature
2 tablespoons whipping (35%) cream (approx., maybe more depending on how spreadable you need it to be)
Matzo crackers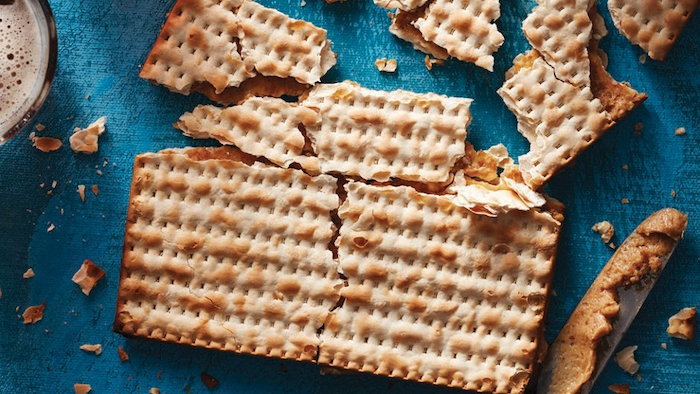 Photo Credit: Jodi Pudge
Step One: Braised Garlic
You need a large shallow pan or pot big enough to hold the garlic cloves in a single layer—you don't want them piled up in there. Add the oil to the pan and warm it over high heat. When the oil hits the smoking point, it's ready for the garlic. Add the garlic and, without moving the cloves around too much, let them get hotter and hotter. Check a clove or two, and when you see that they're beginning to brown, turn the heat down to just north of medium. You want the pan and oil to be hot enough to begin to brown the outside of the garlic, but low enough that you won't lose control. Watch carefully: The cloves are essentially oozing sugars, and they can burn in the blink of an eye. You want this stuff to caramelize. Once the bottoms are browned, turn the cloves over and brown the other sides—don't fuss for perfection, but a successful browning stage means your end product will have a deeper flavour.
Deglaze the pan with the white wine. This means turning the heat up to a full, high flame, adding all of the wine, and then, using a wooden spoon, making sure all the brown bits (fond) that have stuck to the bottom of the pan are washed into the wine liquid, turning it a golden colour.
Boil the wine until only a thick syrup remains, and then add the stock or water a little at a time and cook until each clove of garlic is tender all the way through, about 10 minutes. You don't stir this as much as you do the whole pan toss thing best described by the French as "sauté." Depending on a lot of factors (the size of the pan, the amount of heat, the garlic itself), you may need to add even more liquid. Just keep adding more stock or water and cook until the garlic is tender. The worst thing you can do is let the pan go dry, as this will cause the whole thing to burn.
Remove the pan from the heat, salt the cloves to taste, and let them cool.
The end product isn't easy to describe, but if you're looking at soft, browned individual cloves of garlic completely bathed in golden brown syrup, you did it.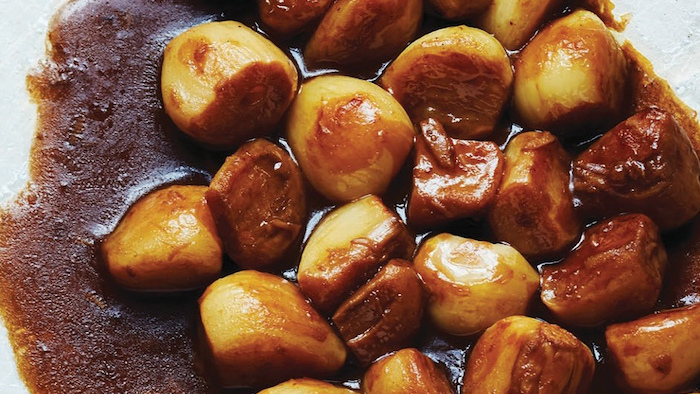 Photo Credit: Jodi Pudge
Step Two: Braised Garlic Butter
Place the cooled braised garlic cloves in a food processor, blender, or, if you're old-school, a mortar and pestle. Add the butter (if not room temperature, roughly cut it into smaller chunks). If everything is cold when you begin to blend, you will find that the mixture is quite thick, and if you blend it for too long it will become slushy. This means you should move rather quickly. More, like, move with purpose or move with precision, but yes, get moving so it doesn't get hot and all squishy.
Assuming you're fast and what you're looking at is quite cold and thick, you can thin it with some of the cream. The 2 tablespoons listed should be enough to loosen the chilled product so it's spreadable. If you have strong spreading hands you probably don't even need the cream, but it's comforting to know there are ways to find success without wishing, hoping, or praying. These are things you should abandon as a cook; it's better to stay in the harsh light of reality.
You should now have a smooth, golden-yellow butter that tastes of sweet, sweet garlic. Season with salt if you see fit, but this stuff is already punched rich with flavour. It's one of those rare instances when salt is just not that important.
Scrape your braised garlic butter into a jar, bowl, or lidded container and keep refrigerated. It will last for at least a week (but don't use if it gets furry, off-smelling, or old), and if you make a large batch you can certainly portion it up and freeze it for a lot longer (say, up to 6 months).
Step 3: Knuckle Sandwich Assembly
Matzo crackers have a very interesting history in Jewish culture that, in the Passover story, explains why this particular tasty food happens to be unleavened. I just like the crispy texture. So dig out 2 intact sheets of matzo crackers from the box and slather a good amount of braised garlic butter from edge to edge, getting it in all four corners, side to side, to a thickness of about 1 8 inch. That's probably ½ cup, give or take, so this isn't exactly as "light" a snack as it will look. Now, put the other cracker on top.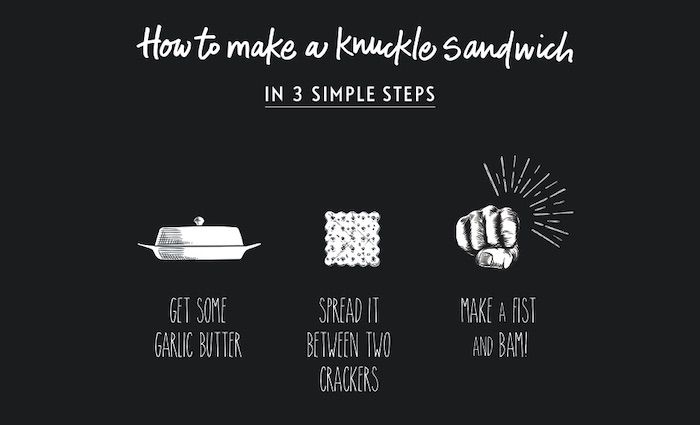 Image credit: Ruth Alves
Take the lovely, finished product and place it on a big plate or platter (something big enough to actually contain the whole thing, nothing hangin' over the edges) and slowly, with a fierce Muhammad Ali glint in your eye, drive your clenched fist down through the sandwich, busting it up into mouth-size shards that fit directly into your yob. Boom.
You're welcome.
Makes 1 sandwich to start, after which I'm pretty certain you'll eat it all and make more.
About Brad Long
A renowned Canadian chef with a career spanning over 30 years, Brad Long is a pioneer in advocating ethical, local, organic, and sustainable practices from dirt to dish and a strong, vocal leader in the national food scene. Long is currently chef and owner of Café Belong and Belong Catering, where his understanding of food is reflected in the fresh, delicious fare he procures and serves every day. Belong is a Certified B Corporation. Long's earlier accomplishments range from rebuilding the food and beverage program at the CN Tower to creating the culinary programs for the Air Canada Centre and one of Toronto's finest dining rooms, The Platinum Club, as well as building a world street food program for Toronto FC's BMO Field. As an experienced executive manager and leader, Long is often sought after to share his knowledge and passion for good food. His humour and expertise was tapped as cohost of Food Network's hit show Restaurant Makeover. Named in 2019 to Restaurant Canada's Culinary Excellence Award and author of Brad Long on Butter, Long is Chef Disruptor of The Harvest Commission. Born and raised in the lakeside community of Port Dover, Ontario, eating locally grown food as a simple fact of family life, Long never strays from his deeply rooted belief that "Food is fuel, food is medicine, food is love."