The Making of Faking a Murderer: Talking True Crime With Filmmakers Adam Rodness and Stu Stone
October 6, 2020

By Go Back

Every year from October 1 to 31, we offer up a new lineup of thrilling and chilling films under the banner of… wait for it… Shocktober. As the name suggests, our Shocktober schedule is stacked with everything from classic horror flicks to soon-to-be genre favourites. One of the films in that latter category this year is Faking a Murderer (2020).

Following filmmakers and brothers-in-law Adam Rodness and Stu Stone (Jack of All Trades) as they track down a man they think may be a serial killer, Faking a Murderer is an unreal true crime story that investigates society's deep, dark obsession with murder and those who are driven to commit it. It's a perfect film for Shocktober, filled with tricks and treats to keep you both laughing and screaming from the opening to the end credits.

In anticipation of the film's world premiere on Hollywood Suite on October 14, we sat down with Rodness and Stone to discuss the making of Faking a Murderer and why it is the kind of movie you may need to watch at least three times this month.
---
Thank you both for your taking time out talk to us today. How are you doing? I know you've been pretty — uh, held up — as the film wraps post-production.
ADAM RODNESS: Actually, it's been quite the opposite. Lots of reading and writing. Although we can't reveal our exact whereabouts, we can tell you we are safe and healthy.
STU STONE: It has certainly been a challenging year and the results of our hard work have provided us with an opportunity to truly make the most of the quarantine.  A lot of time to read, exercise, and do a lot of self-reflection.
We are living in crazy times, but at the same time, we are lucky to be living at all. I am truly thankful for every new day we get on this crazy ride called life.
Tell us about your journey to finding the subject of Faking a Murderer: (potential) serial killer Dave (or David). What drew you to explore this story specifically?
AR: Well, we've been huge fans of the genre and really felt we deserved more success. I was responsible for finding these tapes — let that be known on the record — and the fact we could potentially have our own hit investigative series on our hands was enough to dive in.
SS: I have personally been obsessed with the true crime genre and all of the amazing shows, books and movies [of that genre] that have come out in the last decade. After watching all of those great programs, we thought it there was no better time than now to throw our hat in the ring and try our hand at investigating a killer story of our own.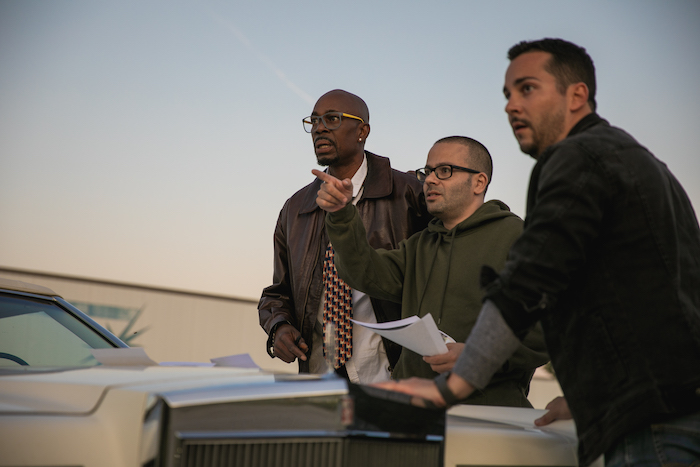 You've collaborated on various projects before, including horror films, but I think this is your first time teaming up in the "True Crime" space. Why do you think people continue to be drawn to films and series that explore the more horrific sides of human existence, often in graphic detail? 
AR: Great question. Psychologists say one of the main reasons we're obsessed with these films and series is because it gives us an opportunity to feel relieved that we're not the victim. That's a good thing.
Rule number #1: Don't become the victim.
SS: I think there is a dark side to everyone, but most of all a curiosity that exists within us that is easily consumed with solving the mysteries of life.
Justice for crimes is only served when a case is solved and solving cases usually entail an exciting, unpredictable journey. I can tell you that from first-hand experience.
I know you put yourself into some truly harrowing situations in the making of this film, including speaking in front of a hungry crowd at our Annual Breakfast. What drives you to keep going even on the most potentially disturbing shoot days?
AR: Every day is a disturbing day when we are sleeping head-to-toe on a shared bed in a not-so-5-star motel room with your brother-in-law. But at the end of the day, it's all about the money, fame and the catering tent. I made sure to always have an array of seafood platters at the craft table.
Rule #2: Always have a healthy array of high end snackables. (Side note: Stu can't eat shellfish.)
SS: Coffee helps. A lot. But also, just living in the moment and enjoying the journey makes it easy to stay motivated. Making movies is a dream job and we are certainly lucky to be able to be living out our dreams for "work".
As you wrap up on this film, what's next for 5'7 Films? Any chance we'll see another Faking a Murderer, perhaps following another suspicious suspect?
AR: We definitely hope so. Let's see how the fans react to this story.
We've been getting calls to investigate random cases. Perhaps a long-form series could be in the works? [winks]
SS: Nothing would be more exciting than to continue investigating crimes while documenting the process. Hopefully audiences connect with our story and want to see more. We certainly have more stories to tell.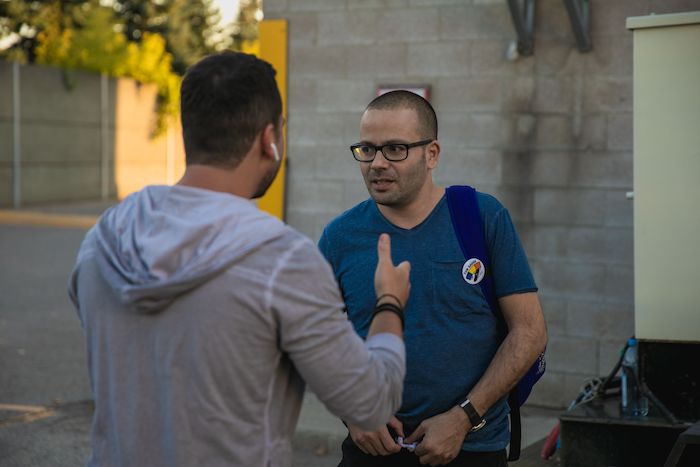 Before you go, one last question: why should our fans make Faking a Murderer a part of their Shocktober screaming — er, streaming — schedule?
AR: I mean we've been making Shocktober part of our annual schedule for years. So, if you're not making Shocktober a part of your streaming schedule, you are doing at all wrong.
We can't tell you a lot, but we can tell you that Faking A Murderer is the type of movie you will need to watch three times. We challenge you to figure out the mystery before it unfolds and guarantee you laughs, scares and even some slight nudity…
SS: Tis' the season to be spooky!
Growing up, I always looked forward to this time of year, not just for the costumes and the trick or treating, but for the scary movies that come along with October. This year, with Halloween being different than any other in the past, we have more time to cuddle up, make some candy corn and watch movies that make us scared, make us laugh … and show some slight nudity.
Anything else you'd like to add before I have to let you go?
AR & SS: We would like to thank everyone for all of the support on this ambitious project and specifically the team at Hollywood Suite for believing in us and giving us a chance to catch a killer!
Find the next playtimes for Faking a Murderer on Hollywood Suite