What Junebug (2005) Reveals About Amy Adams Before She Became an A-Lister
September 1, 2020

By Go Back

Junebug (2005) is one of those mostly forgotten indie gems that gains a singular reputation in film history for what it achieved. In this case, it will forever be known as "Amy Adams first Oscar nomination" in spite of the delights the film presents a viewer. Still, Junebug is a film well worth a watch or revisit and a wonderful reminder of the journey and subtle talents of one of today's biggest stars.

Junebug follows Madeleine, played by Embeth Davitz, a canny Chicago art dealer who deals in 'outsider' folk art from unique individuals in isolated communities as she travels to North Carolina to both woo a fascinating artist and meet her new in-laws after a whirlwind romance and marriage. Her entrance into the small community exposes the steeply ingrained power dynamics and the relationship between the values of the city and the country, between the north and the south, and between distant parents and their children. The main cast is made up of character actors like Alessandro Nivola, Celia Weston, and Scott Wilson, so it's a delightful showcase of talent who rarely gets to be the lead in a film. This also contributes to why someone with the star power of Amy Adams really stands out.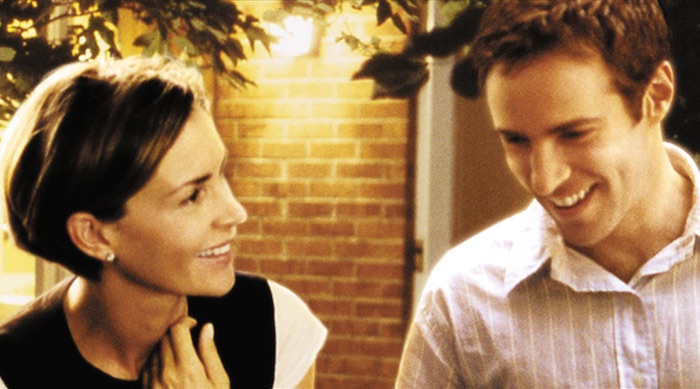 Adams had been a working actress for about half a decade when Junebug came along. She was someone I'd seen guest starring on TV, showing up in the "aborted because the trailer was too racy" Cruel Intentions sequel, and in small roles in things like Pumpkin, Drop Dead Gorgeous and Psycho Beach Party. A bit of a career before a breakout tends to make for a more interesting actor and I think Amy Adams managed to thread that needle while quite young and made a lasting impression with her turn in Junebug.
In Junebug she plays Ashley, the heavily pregnant wife of Madeline's new brother-in-law who immediately overwhelms Madeline with affection and questions about her razzle-dazzle life in Chicago. A lesser actor would let the role drown in the character's quirks like her love of meerkats and anything cute, but Adams finds a way to make Ashley comically over the top while still a part of our world. Surrounded by characters who communicate mostly through silence, her chipper constant talk first hits audiences as funny and charming, but the more it exists, the starker the contrast it creates between how she acts and what's happening around her.
Her character seems clueless, but more deeply understands the social mores and dynamics of the family than Madeline who unwittingly stumbles in like a bull in a china shop. The slow revelation that Ashley is, in spite of her seeming naivety, deftly manipulating, and smoothing situations is still comedic, but also reveals a tragic need to keep everything light and connect stubborn people in even the bleakest situation. This also isn't a film about someone learning to fit in, it's about places where certain people do fit and don't fit and Adams crafting of Ashley's unique and boisterous dynamic is key to that lesson not completely shattering viewers by the end of the film.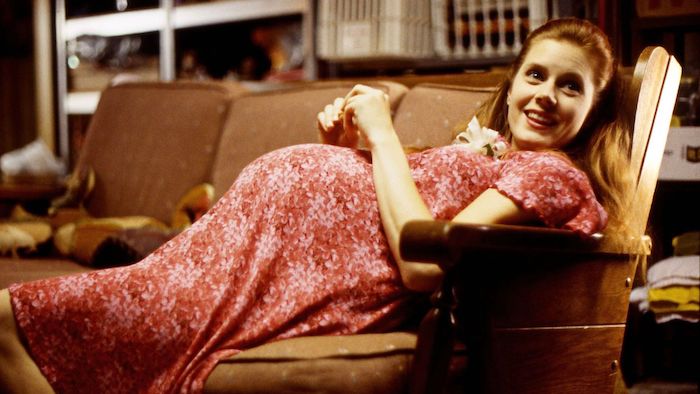 Rather than this first Best Supporting Actress Oscar nomination simply being one where a new ingenue captures the Academy's eye, it's actually a masterclass in one of the best skills in Amy Adams' toolbox. Adams has a very unique talent at saying one thing while revealing something totally separate in her facial expressions and physicality. With Ashley, her happiness hides desperation and her kindness often hides a darker knowledge of what's actually going on. With her wide eyes and smiles cranked just slightly beyond normal you can sense this as an audience well before she shows any negative emotions. This betrayal of the truth, seeping out through her body language has been a key part of her characters ranging from Sister James in Doubt to Camille Preaker in Sharp Objects. It's especially impressive because it's a reflection of the imperfection of actual people in reality and being able to recreate the split in what a human being can control and what they cannot consistently through her performances is one of the reasons Adams remains a top actor decades after this breakthrough.
Junebug is a movie of small moments, sneaking cigarettes and muffled late-night conversations, so it's not a surprise that a rambunctious performance like Amy Adams' is one of the reasons it's remembered, but it's so much more than that. Her casting is a mere reflection of filmmakers deeply interested in the dynamics of family and love in the very specific world of North Carolina where, quite often, what is said isn't quite what is meant. It's almost impossible to explain why a movie, especially a smaller independent film, is remembered, but Junebug is a wonderful example of how digging up an actor's breakthrough role can unearth a wonderful film that is just as worthy of remembrance as the superstar it created.