Go Back
National Free Preview Returns December 1
Toronto, November 20, 2023 – As a holiday gift to Canadians, Hollywood Suite's annual FREE PREVIEW will be available nationally from December 1 to January 5 through participating TV Service Providers, giving viewers unlimited access to all four of Hollywood Suite's TV channels and Hollywood Suite On Demand (where available).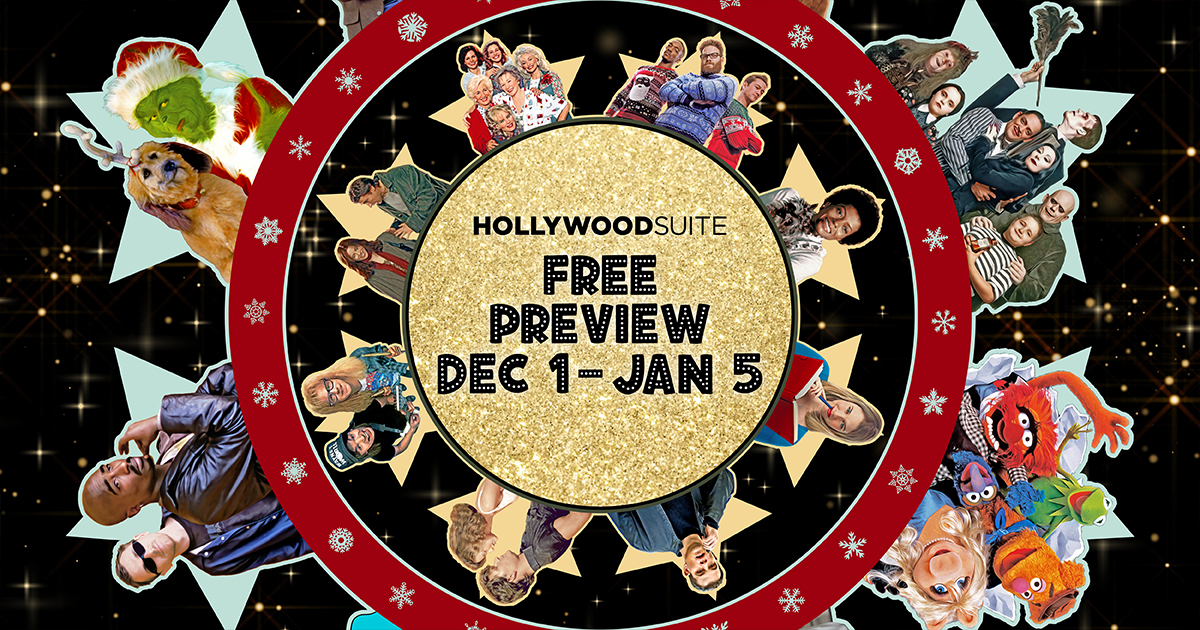 From the first season of the British horror-comedy series Wreck, to crowd-pleasers such as John Wick (2014) and The Addams Family (1991), Hollywood Suite's Free Preview slate includes over 500 titles, dozens of which are network premieres. And don't miss your chance to cozy up with their Festive Favourites lineup, which showcases beloved holiday classics spanning from the 1940s through to today.
Holiday Affair (1949)
Scrooge (1970)
Black Christmas (1974)
Cold Steel (1987)
Grumpy Old Men (1993)
Seuss' How The Grinch Stole Christmas (2000)
Bridget Jones's Diary (2011)
Serendipity (2001)
Love Actually (2003)
The Holiday (2006)
Carol (2015)
The Night Before (2015)
Into The Dark: Pooka! (2019)
Into The Dark: Pooka Lives! (2019)
Into The Dark: A Nasty Piece of Work (2019)
'Tis The Season: Holidays on Screen (2022)
Vandits (2022)
Hollywood Suite's programming team has also been working hard to curate their signature Naughty and Nice Lists. Is your name on the Nice List this year? Get ready to stuff your stocking full of classics such as:
The 5000 Fingers of Dr. T (1953)
Snoopy Come Home (1972)
Jesus Christ Superstar (1973)
Godspell (1973)
For Pete's Sake (1974)
Race For Your Life, Charlie Brown (1977)
The Wiz (1978)
Annie (1982)
The Muppets Take Manhattan (1984)
The NeverEnding Story (1984)
Pee-Wee's Big Adventure (1985)
The Goonies (1985)
Big Trouble in Little China (1986)
The Land Before Time (1988)
Earth Girls Are Easy (1989)
Driving Miss Daisy (1989)
Steel Magnolias (1989)
The Addams Family (1991)
Wayne's World (1992)
Race The Sun (1996)
Space Jam (1996)
Bean (1997)
Patch Adams (1998)
Spy Kids (2001)
Spy Kids 2: The Island of Lost Dreams (2002)
Paddington (2014)
Early Man (2018)
Maybe the past year hasn't won you any congeniality awards? Don't worry, we get it… it's been a rough one. We have equally fun fare for those who have landed on this year's Naughty List!
The Sugarland Express (1974)
Slap Shot (1977)
Hardcore (1979)
48 Hrs. (1982)
Scarface (1983)
The Untouchables (1987)
Heathers (1988)
King of New York (1990)
Pacific Heights (1990)
Indecent Proposal (1993)
Pulp Fiction (1994)
Clear and Present Danger (1994)
Casino (1995)
Gridlock'd (1997)
Double Jeopardy (1999)
The Whole Nine Yards (2000)
The Pledge (2001)
The Bourne Identity (2002)
The Bourne Supremacy (2004)
Sin City (2005)
300 (2006)
The Bourne Ultimatum (2007)
Alpha Dog (2007)
The Bourne Legacy (2012)
The Watch (2012)
White House Down (2013)
The Purge (2013)
Mud (2013)
John Wick (2014)
Split (2017)
Get Out (2017)
John Wick 2 (2017)
Logan Lucky (2017)
Wreck (2022)
Viewers can see what else will be playing and find out how they can check out Hollywood Suite's Free Preview by visiting hollywoodsuite.ca
ABOUT HOLLYWOOD SUITE
Hollywood Suite owns and operates four exclusive HD channels featuring the iconic movies that defined the 70s, 80s, 90s and 2000s, plus essential Hollywood classics from the Golden Age, always uncut and commercial-free. With hundreds of movies every month on four HD channels and Hollywood Suite On Demand, Hollywood Suite provides unparalleled value to consumers.
Hollywood Suite is available to over 10 million households across Canada, exclusively through Canadian television service providers and Amazon Prime Video Channels. Visit hollywoodsuite.ca for more Information.
SOCIAL MEDIA
Facebook: Hollywood Suite
X: @hollywoodsuite
YouTube: HollywoodSuiteTV
Instagram: @hollywoodsuite
Website: hollywoodsuite.ca
TikTok: @hollywood_suite
For more information regarding Hollywood Suite, please contact:
Angie Power
ROUTE 504 PR
angie@route504pr.com
647.969.6026