For 'The Birds' Pot Pie from Orchard Lyceum's Sam Higgs
October 1, 2021

By Go Back

With Shocktober back on Hollywood Suite once again, we asked chef and educator Sam Higgs of Orchard Lyceum to match a recipe to a horror classic. And he truly outdid himself with a dish he calls For "The Birds" Pot Pie, a delectable tribute to the Alfred Hitchcock tale of avian assault.

Check out Sam's recipe below and catch The Birds all this month on Hollywood Suite On Demand, just one of the over 50 horror movies that are part of Shocktober!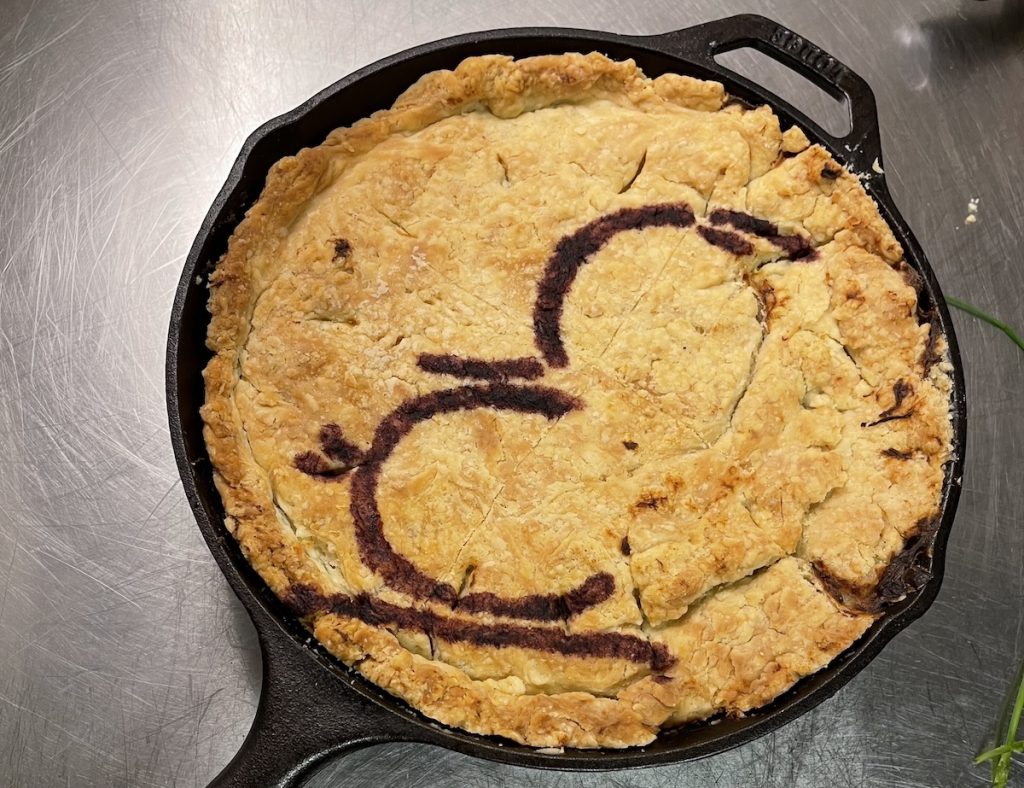 For 'The Birds' Pot Pie
Recipe by Sam Higgs, Orchard Lyceum
For a 9-inch skillet, pie plate or baking dish
Pastry
Using a rubber spatula, thoroughly mix in a large bowl:
1 ¼ cups all-purpose flour
1/2 tsp white sugar
1/2 tsp salt
Working quickly to prevent softening, cut into ¼-inch pieces:
1/4 pound (1 stick) cold unsalted butter
Add the butter to the dry ingredients. Using a pastry blender or two knives, chop the butter into pea-sized pieces. Add: 1/8 cup solid vegetable shortening.
With a few quick swipes of the pastry blender, cut the shortening into large chunks and distribute throughout the bowl. Continue to chop with the pastry blender until the mixture resembles coarse crumbs with some pea-sized pieces. Do not let the mixture soften and begin to clump; it must remain dry and powdery. Drizzle over the flour and fat mixture: 1/6 cup plus 1 tbsp of ice water.
Cut with the blade side of the rubber spatula until the mixture looks evenly moistened and begins to form small balls. Press down on the dough with the flat side of the spatula. If the balls of dough stick together you have added enough water; if they do not, drizzle over the top: 1 tbsp ice water
Cut in the water, then press with your hands until the dough coheres. The dough should look rough, not smooth. Divide the dough into a round flat disk, and wrap tightly in plastic. Refrigerate for at least 30 minutes, preferably several hours, or up to 2 days before rolling. The dough can be wrapped and frozen for up to 6 months. If frozen, thaw completely before using.
For Filling
1 cup turkey, 1 cup duck, 2 cups chicken or 4 cups of poultry of choice, skinned, deboned, cooked and cut in small chunks or shredded
1/2 a bunch of leeks, 2 large stalks of celery, cut in ½ inch pieces
1 cup stock (chicken, vegetable etc.)
1/2 cup 35% cream and 1/2 cup of whole milk or 1 1/4 cup of whole milk
1/3 cup all-purpose flour
3 tbsp butter (or 2 tbsp butter or 1 tbsp duck fat)
1/3 cup of light ale (to taste)
Savoury herbs (tsp fresh or a pinch of dried parsley, savoury, thyme are ideal complements but you can add sage or rosemary if you're feeling bold)
Salt and pepper to taste
To ensure colour and texture of vegetables, gently sauté leeks and celery in a small amount of butter or olive oil and a pinch of salt on medium heat in advance. If working with raw poultry, incorporate at this stage until cooked.  Option: deglaze with beer (and drink the rest of the bottle!) and herbs to taste.
Melt butter and duck fat (if using) in a pot on medium heat. Add and mix all-purpose flour, stirring constantly until flour and butter paste begins lightly browning and produces a nutty aroma (basic roux). Incorporate 2 cups of stock, whisking constantly to remove lumps. Stir constantly for 5-8 minutes to thicken. Whisk in cream or milk, scraping pot edges with a wooden spoon to ensure a smooth mix. Continue to cook while whisking for another 5-8 minutes until "gravy" thickens. Incorporate vegetables and cooked poultry. Mixture should be stirred and remain on heat until a thick consistency is achieved.
Bring prepared pastry dough to room temperature.
Preheat oven to 400F. Transfer filling mixture to buttered skillet, pie plate or ovenproof crock.
Roll to a thickness of 1/4-1/3 inch on a flour-dusted surface. Cap filling to edges of container with rolled pastry. Make a few incisions in pastry crust for steam vents. Bake in upper third of oven for 25-30 minutes or until top crust appears golden brown. Before baking, crust may be brushed with an egg yolk to enhance browning.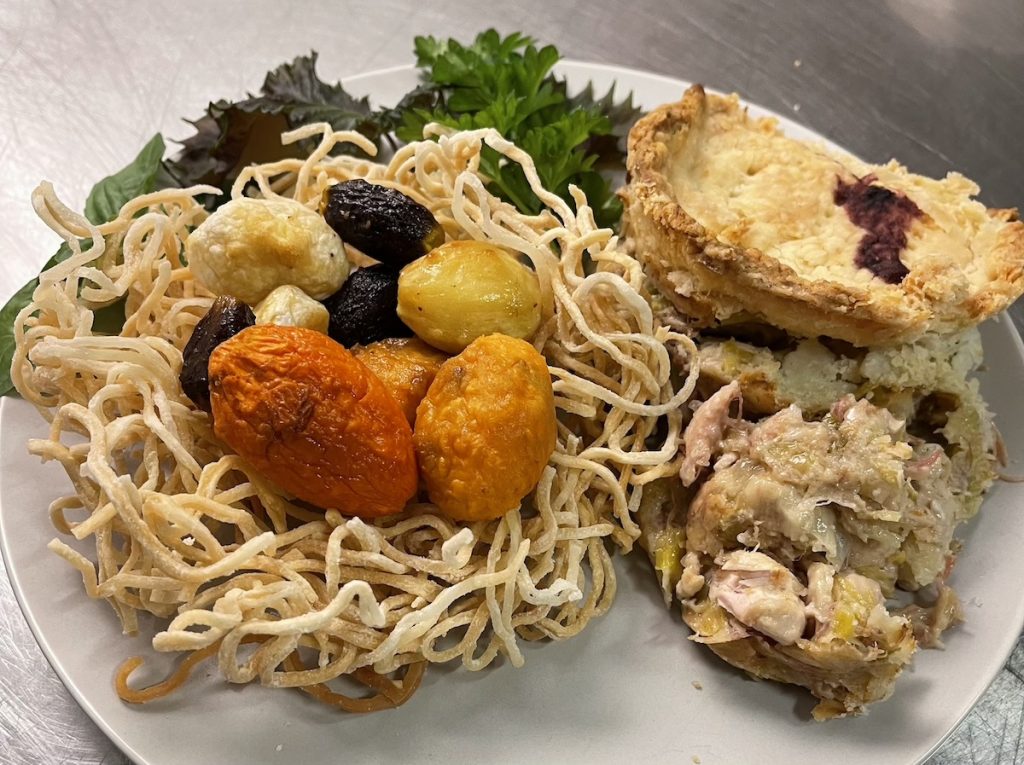 Note: Our version is accompanied by root vegetables roasted in olive oil until they are ready and finished with a light glaze of maple syrup.
About Sam Higgs and Orchard Lyceum
Sam Higgs heads up the food programme at The Orchard Lyceum. With years of culinary and community service experience earned in kitchens in Toronto, London, Switzerland and the Caribbean, Sam combines his expertise as a chef with an artistic flair and genuine empathy for mentoring youth.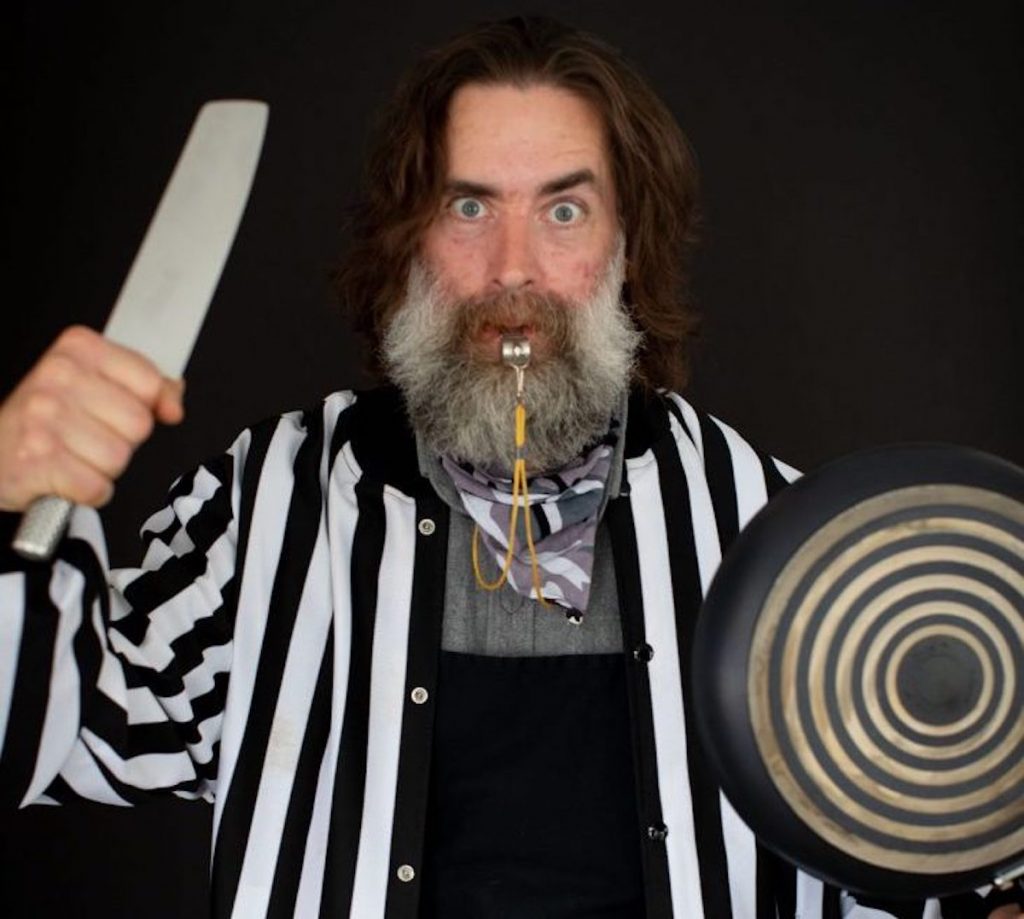 The Orchard Lyceum promotes experiential learning for students aged 9-12 years aimed at guiding the spirit of the adolescent through methods of enquiry that emphasize innovation, collaboration, critical thought and practical experience. Working with Sam in the kitchen allows youth to earn their culinary chops while gaining an appreciation for the more artistic aspects of food preparation. As well as the school kitchen, explorations with food take them to gardens, markets and food destinations around the city. Curriculum connections are then made in the classroom through studies in botany, food history and human migration.
Follow us on Instagram @theorchardlyceum or visit the website orchardlyceum.ca