The 12 Best Quotes from Wayne's World
1992 gave us some solid movie quotes: A Few Good Men has "You can't handle the truth!", A League of Their Own has "There's no crying in baseball!", My Cousin Vinny has "Did you say 'yutes'?", and Scent of a Woman has "Out of order? I'll show you out of order!". But Wayne's World is easily the most quotable film of 1992 (unless, of course, you count singing along with Sister Act as "quoting").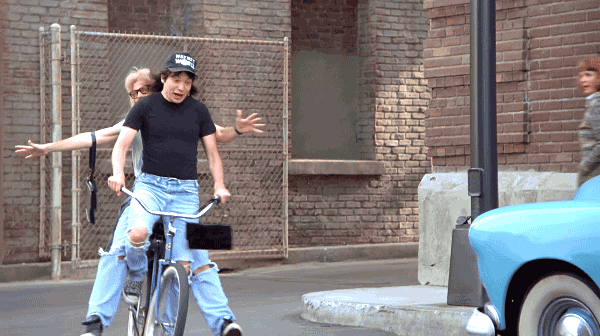 Coming a dozen years after the success of
The Blues Brothers
,
Wayne's World
was only the second feature film spin-off of a
Saturday Night Live
sketch. By all accounts,
Wayne's World
was a success of its own: it raked in over $180 million in worldwide receipts on a modest $20 million budget, and propelled Canada's Mike Myers to movie stardom. It was such a hit that it led to not only a sequel, but a string of
SNL
-inspired films in the 90s, none of which connected with audiences the way
Wayne's World
had (and some of which were unmitigated box office disasters).
Much of the magic of Wayne's World is thanks to its script by Myers and SNL husband-and-wife writing team (and later creators of That '70s Show and 3rd Rock from the Sun) Bonnie and Terry Turner. Its combination of slacker-comedy, irreverence, and zeitgeist defining references helped make it highly re-watchable, ensuring we'd still be quoting it almost 25 years later.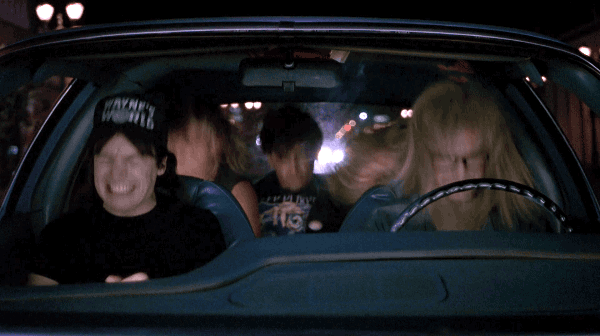 Here are our 12 favourite quotes from Wayne's World:
1. "Did you ever find Bugs Bunny attractive when he put on a dress and played a girl bunny?" —Garth
2. "Garth, marriage is punishment for shoplifting in some countries." —Wayne
3. "It will be mine. Oh yes. It will be mine." —Wayne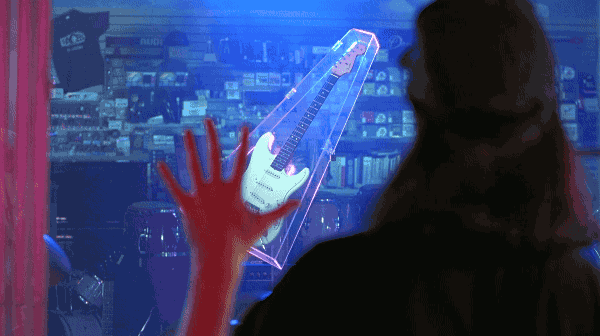 4. Garth: What do you do if every time you see this one incredible woman, you think you're gonna hurl?
Wayne: I say hurl. If you blow chunks and she comes back, she's yours. But if you spew and she bolts, it was never meant to be.
5. Wayne: I'd have to say "asphinhtersayswhat?"
Noah Vanderhoff: What?
Wayne: Exactly.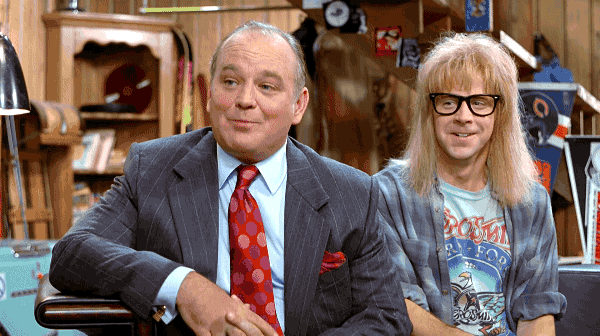 6. "That bass player's a babe. She makes me feel kinda funny, like when we used to climb the rope in gym class." —Garth
7. "If Benjamin were an ice cream flavor, he'd be pralines and dick." —Garth
8. "It's sucking my will to live!" —Garth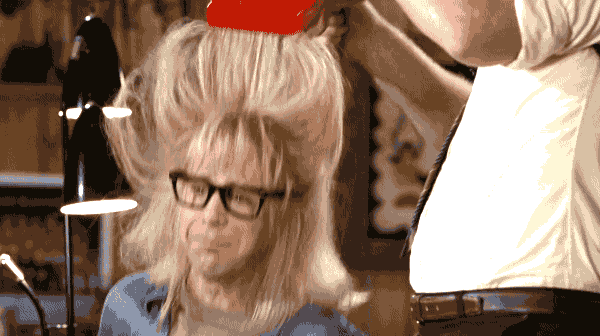 9. "Hey Phil, if you're gonna spew, spew into this." —Garth
10. "We're not worthy… we're not worthy!" —Wayne and Garth to Alice Cooper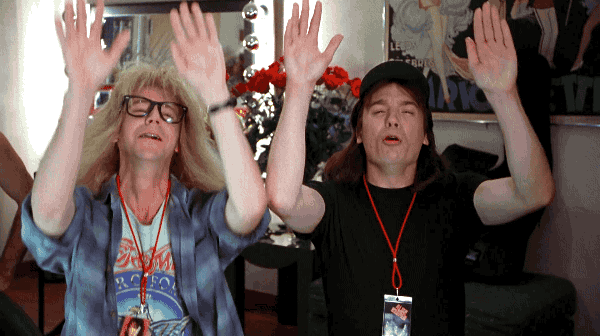 11. "I don't even own a gun, let alone many guns that would necessitate an entire rack." —Wayne
12. "Hello?! What do you think you're doing? Only me and Garth get to talk to the camera." —Wayne