Better bring a hanky: City Lights and Chaplin's heartache
Hollywood Suite is proud to present a series of masterpieces from Janus Films and The Criterion Collection.
City Lights – inarguably, one of the true masterworks of the silent era – is the quintessential silent film, yet it was released well into the sound era. A stated favorite of canonical Janus Films/Criterion Collection directors (Orson Welles, Andrei Tarkovsky, Fredrico Fellini, among others), it was, most importantly, Chaplin's own favourite. His final "silent" (however, it did feature some synchronized sound effects and music), in many ways City Lights is the distillation of Chaplin's art in its purest form. Hilarious, as one would expect, and moving, as anyone familiar with Chaplin would know. With its heartrending conclusion, critic James Agee claimed it "the highest moment in movies," as well as the "greatest piece of acting" committed to film. Who could argue? With City Lights, Chaplin redefined filmmaking – making it universal in its ability to elicit empathy and convey true human suffering within the parametres of comedy.
In 1928, when Chaplin began production on City Lights he was the most famous filmmaker and visual icon in the world. The Tramp – that charming, rickety little fellow – was more recognizable than the image of Jesus. The character transcended nationalities, language, religion, politics – he was truly the first universally beloved "character." Chaplin had first experimented (to great success) with feature comedies in 1921, when he released The Kid – it proved to studio brass that not only could comedy be sustained for more than two reels, it could also impart a devastatingly real emotional core. Telling the story of a father (the Tramp) torn away from his adopted son – played to wondrous heights by six-year-old Jackie Coogan – The Kid was the original tearjerker. Without sap or melodrama, The Tramp has evolved, and would do so even more with City Lights.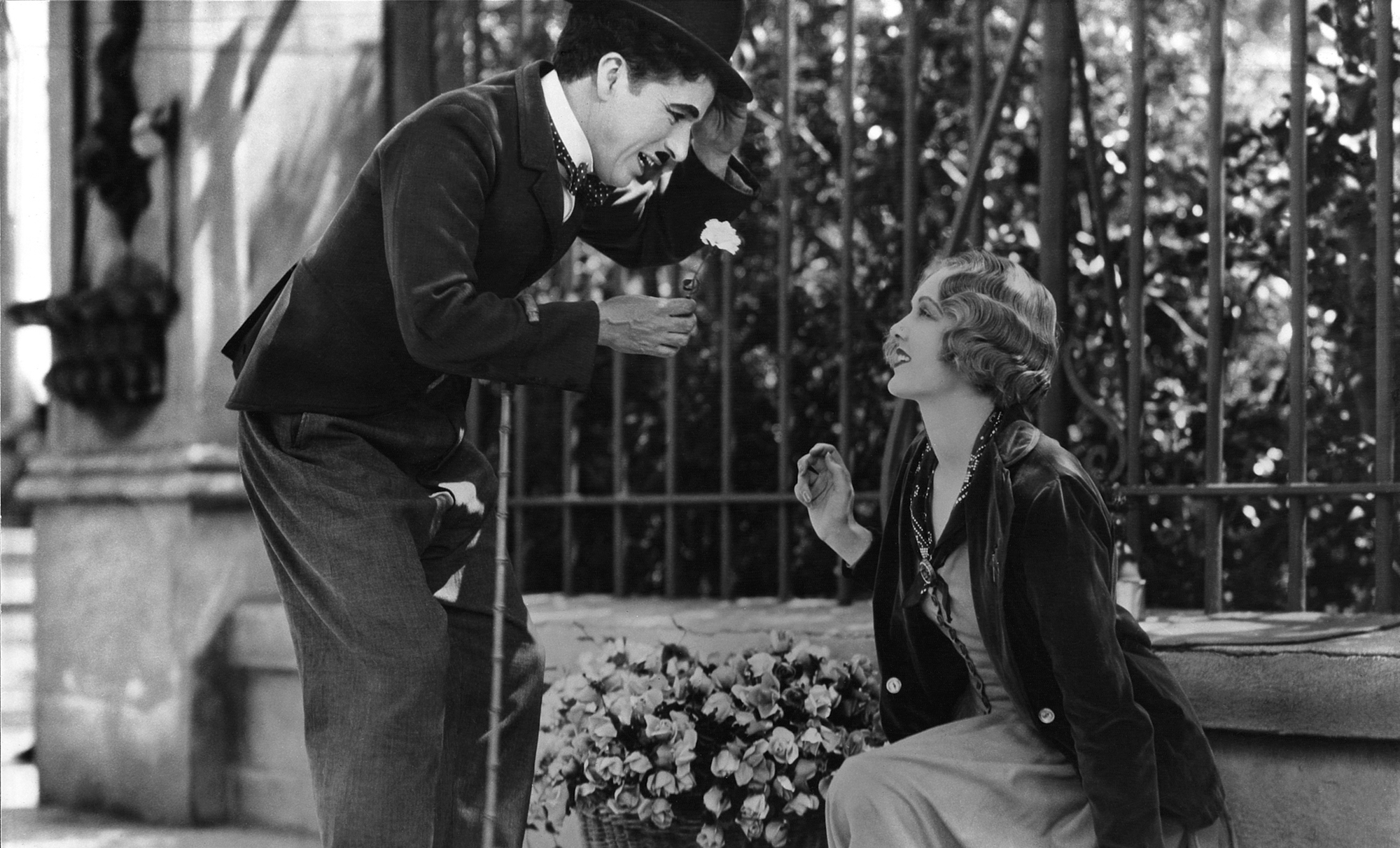 While its title indicates some sort of urban reality, it was rather deceptive, as the film takes places in a relative fantasyland created entirely by Chaplin – part New York, part Paris, part London, but truly only existing in the made-up world of The Tramp. Down on his luck, as per usual, The Tramp encounters a beautiful young flower seller. Realizing she is blind, he falls in love with her and endeavours upon a way to cure her blindness – namely by befriending a millionaire with dipsomania who only lavishes attention (and money) on our vagabond when intoxicated. With his heart in the right place, but his social standing suspect, The Tramp is subjected to a variety of life's cruelties. Yet, as always, he makes us laugh through the heartache.
What Chaplin understood was true hardship. By 1928, his wealth was immense, yet he could never escape the abject poverty of his childhood. At fourteen, with his father having run off, and his syphilitic mother unable to work, he and his older brother Sydney were sent to a work house for the second time in their lives (the first being when Chaplin was only seven years of age). His mother's condition would worsen, and eventually she was committed to a sanatorium, leaving the young Chaplin to fend for himself (his older brother had joined the Navy). He would turn to his parents' former trade – Music Hall and vaudeville. Perfecting his performance ability, he was invited while on a tour of the US to join the New York Motion Picture Company in 1914, eventually finding himself under the direction of Keystone's Mack Sennett and his right-hand woman, Mabel Normand. In his creation of The Tramp – a character that made its first appearance in 1914's Kid Auto Races in Venice – Chaplin would shape early twentieth-century popular culture into something globally consumable, something immutable and eternal. It's a contribution to art of the highest form, even if that was not how it was thought of at the time. Over the next decade Chaplin would change the film industry, shaping it in its infancy.
The film he released prior to City Lights, The Circus (1928), had been a disappointment to Chaplin, so much so that he does not make mention of its production in his famed autobiography. A lot was riding on City Lights, and luckily, as an independent producer, Chaplin could exercise complete control over the film, as well as exhaust substantial financial resources. Its production history is notorious. Chaplin spent nearly three years on City Lights, an unheard-of production timeline. Everything had to be perfect. Chaplin would reshoot and reshoot until he felt he had it precisely how he wanted it. For every forty takes, Chapin used one. He reshot the flower sequence, where the Tramp first meets the blind girl a painstaking 324 times, driving the crew and his actress, Virginia Cherrill – a socialite who had never acted prior – to the brink of insanity. Chaplin was so incensed at Cherrill's dismay at what she believed was poor treatment that he fired her after nearly two-thirds of the film had been shot. He then hired his Gold Rush (1925) co-star Georgia Hale, however, after testing her for the role, he realized his error and hired Cherrill back, giving in to her demand for an extra $75 a week. By all accounts, this film should have failed – not only because of the excess in its making, but for the simple fact that it was already a relic by the time the cameras started rolling. Released in 1931, City Lights was a silent film trying to co-exist in the age of sound.
Alfred Hitchcock didn't think sound technology would last in the late 1920s and endeavoured to make silent and sound versions of his British films. He was wrong. It wasn't that Chaplin didn't think sound film would stick. He knew the business and its economic proclivities. It was more he believed that the silent mode of filmmaking was profound, and that The Tramp should never speak, but rather remain mute. If he spoke, that universality would be lost. Releasing a silent film in 1931 was a bold move. Initial previews produced concerning results, yet upon its premiere, it was clear that City Lights would forever be claimed a masterpiece. Chaplin with this film transcended technology and fashion. It would be the last "true" silent he would make, and the last outing for The Tramp as he had come to be known and loved (1936's Modern Times featured The Tramp but he was never quite the same – more like a distant relative. And in The Great Dictator, Chaplin would finally imbue the Little Fellow with speech).
Chaplin's story was the ultimate rags to riches fantasy that laid the foundation for Hollywood. Yet, he could never escape his upbringing. A few months into the production of City Lights, Chaplin's mother died. Her health had never recovered from the sanatorium and Chaplin, who had cared for her since his adolescence, attempted to make her as comfortable as possible with his wealth. Her death had a profound impact on him, and one can imagine, a profound impact on City Lights. The Tramp was his connection to his past. While he had broken through into fame and fortune, he never let The Tramp truly break free in the same way. With City Light, you want to believe in a world where a beautiful woman could fall in love with such a pitiful character – but Chaplin knew better.