Beauty and the Beast: Cocteau's Fairy Tale Masterpiece
February 27, 2017

By Go Back

Hollywood Suite is proud to present a series of masterpieces from Janus Films and The Criterion Collection.

Once upon a time, long before Disney struck gold with its 1991 animated version, a French filmmaker – fabled for his surrealist concoctions – cast a spell on international audiences, and produced a film so magical and hypnotic, yet disturbing at its core, that it is considered the key work within the genre of the fantasy film. Directed by Jean Cocteau – a writer, poet, playwright, painter, sculptor, and designer at the centre of the Parisian art scene – 1946's Beauty and the Beast ("La Belle Et La Bête" in French) is a crown jewel from Janus Films and The Criterion Collection. With Disney's live-action and CGI remake soon in theatres, never has there been a better time to revisit the original version of this complex masterpiece.

Based on Jeanne-Marie LePrince de Beaumont's 1740 fairy tale, Beauty and the Beast is a familiar narrative: the father (Marcelle André) of a beautiful, selfless woman (Josette Day) tries to save his family from financial ruin, only to fail. As a consolation, he attempts to fulfill his earnest daughter's wish for a beautiful rose (in contrast to her greedy sisters' desires for luxuries). Plucking a rose from an enchanted garden, the father enrages a mysterious beast (Jean Marais) who will only spare his life if the rose's intended returns to the castle as his captive. To save her father, the selfless Belle agrees. Inhabiting the enchanted castle with The Beast, who requests her betrothment each night at dinner, Belle is gradually seduced by his fusion of monstrosity and human suffering.

Bewitching with every frame, Beauty and the Beast's production process was anything but magical. Filming began in the aftermath of Germany's surrender, when the French film industry was in disarray – production having grinded to a halt under the Nazi occupation. Film stock was in shortage. That which could be produced was of suspect quality. Rationing of essential supplies, including food, fuel, and electricity was still under effect. Fabric, such as curtains and other props would go missing from the set, taken by those who had been denied luxuries in the years prior.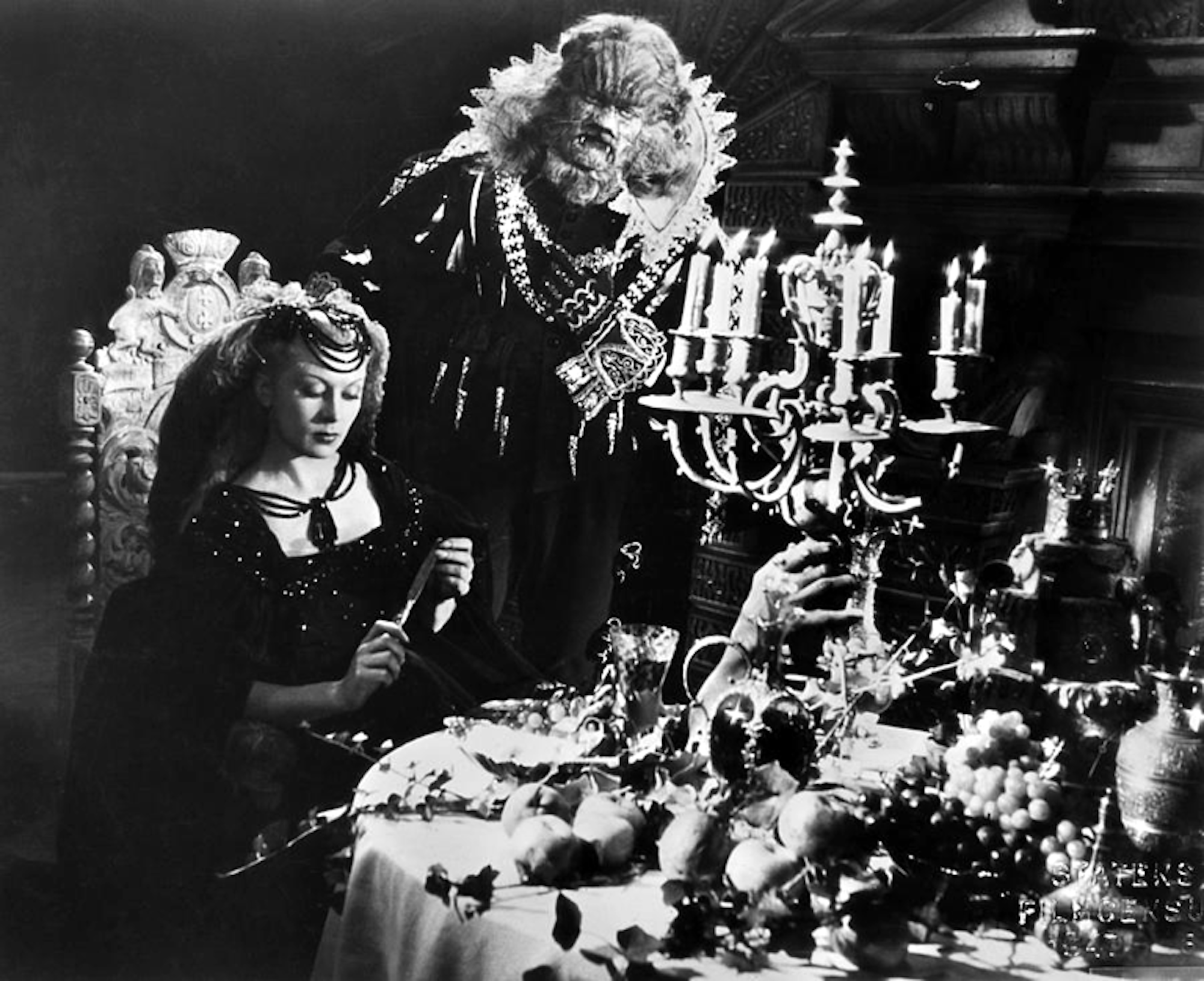 Cocteau also suffered. A persistent skin disease, which caused him great pain, escalated while filming. With penicillin in short supply, he was reliant on the care packages sent from overseas by American friends for relief (he would eventually turn to opium). Psychologically, the country, and much of Europe was attempting to right itself, having been turned upside down in the chaos of war. Some of the French industry's most skilled technicians and crew had perished – many of those who survived the battlefield were injured physically, psychologically, or both. It may have seemed an odd time to produce a fantasy film. Cocteau, however, believed in the power of art.
Disney had long been interested in adapting the popular French fairy tale. As early as the 1930s, the studio had made attempts, revisiting the idea again in the 1950s. Certain historians hypothesize that Disney was likely discouraged by the release of Cocteau's version and abandoned all work on the project (until the late-1980s when the studio was experiencing a renaissance after years of disarray). The first work of animation to be Oscar-nominated for Best Picture, Disney's animated version alludes to the earlier live action version in notable ways. The 1946 version features statues that live and breathe, interacting with the enchanted castle's inhabitants, much like Disney's imagining (an element Cocteau invented, as it's absent from the original fairy tale).
Cocteau achieved these remarkable effects utilizing trick photography and stop-motion animation – techniques dating back to the birth of film. Lumière, Disney's Maurice Chevalier-inspired candelabra is a direct reference to the anthropomorphized candlesticks and sconces Cocteau features. And Disney's animated backgrounds, especially surrounding The Beast's castle, are reminiscent of the dark Gothic imagery Cocteau employs throughout – the director drew specifically from Gustave Doré's woodcut illustrations. While the Disney version is a masterpiece in its own right, Cocteau's production stands apart in its ability to display the complication and complexity in the original fairy tale. For 1946, its depiction of sexuality and gender politics was ahead of the game, an aspect that Disney (understandably) omitted.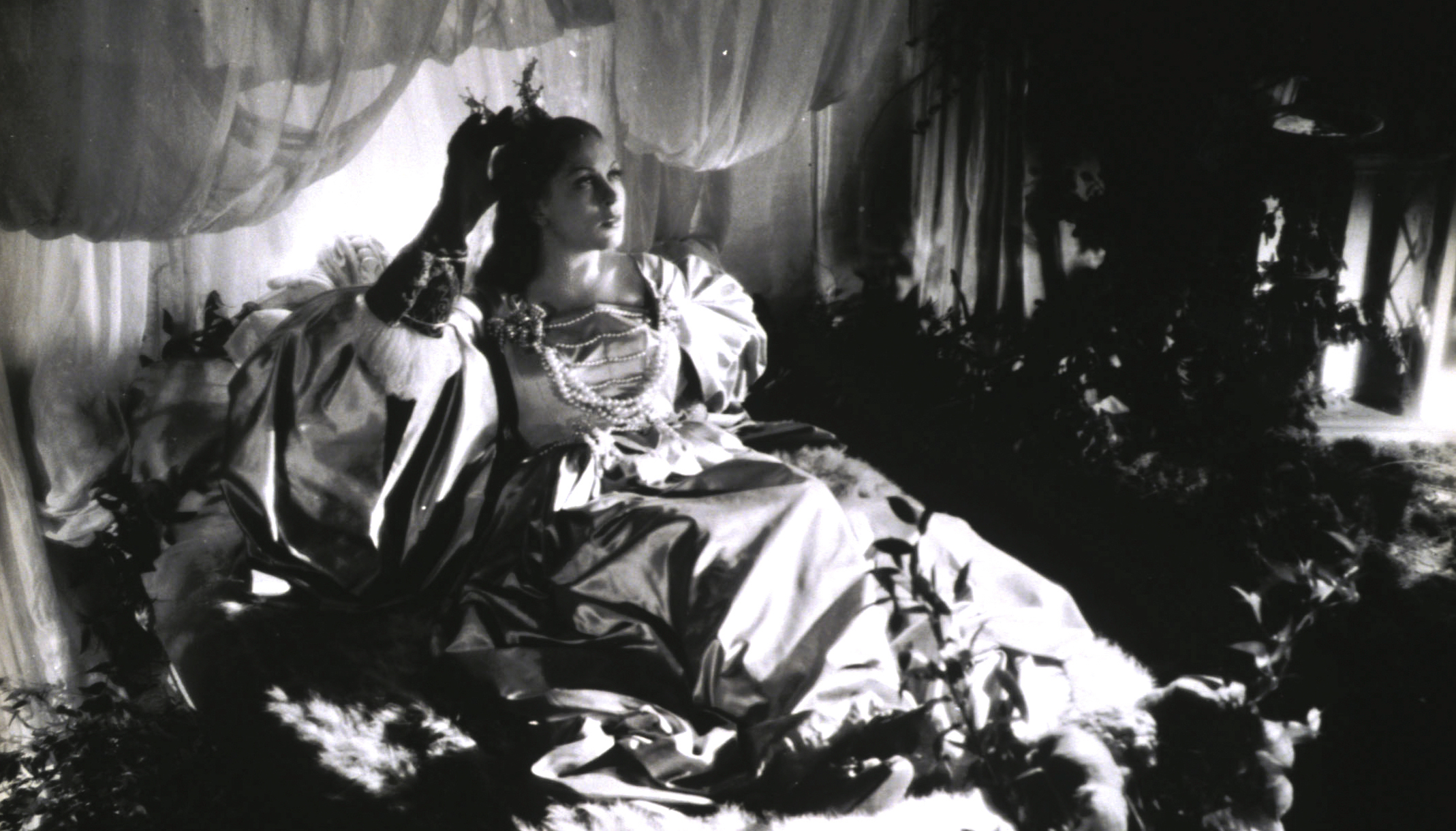 In casting Josette Day as Belle, Cocteau achieved a Vermeer-like quality to Beauty and the Beast, as the actress exudes ethereal, yet also earthly beauty – like the Dutch painter's stunning portrait of "The Girl with a Pearl Earring." For The Beast, Cocteau utilized Jean Marais, his muse and then lover. Marais's undertaking was enormous – The Beast's mask, handmade by an artisan and moulded to his face, proved a cumbersome challenge. Yet, Marais's performance as The Beast, conveyed primarily though his human eyes, elicits empathy in combination with disgust, a contradiction key to the film's appeal. When The Beast kills, it is with a rage and animality that terrifies the audience (and especially small children). When he asks Belle each night to marry him, and bears the indignity of her persistent refusal, hearts break – despite the fact that he is her imprisoner, and she his unwilling companion (at first).
Stockholm syndrome aside, Day and Marais's chemistry is palpable. When, in an act of submission, The Beast drinks from her cupped hands, it is more romantic than any onscreen kiss – here, Cocteau's subtle (censor-proof) sexual gestures reach their maximum intensity. Phallic imagery is employed throughout with Belle's bed sheets­ – sans human intervention – turning themselves down, and, most emphatically, when she cunningly strokes a dinner knife as The Beast first requests her hand in marriage.
Cocteau's version is truly the cornerstone of all filmic fairy tales that were and are to come, animated or otherwise. Yet, its themes and historical allusions are anything but fantasy. At its heart, Beauty and the Beast is about sacrifice, profound loneliness and love's ability to conquer in the face of fear and violence. A visual metaphor for the psychological aftermath of the battlefield, the smoke that rises from The Beast's bloodied paws after he kills serves as a visible indication of his guilt, regardless of the deed's justification (protecting Belle or serving one's country). In its otherworldly worldliness Cocteau's Beauty and the Beast still holds resonance today– and much can be learned from its message of transformative, unconventional love in the face of tyranny and prejudice.