Sandra Bullock: The early years
May 26, 2017

By Go Back

By the time an actor joins the A-list we tend to know what they're good at. George Clooney is the aloof charmer, Jason Statham the acrobatic tough guy and Viola Davis is the hard-hitting emotional core. But what an actor becomes doesn't always reflect what first got them noticed. Sometimes an actor's early career relied on a whole different bag of tricks that helped them make a splash. A look at Sandra Bullock's early career reveals the unlikely route she took to stardom.

The first thing that might surprise people only familiar with the star Sandra Bullock is that she's a classically trained actress. She's had plenty of great roles and an Oscar to her name, but she's not the first person you'd necessarily picture on stage rather than on screen. In fact, Sandra is one of the handful of people taught directly by Sanford Meisner, creator of the famous Meisner Technique, who adapted Lee Strasberg's Method Acting to a new era. The Meisner Technique involves getting out of your head and relying on both instinct and, unlike some other methods, your fellow actors to create a more complete performance. Knowing Sandra follows this method sheds a lot of light at what worked and what didn't early in her career.

Bullock started in New York in theatre with some larger off-Broadway productions, and moved to tv roles including the lead in a short-lived tv version of Working Girl. Her first films weren't amazing, and short of the high concept Tate Donovan romantic comedy Love Potion No. 9, she tended to be a supporting player. But her supporting status, likely as someone invested in a technique which not only filled her performance but raised up those around her, eventually landed the unexpected role that would get her noticed: Demolition Man.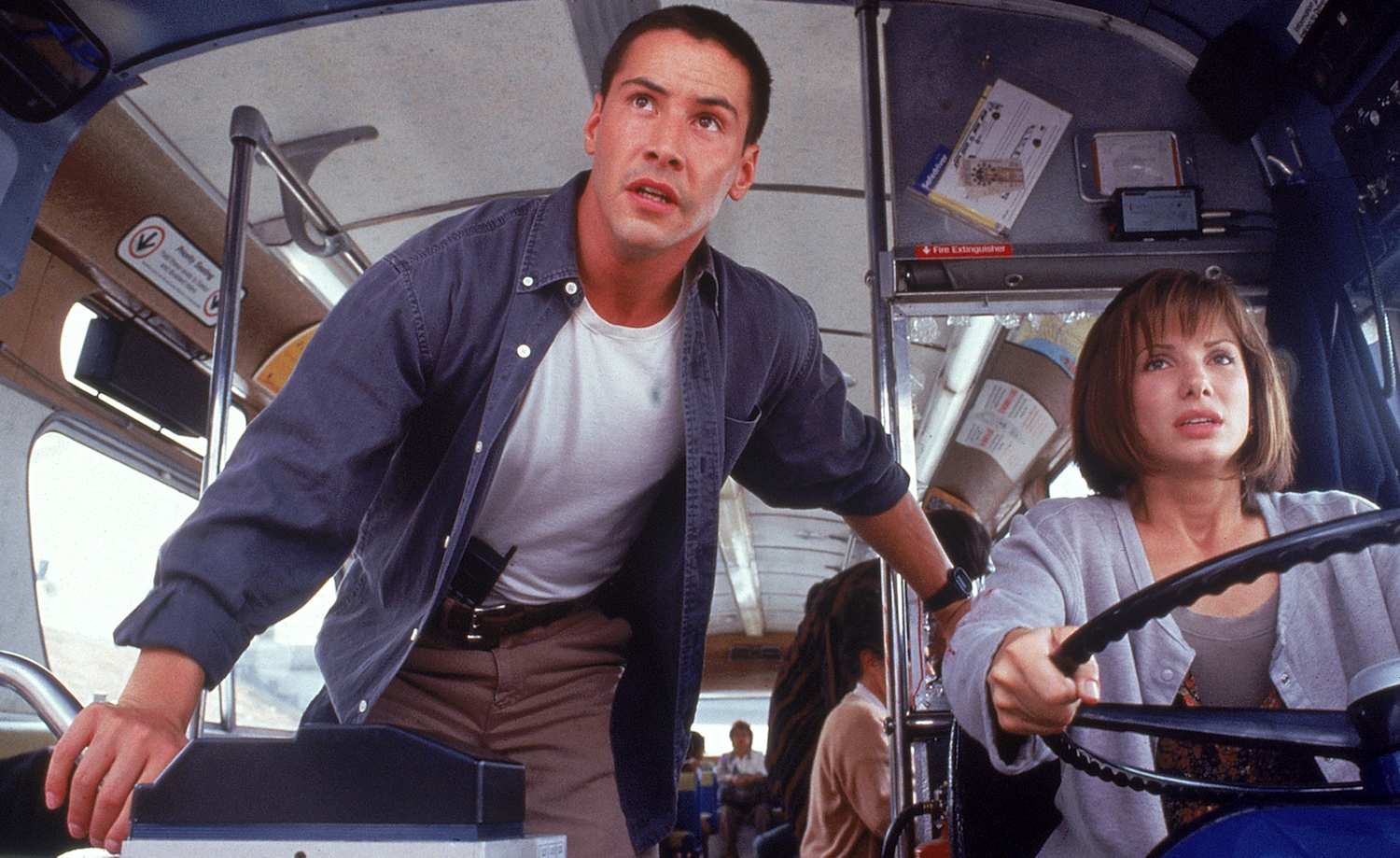 You'd be forgiven if you've forgotten 1993's Demolition Man – a fish(es) out of water sci-fi vehicle for Sylvester Stallone and Wesley Snipes. The plot –  two cryogenically frozen prisoners, one a cop and one a killer, cause chaos when they are revived in a sterile crime-free future – is the height of 90s ation excess. While Sandra Bullock is saddled with the unenviable task of being both an exposition dumping partner to Stallone and his potential love interest, you can see why this role is what started her on the path to stardom. She sells her preposterous role as a semi-asexual future cop as if it were something normal, just someone you'd meet on the street. Her ability to synthesize a high-concept idea into a grounded understandable performance audiences can relate with and emotionally attach to would be the through line in the roles that launched her career.
Grounding is just what Jan de Bont's 1994 action classic Speed needed. It's important to remember this movie, considered an action classic and high point of 90s blockbusters, was a real gamble. Jan de Bont was an untested director, Keanu Reeves hadn't lead a movie alone and they'd hoped for supporting character Annie to provide comic relief along the lines of Ellen Degeneres. It's a credit to Jan de Bont's reputation as a cinematographer in the industry that he stood his ground on all counts, and especially on the casting of Sandra Bullock who he realized could play both the comic relief and the love interest as well as use her skill to make the wacky sounding bomb-on-a-bus scenario feel realistic.
Though it might not seem like the movie for it, Sandra once again went to the well of technique. Much of the action plays well thanks to the fact that Bullock took the time to actually learn to drive a bus and is doing so in multiple sequences. She plays the perfect audience surrogate, tense and out of control, against Reeve's expert, while also managing to crack wise, save the day and get the guy. A lesser performer would be pure damsel in distress, grating, or throw the tone of the film, so once again Bullock proved herself as the lynchpin to a larger, intricate action machine.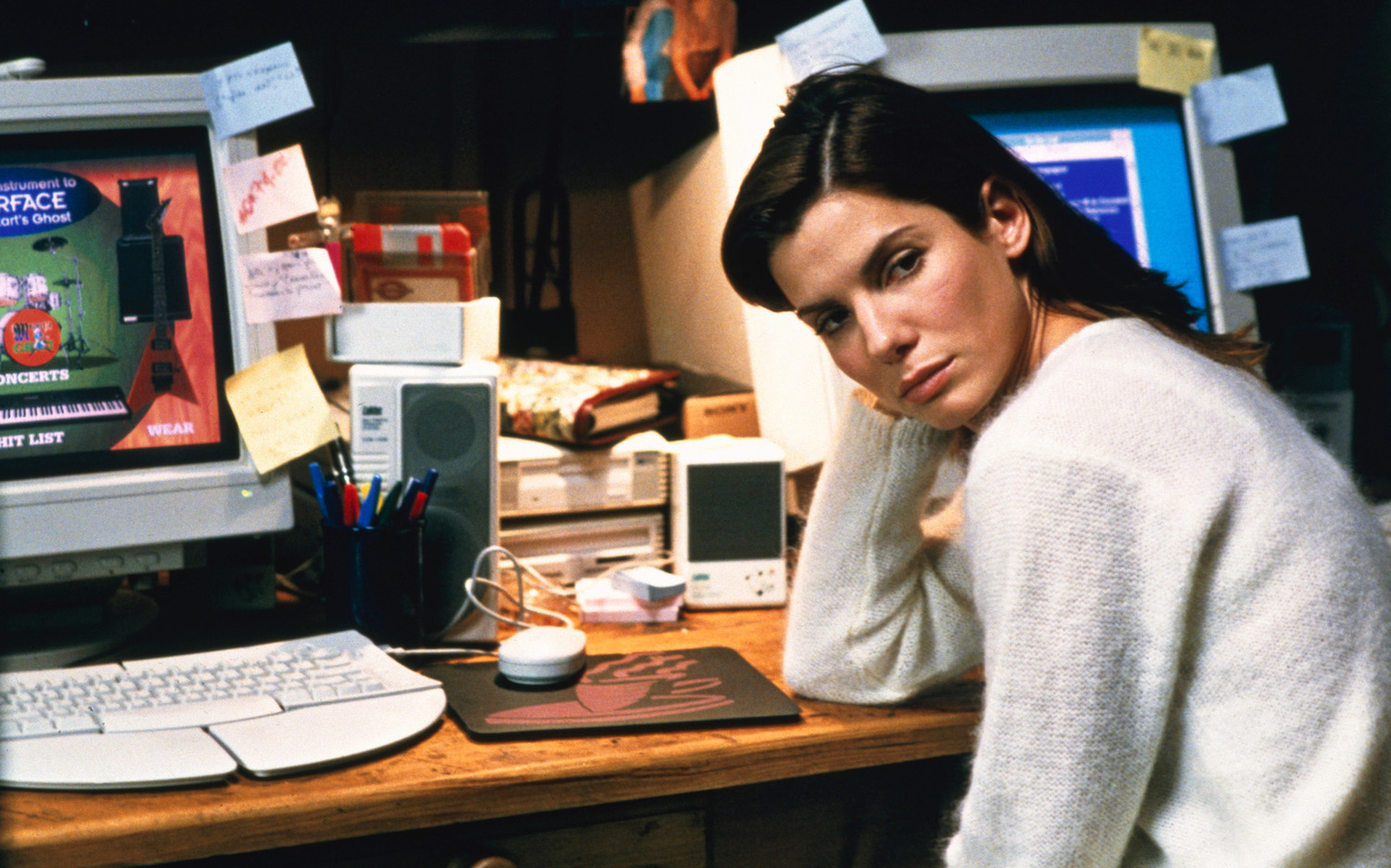 While Speed set things in motion, 1995 was really the year of Sandra Bullock – featuring her return to romantic comedy in While You Were Sleeping. But she also had one more chance to flex those high concept muscles in The Net, and this time she was the lead. It's almost impossible to imagine these days, but Sandra Bullock had to sell the concept of the internet itself in the film. The fact that someone would sit at home, go to websites, order pizza online and enjoy computers was practically science fiction in '95. The movie is definitely corny these days, but the concepts of identity theft, hacking and information leaks as the catalyst for a thriller are perfectly prescient and Sandra as a normal nerd in over her head sells the tension wonderfully. The film broadcasts her future penchant for underselling her looks, having cat-and-mouse romantic tension with her antagonists, and once again shows the range of her technique as she believably embodies a programmer and spouts computer jargon like a second language.
These days Sandra Bullock controls her own career by producing many of her films and tends to play to her best skills as a comedic or romantic lead in broader crowd pleasers. Her early films go a long way to show how an actor with the ability to bring humanity, humor and a realistic take to a role in the middle of a strange high concept story can make a big difference. She still flexes these skills from time to time in films like Practical Magic, The Lake House, Premonition and even her Oscar-nominated turn in Gravity. This week check in on Sandra Bullock's early classics The Net and Speed to see the exciting first steps of one of Hollywood's top actresses.