The Marriage Of Maria Braun: Rainer Werner Fassbinder's explosive masterpiece
October 20, 2017

By Go Back

Hollywood Suite is proud to present a series of masterpieces from Janus Films and The Criterion Collection.


Prodigious auteur, provocative storyteller, and visual innovator: German director, writer, actor, and producer Rainer Werner Fassbinder was the poster child of the New German Cinema of the 1970s, as well as one of film history's most notorious renegades. Thirty-five years after his untimely death, his films continue to provoke. His memory continues to be mulled over, revisited and revised by those who worked with him. And his masterpieces, of which The Marriage of Maria Braun – released to international acclaim in 1979 – is just one, continue to inspire filmmakers and incite cinephilic admiration.

Over the period of a mere fifteen years, Fassbinder completed nearly fifty productions (including television movies and miniseries). His rate of production was unprecedented and it reignited a national cinema in West Germany after decades of post-war atrophy. His legacy is immense, yet North American audiences may not be that familiar with his work. If that's the case, The Marriage of Maria Braun is the perfect primer – one of his more accessible films, it is also one of his most acclaimed works. It is masterful, hypnotic, emotionally devastating, and key to understanding Fassbinder's distinctive voice. It also features a stellar performance from iconic international actress Hanna Schygulla, in a role that most often claimed as the highlight of her incredible career.

With Maria Braun, Fassbinder encapsulates the agony and ecstasy of West Germany's post war years – from the devastation wrought by the aftermath of Germany's surrender, to the economic miracle of the 1950s in West Germany. In 1943 Berlin, Maria Braun (Schygulla) marries a German solider amidst Allied bombing, only to lose her husband a day later after he is forced back to the battlefield. With the war lost, she awaits his return, disappointed as the months go by and there is no trace. Starving and without the provisions to care for her family, she resorts to a variety of lucrative companionships, all while awaiting her husband's return. Talented and with an acumen for business, Maria is a progressive figure of feminine empowerment, yet with fallible and relatable character flaws.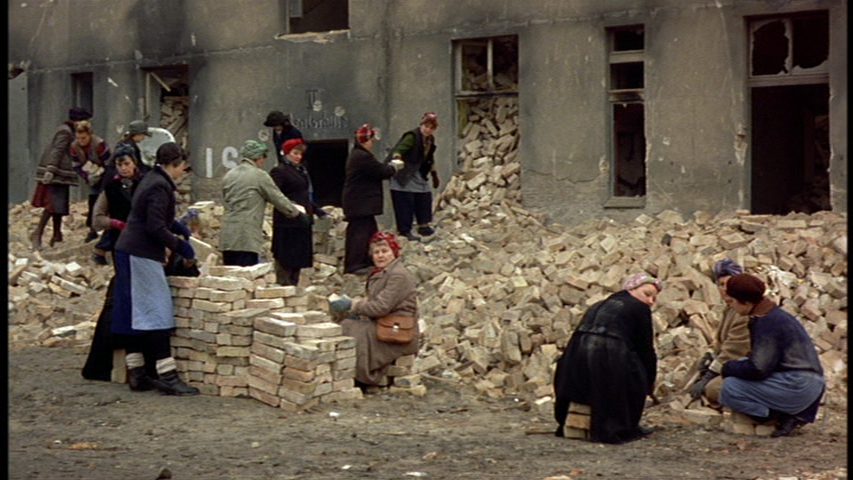 Like many of his films, Fassbinder drew inspiration from his fellow German directors, including Douglas Sirk and Josef von Sternberg (an Austrian technically) who both made it big in Hollywood. Showgirls, cabaret artists, and chanteuses abound in Fassbinder films, and Maria Braun is no exception. Melodrama at its best – like much of Sirk, and with the scintillating aesthetics of von Sternberg's Marlene Dietrich-starring The Blue Angel (1930), his masterpiece is extolled in German visual history. The image of Schygulla in lingerie that adorns the film's poster is reminiscent of Dietrich, both in its outfitting and in its empowerment.
At the time of producing Maria Braun, Fassbinder was fresh off the success of a series of immense art house hits: In a Year of 13 Moons (1978) – an early portrayal of the devastating and tragic consequences of living one's life as transgender in the 1970s – as well as a series of monumental, progressive, yet controversial films like Fox and His Friends (1975), which starred the director, and of course, Ali: Fear Eats the Soul (1975) – the interracial love story that is perhaps Fassbinder's most revered work. At the time of Maria Braun's release, Fassbinder was already a film festival darling, yet also a hotly debated provocateur. Maria Braun was a huge commercial success for him, and, almost forty years after its release, the key film that is synonymous with his name.
Yet, much of the credit for Maria Braun's incredible quality is due to its lead actress. Schygulla, who committed an iconic, incomparable performance as the self-proclaimed "Mata-Hari of the economic miracle," is transcendent. Sexual, yet not sexualized, Schygulla's portrayal of Maria has her character clearly in the driver's seat. The role came to the actress at a time of strife and marked a turn in an unfortunate period of discomfort with the director. Fassbinder was notorious for several reasons: his addictions (drugs, alcohol, sex); his volatile behaviour; his obsessive working methods (re: 50 films in 15 years); and his treatment of actors, especially his leading ladies, with whom he was often romantically linked, either through marriage or a series of affairs. The exception to the latter dynamic was Schygulla, who was never tied to the director in that aspect – she was, by all accounts, his favourite and spared from much if his abuse. A trained actress, renowned in the West German theatrical circles, she appeared in Fassbinder's feature debut, 1969's Love is Colder than Death, and would go on to star in twenty-three of his works, more than any other actor in his trusted troupe of collaborators.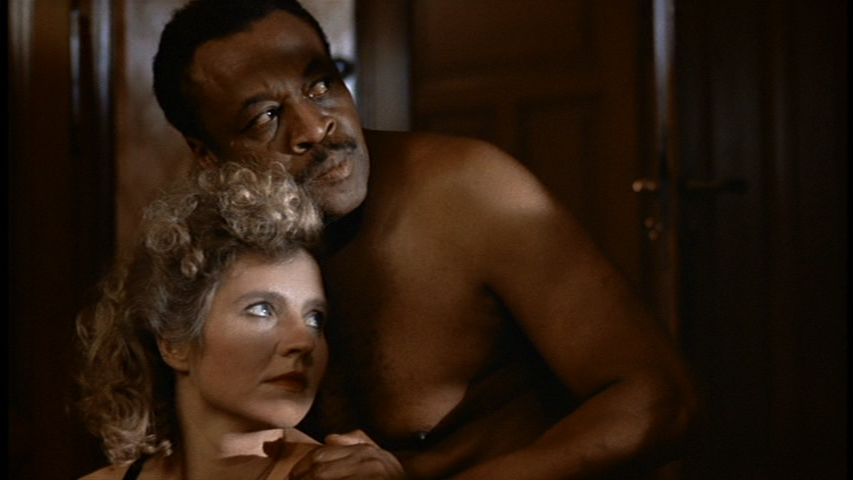 However, at the time of her casting in Maria Braun, Fassbinder and the actress were at odds – the actress had refused to work with him after filming Effi Briest seven years prior. Diversions over character development led to the fallout, as well as, and perhaps more revealing of Fassbinder's problematic politics, the director's refusal to pay the actress on par with male performers in lesser roles. Schygulla, despite being groomed and promoted by Fassbinder, was nevertheless willing to lead a revolt against him for unfair and sexist treatment – this also coincided with a period when the director's relationships with his male lovers and ex-wives, with whom he still worked with, was at a particular low. Having created a "family" in his film troupe (he cast the same actors recurrently), Fassbinder was physically and emotionally abusive to those who he worked with – it's an unfortunate, despicable reality behind an artistic genius. And while Schygulla was fed up with his repulsive behaviour, the opportunity posed by Maria Braun was too immense to pass up and the two somewhat reconciled.
With Maria Braun, Fassbinder critiqued his country's myopic drive towards capitalism and North-American centric accumulation of materialism. From war-time rags, to postwar riches, Maria dissolves into a shadow of what she once was. From loyal wife, to soulless consumer – Fassbinder uses her character to articulate West Germany's rotten state. The film's conclusion, one of the most shocking and hotly debated in cinema's history stands as the ultimate Fassbinder statement: we're all screwed. And while it may seem the film speaks solely to a specific generation of Germany's postwar adults, viewing Maria Braun today is disturbingly relevant, with the predatory and alienating effects of capitalism and the bottoming out of the middle class in full effect. In the end, Fassbinder would implode after a decade of abuse (self-inflicted and perpetrated towards others). He died from a cocaine and barbiturates overdose at the age of thirty-seven a few years after Maria Braun's release in 1982. What we're left with is an indelible filmography of passion, fierce dedication and incomparable skill. No film better encapsulates that than The Marriage of Maria Braun.